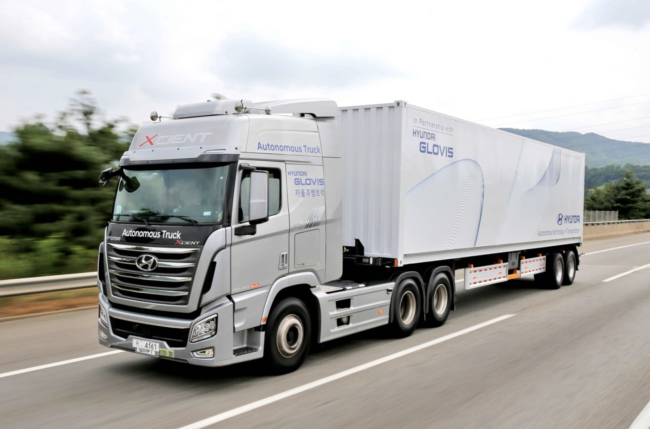 Hyundai Motor Company recently completed the first "domestic autonomous truck highway journey" in South Korea.
Hyundai's Xcient truck demonstrated Level 3 autonomy, driving about 40 kilometers on the highway between Uiwang and Incheon, according to a news release. The truck carried a large semi-trailer simulating cargo transportation. The Ministry of Land, Infrastructure and Transport (MOLIT) issued a temporary autonomous driving license for the first time to a heavy-duty truck for this demonstration.
"This successful demonstration proves that innovative autonomous driving technology can be used to transform the trade logistics industry," said Maik Ziegler, Ph.D., Director of Commercial Vehicle R&D Strategy Group at Hyundai Motor Company, according to the release. "At this stage, a human driver is still used to control the vehicle manually in certain situations, but I think we will achieve Level 4 automation soon as we are constantly upgrading our technological capability."
The Xcient truck features a maximum load capacity of 40 tons and was semi-equipped with a Society of Automotive Engineers (SAE) standard Level 3 autonomous driving system, enabling it to steer, accelerate or decelerate, and maneuver through traffic without human input. A driver was on-board to take over manual control when necessary.
It was also able to maintain and change lanes during the natural flow of traffic, detect lane changes made by vehicles in front of it, navigate through tunnels, and perform a complete halt or accelerate as traffic dictated.
The vehicle comes equipped with 10 different sensors, including three front and side-rear cameras, two frontal and rear radars, three LiDARs in the front and sides, and a hitch angle sensor in the trailer coupler that computes the change in angle between the truck and trailer in real-time, allowing the truck to be safely stabilized upon sharp turns. The data each sensor collects collaborates with the HD map, sending information to the electronic control module for localization.
The company plans to complete further tests with the goal of achieving "early commercialization of the technology," according to the release. Hyundai plans to commercialize autonomous convoy driving capability by the 2020s.
"Hyundai Glovis' success in utilizing self-driving trucks as part of its delivery service proves that the self-driving technology is being utilized in actual logistics transport and can lead to mutual development," said Sang-Sok Suh, Ph.D., Head of strategy & planning group at Hyundai Glovis. "The company will be a leader in adopting future mobility technology like autonomous driving for the trade logistics industry."