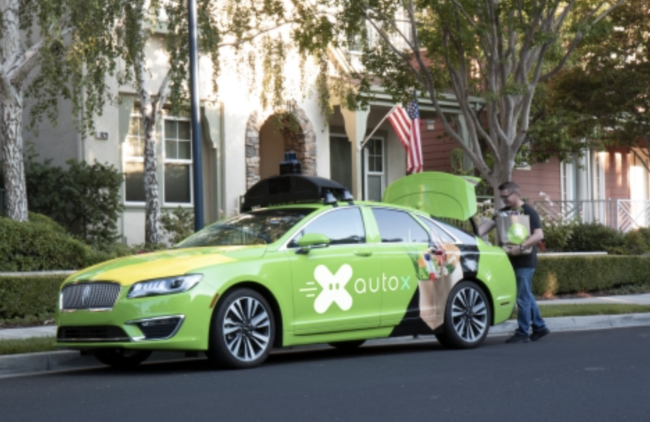 This fall, AutoX's self-driving cars will begin delivering groceries in San Jose.
The customers located in geo-fenced areas throughout the city will be able to order fresh produce and other goods through the program, according to a news release. AutoX is also launching a mobile store pilot.
"We're very excited to launch the first autonomous grocery delivery and mobile store service in the heart of Silicon Valley with self-driving vehicles on the road," AutoX Founder and CEO Jianxiong Xiao said, according to the release. "It's the first step of our mission to democratize autonomy, and is a testament to our cutting edge AI and all its potential capabilities. We believe self-driving car technologies will fundamentally change people's daily lives for the better."
Partner GrubMarket.com, which sources organic and healthy food directly from producers, will fulfill the orders. Customers can place orders through the AutoX app. The self-driving cars also can bring a selection of items for customers to choose from.
"We are enabling two shopping experiences with self-driving cars," AutoX COO Jewel Li said. "You can order goods from an app and get them delivered by a self-driving vehicle. Or, our self-driving car brings a shelf of goods to you, and you can select and purchase onsite in front of your house."
The vehicles feature an inexpensive yet high-resolution camera as the main sensor, according to the release. This makes it possible for the AI to detect smaller objects such as kids and pets.
The company's grocery delivery and mobile store pilot will roll out in two phases. After the first pilots in San Jose, the second phase will move to Mountain View and Palo Alto. More delivery partners are also expected to join soon.