For 50 years, AeroVironment has advanced UAV development. Today, the company is a Technology Solutions Provider at the intersection of four future-defining technologies: robotics, sensors, analytics and connectivity. Its culture of experimentation and R&D dates back to its founder, Dr. Paul MacCready Jr., whose achievements earned him the nickname "the father of human-powered flight". From deploying the world's most popular sUAS to designing the helicopter that's en route to fly in Mars' thin atmosphere, AeroVironment's collective accomplishments provide a case study of imagination, innovation and collaboration — one that has and will bring effective solutions to frontlines, farms and frontiers, yesterday, today and tomorrow.
Leading the Way: UAS Capabilities – Onward and Upward
From solar-powered aircraft to the first hand-launched small UAS (sUAS) for military reconnaissance, AeroVironment literally launched the era of small aerial vehicles for environmental, commercial and defense purposes. For 35 years, the company has made its UAVs smaller and simpler, yet with multiple and ever-more-innovative functionality.
The defense industry proved to be a perceptive and forward-looking collaborator to the emerging ideas coming out of the company. In 1990, the radio-controlled FQM-151 Pointer Kevlar became the first backpackable reconnaissance UAS to be deployed by the military. Just 6 feet long with a 9-foot wingspan and weighing in at 9 pounds, Pointer looked more like a hobbyist's toy—but could power to a maximum speed of 46 miles per hour with a one-hour endurance and a ceiling of 1,000 feet. The Pointer would underpin substantial investment and development of reconnaissance, surveillance, forward observation, target acquisition and tactical missile systems.
That sUAS, used in military service through 2003, along with the even smaller DragonEye, made way for the agile RQ-11 Raven, which debuted in 2002, and the RQ-20 Puma, which appeared in 2008. Raven was selected for the U.S. Army's 2005 sUAV contract and is currently used by military forces around the world. Launched by hand, the approximately 4-pound Raven is able to fly up to 6.2 miles and 15,000 feet high, at speeds of up to 60 mph. RQ-20 Puma, developed as part of a contract for the U.S. Special Operations Command, is also a lightweight, hand-launched UAS, slightly larger than Pointer and with greater performance, speed, range and endurance. In 2013, Puma became one of the first unmanned aerial vehicles to be granted certification by the Federal Aviation Administration (FAA) to fly in U.S. airspace for commercial purposes.
While Pointer, Puma and Raven delivered much-needed portability and performance, AeroVironment engineers and integrators believed there was a role for even smaller, less detectable and more maneuverable UAS.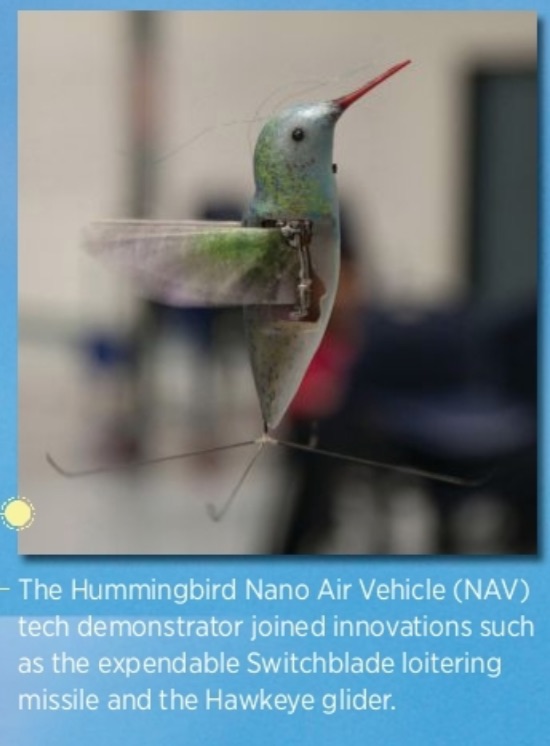 SMALL AND MIGHTY
In 1999, the Black Widow became the world's first micro air vehicle (MAV). Weighing just 3 ounces and measuring only 6 inches across, the Black Widow could be automatically launched from a protective carrying cassette. It had a range of 1.1 miles and could fly at up to 800 feet altitude for 30 minutes. DARPA presented AeroVironment with its prestigious Award for Outstanding Performance by a Small Business Innovation Research (SBIR) Contractor for Black Widow.
Follow-ups to the Black Widow included Hornet in 2003, another MAV—this one powered by hydrogen fuel cell—and the Kestrel Organic Air Vehicle (OAV), a fully autonomous vertical take-off and landing UAV that relied on a lift-augmented ducted propulsion system.
Then, in 2006, AeroVironment secured the Air Force BATMAV contract for the special operations Wasp III, the latest in a series also evolved from Black Widow. The Wasp AE (all-environment) UAS weighs in at just 3 pounds, with a wingspan of 3.3 feet. It incorporates a custom-designed, mechanically stabilized gimbal to ensure quality imagery even in high wind conditions.
These hand-sized devices in turn led to expendable munitions such as the Switchblade backpackable precision tactical missile system in 2010, and the silent and stealthy HawkEye expendable glider. HawkEye has a delivery capacity of 25 kilograms and is designed to deliver critical payloads covertly to ground personnel through its standoff, high altitude air-launched deployment. It can travel 80 kilometers fully autonomously or be remotely piloted to its destination.
OUT OF THIS WORLD
Given AeroVironment's early innovations in solar powered aerial systems, it's no surprise that the company would look to the stars for inspiration. Both the Sunglider, AeroVironment's and HAPSMobile Inc.'s solar-powered high altitude platform station (HAPS), and the thin-atmosphere-capable Mars Ingenuity solar helicopter are building on the design principles of the company's solar-powered, ultra-lightweight and ultra-small predecessors. Sunglider is planned to push stratospheric boundaries by 2021. And Ingenuity? It's on its way to Mars.
CASE STUDY – SWITCHBLADE: MINIATURE AND MULTI-MISSION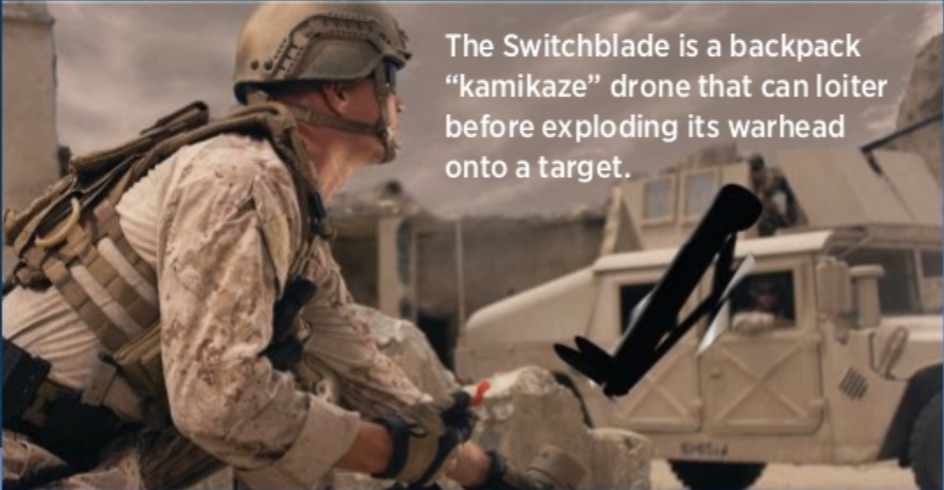 The Combat-Proven Switchblade Precision Tactical Missile System is an integral part of the U.S. Army and Marine Corps conventional and special operations deployments. It's also inspired the U.S. Army's Lethal Miniature Aerial Missile Systems (LMAMS).
Conceived within MacCready Works, AeroVironment's R&D think tank, Switchblade began as a solution that might offer ground-based troops immediate support while they waited for air or land reinforcement. It's a low-cost "kamikaze drone," small enough (2 feet, 5.5 pounds) to fit easily into a rucksack yet able to crash into and destroy a target. And it's flexible enough to deploy in under two minutes from ground, sea or air, to conduct a variety of missions.
Prototyped and tested by the U.S. Army in 2010 and 2011, Switchblade's initial version saw operational action in 2012 in Afghanistan. Other branches then adopted it, and it was test-launched from a U.S. Marine Corps' MV-22 tiltrotor military aircraft in April 2015.
Switchblade is fast. It can cruise at 63 miles per hour or dash up to 100 miles per hour, with a range of 10 kilometers and endurance of 15 minutes. Small size and a quiet motor make it difficult to detect, recognize and track, even at very close range. Further iterations have incorporated sensors for intelligence, surveillance and reconnaissance (ISR) capabilities beyond line of sight. It's also interoperable with AeroVironment's Common Ground Control Station for Puma AE, Raven, and Wasp AE.
Recently, AeroVironment secured the first year of a $146 million multi-year U.S. Army contract for Switchblade as part of the service's 2020 program. That first year is valued at $76 million, making it the largest LMAMS award, and the largest single award in AeroVironment's history.
CASE STUDY – RAVEN: NUMBER ONE WITH A HAND LAUNCH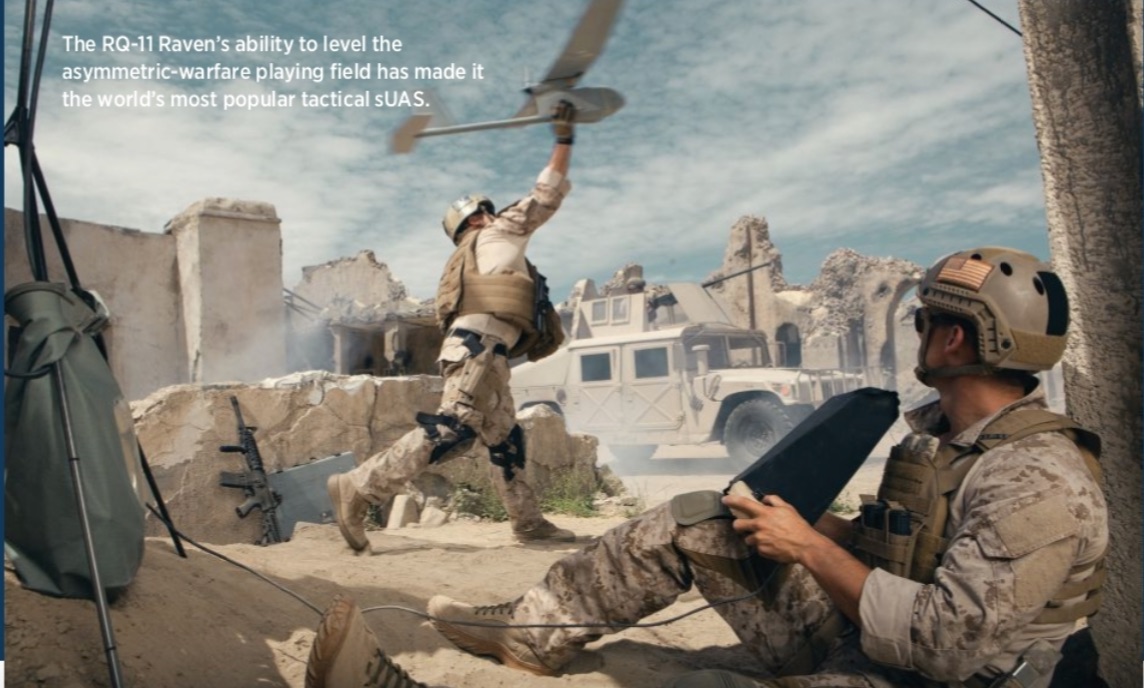 Why Does Something Become The Most Popular Ever In Its Class? For the Raven RQ-11, it's been about being the right sUAS solution for frontline combat. Fielded in 2003, the Raven entered full-scale production for the U.S. Army in 2006. Since then, it has become the world's most deployed tactical sUAS, with 29,00 units delivered worldwide to date. It's pioneered in morphing short-range air power from manned air vehicles into a soldier's rucksack.
"If you were a squad operating forward bases and if you were getting shot at by the Taliban, you had to call for air support," AeroVironment CEO Wahid Nawabi explained about this hand-launched, remote controlled UAS and its successors. "We gave this unit the ability to immediately get air advantage. You can't hear these things, can't see them and you can track an object as it's moving. It is a paradigm shift, and the operating cost of our systems is orders of magnitude lower than all the other alternatives."
Portability is a key advantage for company-level warfighters engaged in targeted, often asymmetric and highly fluid conflict. In keeping with both AeroVironment's philosophy and user needs, Raven was developed to be capable, simple and rugged enough to function under harsh conditions. Raven is ready to be hurled into the air like, well, a model airplane, within five minutes of a need being established. It can be operated via either the Autoland autonomous navigation or manually, and can fly more than 6 miles at up to 50 miles per hour dash speed 500 feet above ground level, staying aloft for as much as 90 minutes, all while offering day or night ISR (intelligence, surveillance and reconnaissance). User feedback has reduced its weight to just over 4 pounds.
The Raven also has demonstrated significant adaptability. It incorporated the company-wide sUAS digital data link as a communications tool for deployed units. Another introduction, the Mantis i23 gimbal camera, allowed for 360-degree observation, with real-time video and/or infrared imagery.
Raven has proved its value as an effective combat vehicle from Iraq to Somalia. It's also provided a path for successor Group 1 sUAS deployment, including AeroVironment's 5.5 hour flight-time Puma LE and the fully automated and radio silent Quantix Recon, as well as the pocket-size Snipe Nano UAS.
CASE STUDY – HAPS HAPPENINGS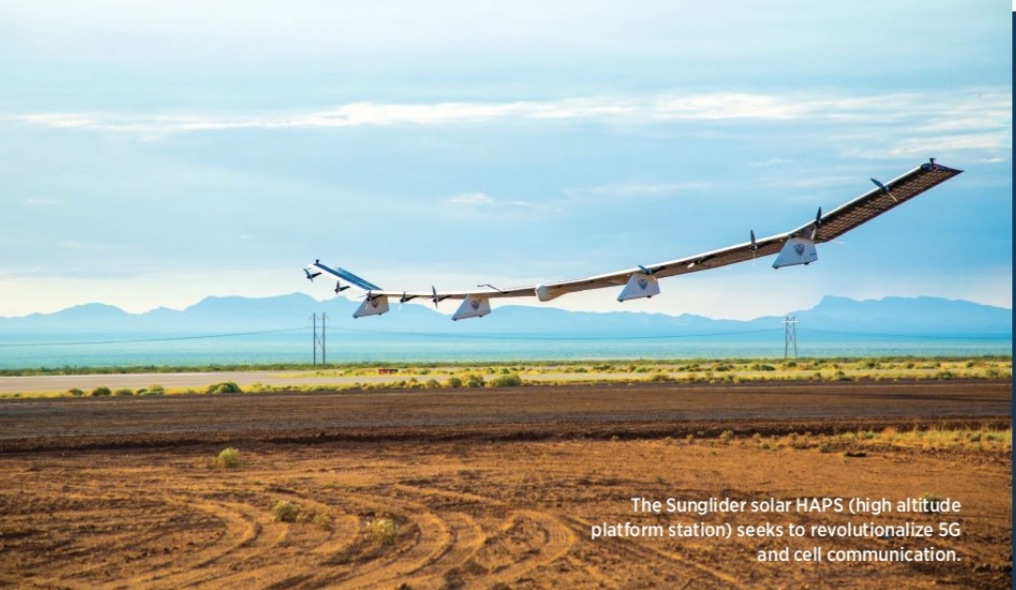 From 1981'S World-Record Solar Challenger Flight on, AeroVironment's accomplishments in solar-powered UAS are well documented and extraordinary. Now, adapting the lessons learned over four decades, its solar- and fuel cell-powered UAVs could empower telecommunications around the world.
Building on its pioneering experience fielding vehicles such as Pathfinder Plus, the Helios flying wing and the Global Observer, AeroVironment has developed solar-powered high altitude platform stations (HAPS), namely the Sunglider (previously called HAWK30). Designed to serve a 125-mile-diameter service area at 65,000 feet above Earth, the Sunglider/HAWK30 UAS debuted in 2019. The 260-foot-span flying wing incorporates 10 electric motors powered by solar panels, generating a 68-mile-per-hour cruise speed—and an endurance of several months.
Once launched into the stratosphere, the Sunglider becomes a high altitude cell tower. Its communications payload and antennas enable stable and direct LTE connectivity and back-haul links to connect the aircraft to a physical internet access point on the ground. The result is equivalent to 1,800 cell towers, and it can transfer data at speeds up to 1 gigabit per second. The project is part of the HAPSMobile joint venture with SoftBank, the Japanese telecommunications giant.
Wahid Nawabi, CEO and president of AeroVironment, said, "We believe HAPS will disrupt the multi-billion dollar global telecom cell tower infrastructure business. As an alternative to cell towers and satellites, [Sunglider] can deliver basic wireless, as well as 5G mobile telecommunication and Internet of Things [IoT] connectivity to more people and devices around the globe."
AeroVironment is a founding member of the HAPS Alliance, a global consortia of telecom, aerospace and technology companies. The Alliance's goal is to educate, regulate and promote HAPS to "eliminate the digital divide and bring connectivity to more people, places and things worldwide."
Assembled by AeroVironment's team in less than two years, Sunglider has already been tested at NASA's Armstrong Flight Research Center in California and at Spaceport America in New Mexico, allowing further evaluation toward certification in 2020-2021, HAPSMobile is eyeing commercial launch as soon as 2023.
Case Study – Ingenuity: UAS Heads to Mars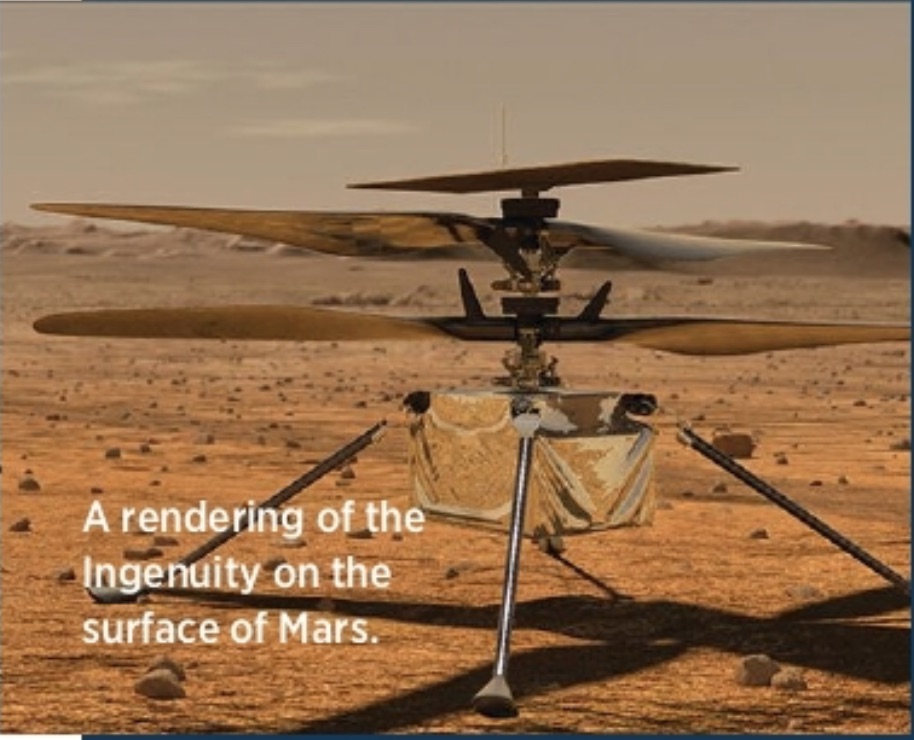 When NASA'S Perseverance Rover Lands On Mars in February 2021, it will be carrying the first helicopter ever designed to fly in the planet's ultrathin atmosphere. Ingenuity, the Mars Helicopter project, is a small, autonomous demonstrator independent of the rover's larger science mission.
Designed within the MacCready Works lab after NASA and the Jet Propulsion Laboratory questioned if it was even possible, Ingenuity is…well, ingenious.
Ingenuity is equipped with miniaturized onboard computers, navigation sensors, two cameras and a wireless communication system to reduce its weight to 4 pounds. The experimental helicopter will use solar power to charge its batteries and rely on internal heaters to maintain operational temperatures during the cold Martian nights. Carrying two cameras that can generate surface images 30 times a second, it can fly more than 300 feet and hover about 16 feet above the Mars-scape.
At only 19 inches tall, the helicopter will rely on 4-foot-span counter-rotating blades spinning at 2,400 rpm to achieve thin-air liftoff. Sometime in 2021, Ingenuity will be placed on the surface to test its flight capabilities, with the goal of providing scientists a new perspective of the Mars landscape.
For AeroVironment, Ingenuity is another example of a willingness to push the boundaries of conventional thinking and achieve the seemingly impossible.
CASE STUDY – QUANTIX: COMMERCIAL-TO-MILITARY INNOVATION
Critical Needs And Larger Budgets Power Most UAS Tech Transfer from the military to the commercial spheres. But the Quantix series has reversed that migration: launched commercially in 2016, it's provided agricultural and disaster relief solutions while also becoming a frontline military solution.
Quantix originated as a low-cost, ramp-free eVTOL hybrid that could integrate remote sensing and surveying with cloud-based data analytics. Covering up to 400 acres in 45 minutes, it produced high resolution data sets for analyzing agricultural fields, industrial infrastructure and first-response scenarios.
Feedback from farmers and academics alike honed the system. "We flew over 200,000 acres with a large number of growers," noted Mark Dufau, AeroVironment's director of business development. Eventually, data for current and future flights could be transferred into a John Deere Operations Center, and the addition of Quantix' Quick-Look allowed for converting lower-resolution field images into georeferenced high-resolution depictions that could be pinched and zoomed for detail. Various data price bundles were calibrated for large-scale farms, ag service providers and smaller users.
EVOLUTION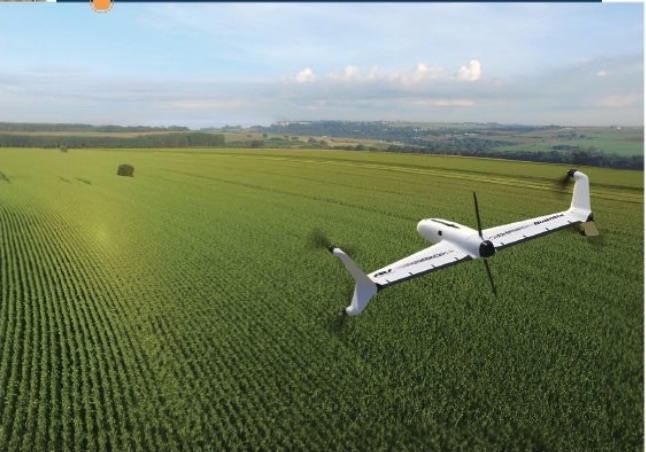 In late 2019, Quantix Mapper debuted, giving users the ability to process their own data if they already had that capability in place. A simple, rugged, automated and easy to fly solution, it put AeroVironment into a market segment that didn't require end-to-end systems. Centimeter-level accuracy could be obtainable without internet access.
In April 2020, AeroVironment flipped the switch to the military side with the launch of Quantix Recon. Radio frequency silence mode offered frontline intel teams stealth and extended usable range to 12.5 miles out and back. Area, waypoint and linear navigation further refined the system.
Like many other AeroVironment products, Quantix Recon answered a user need—in this case, a quick in-field learning curve. "We heard, 'We have to have things that require less training,'" recalled Bryan Young, AeroVironment product line general manager for tactical UAS. Consequently, the vehicle can fly 5 minutes out of the box, comes with altitude presets, takes snapshots rather than video and foregoes a gimballed camera to meet the military's quick-and-simple mandate. "The combination of ease and range was great," Young said. As were the lessons learned from military and commercial use alike.
"Since we play in both markets, we can take the best of both worlds," Young concluded.