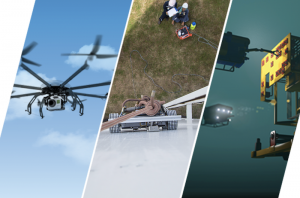 Focusing on the business and technology of unmanned systems in energy operations, the Energy Drone & Robotics Coalition will hold its Global Gathering virtually from November 10-12.
"2020 has been a crazy year for the unmanned community!" coalition Executive Director Sean Guerre told Inside Unmanned Systems. "It is time to end the year with a win, and the Energy Drone & Robotics Coalition Global Gathering is bringing together the energy/industrial drone and robotics leaders for a great recap of this year and what to expect in 2021."
The fully digital event will feature insights from keynoters, Q&As and "fireside chats." Energy asset owner roundtables (both in O&G and power/utilities) will highlight program changes for 2020 and plans for 2021. Tactical sessions will be organized around UAVs, robotics, automation, data/AI and organizing unmanned programs. Demos from new technologies in unmanned systems will take place in the Drone Zone & Robot Row. Attendees will be able to participate in discussion groups, schedule meetings and network.
The just-announced agenda can be found at What you can expect.
Day One of the event also will mark the release of "Unmanned Projects in Energy," a coalition survey that looks at challenges and best practices at the juncture of those areas.
To register at various degrees of involvement and cost (free keynotes, etc.), go to https://sfg.swoogo.com/edr2020/registration.