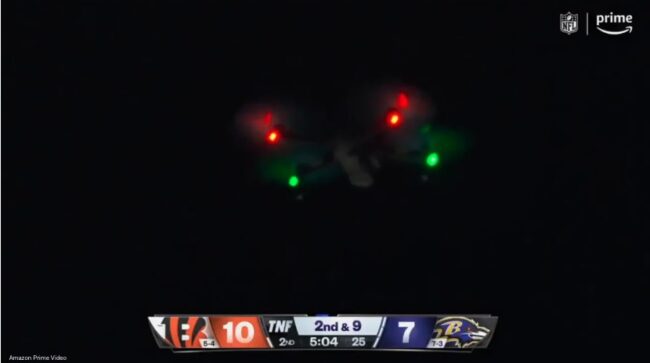 BALTIMORE—Highlighting the need for counter-drone systems, the Thursday night football game between the Baltimore Ravens and Cincinnati Bengals was temporarily halted after a rogue drone flew overhead, flashing its green and red lights.
According to numerous news sources and the Baltimore Ravens' website, the drone flew over M&T Bank Stadium during the second quarter. Broadcaster Al Michaels sent the game to a commercial break. The drone vanished but reappeared in briefly in the fourth quarter.
Dealing with rogue drones over activities such as football games has become an issue across the country, and moves are afoot in Washington to expand the pool of organizations that can use counter-drone systems, mostly for detecting rogue drones before they cause a problem.
For instance, the 2023 Super Bowl was protected by two tethered drones from Skyfire as well as Remote ID detection systems from Pierce Aerospace.
It's not clear if the pilot of the rogue drone on Thursday has been located. The Ravens won over the Bengals 34-20.