For many exhibitors, INTERGEO 2023 is both a time to share new innovations with customers and a time to look back on how quickly their industry is changing.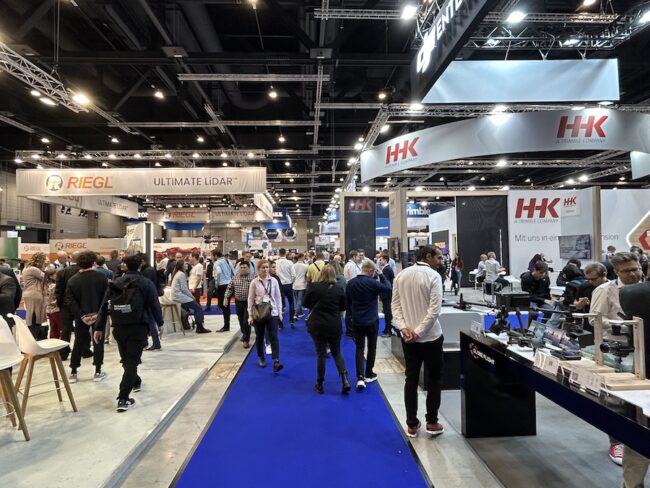 Day 1 of the 565-exhibitor show was an exciting moment for Laetitia Point, VP of Marketing for Flyability. The Lausanne-headquartered confined space inspection firm unveiled the new high-resolution Ouster OS0-128 Rev 7 LiDAR sensor, which takes measurements four times more accurate than the prior version.
"This is really the day of the launch for us," she said. With Rev. 7, drift is just 0.16%, down from 0.5%. In all, 95% of all points of an interior space are accurate to within 12 mm, a level of accuracy she believes will be high enough to meet the exacting needs of the mining and cement industries.
Meanwhile, Vivian Raiborde, Sales Advisor for SimActive, a high-end mapping software firm based in Montréal, Canada, also had some important news: his firm had found a way to model elevation from aerial photographs much more efficiently, to the point that "a run- of-the-mill gaming PC" could render the topographic map.
Igor Vereninov, co-founder and CEO of Emlid, on the other hand, seemed less interested in plugging new features of his RTK GNSS receivers (such as the tilt compensation of the Reach RS3) than in expressing some satisfaction about the success of the Budapest firm's pricing strategy.
"We realized very early on that this technology was going to be much more mass market than people used to think, and we came in and revolutionized the pricing," he said.
At first, people didn't believe Emlid's hardware could do the job, given the company charged about 10% of what their competition charged, he recalled. "Five years ago, people would come here and tell us that this is a scam, we are lying. This cannot be true," he said. They had to see Emlid's demo before they were convinced.
Not today. "We don't really have to do that so much anymore because people know about us and they know that we deliver good stuff," Vereninov said.
A few aisles over, Kristoffer Fortun, Chief Sales Officer of Maritime Robotics, also sees a maturing market.
"When I started in 2019, most of my days were spent teaching the customer what the possibilities were. Now, they're much more mature. They know what they want. They're so knowledgeable, they can actually go on tender and ask… this is what we want. You guys need to deliver it."
As those needs change, the Trondheim, Norway firm is seeing an increasing share of its revenue from licensing autonomous software rather than from the turnkey vessels where it made its name. "We see already this year that a great portion of our turnover will come from [contracts] where we supply only the control software, the autonomous navigation system," he said.
Customers' software needs are changing too. Fortun said that quite a few bigger companies are focusing less on complete autonomy than on providing a piloting support system for the captain. "That's also where we see the shortest way to market now: you just increase the safety on board the ship," he said.
As the industry matures, he said, he also expects autonomous software developers will need to spend more time meeting regulators' demands. "We're a little bit in front now, but we see more and more are waking up and coming out there with their guidelines," Fortun said.
But he doesn't seem concerned about the prospect, as Norwegian regulators already work hard to keep up with Maritime Robotics. "We're a nation that's built on shipping and huge coasts, right? So [regulation] is not new for us. It's just the next step," he said.