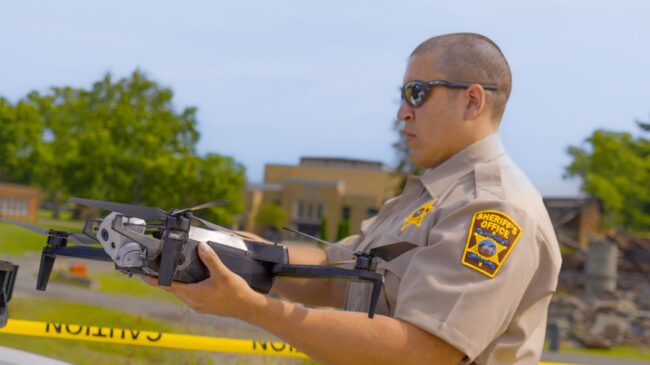 SAN MATEO, California—Skydio announced Skydio Remote Flight Deck, a new offering that enables remote flight for Skydio X10 drones via a browser, anywhere over a cellular network.
The system offers a seamless handoff of flight control between local and remote pilots, allowing for fluid operations and uninterrupted situational awareness through live streaming. For the first time, operators can launch or control drones within their organization from virtually any location outdoors or indoors, the company said.
This new capability allows the organizations such as public safety, utilities, construction and transportation to more easily realize the increased safety and efficiency made possible by remote drone operations.
The agility and speed of drones provide first responders swift access to real-time aerial views, aiding in quality and timely decision-making and resource allocation. In the aftermath of a natural disaster, drones streamline infrastructure inspections, offering a quick and efficient assessment of damage, helping prioritize recovery efforts and ensuring the safety of affected communities.
With the introduction of the Skydio Remote Flight Deck, organizations can launch and operate drones faster than cars, helicopters or emergency vehicles, putting eyes on the incident before additional personnel arrive. In dangerous situations, a responding officer can set the drone down on the ground and have a remote pilot located anywhere take over flight and provide critical overwatch information, while the officer maintains local situational awareness.
Skydio Remote Flight Deck redefines the piloting experience by enabling drone missions from any corner of the globe using a web browser with Skydio's recently revealed Skydio X10. Remote pilots can initiate flights effortlessly from drones ready for launch by local personnel, or take control of missions already in progress. Missions flown by Remote Flight Deck benefit from a near-infinite range with the 5G-connected X10 drone, with the only limiting factors being the drone's flight time, availability of the cellular network, and aviation regulatory approvals.
"We envision a world where drones become basic infrastructure," said Adam Bry, the company's cofounder and CEO. "The Skydio X10 can be in every first responder's vehicle, and with Remote Flight Deck, X10 can provide immediate situational awareness and support from a remote operator. For public safety agencies, this capability makes 'drone as first responder' available now, improving officer and community safety."