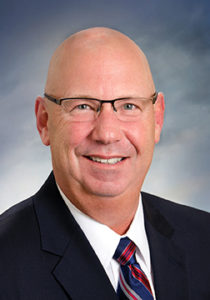 Kearfott Corporation, a provider of products that guide spacecraft and strategic missiles, navigate autonomously undersea, provide navigation and fire control for ground vehicles, and control motion aboard both military and commercial aircraft, named Murray Kennedy as its new president, effective immediately.
As president, Kennedy is responsible for all financial and operational aspects of Kearfott's Guidance & Navigation Division facility in Woodland Park, New Jersey; Motion Systems Division facilities in Black Mountain, North Carolina and Matamoros, Mexico; and engineering technology centers in Clearwater, Florida and Bensenville, Illinois. He reports directly to Chairman and Chief Executive Officer Dr. Ronald Zelazo.
"Murray Kennedy has built an impressive track record of strategic and operational accomplishments throughout his career," said Zelazo, in a press release issued today. "The Board unanimously agreed that Murray's leadership experience coupled with his strategic thinking and proven ability to deliver results make him the right person to execute Kearfott's strategic priorities of sustainable growth and unparalleled customer service."
Kennedy brings 25 years of executive and industry-specific experience to this leadership role. Most recently, he spent seven years as president for L-3 Technologies Electron Devices Division in Torrance, California, where he was responsible for a $250M business that produced high-power, high-frequency amplifiers and subsystems for military and commercial applications.
Prior to this, Kennedy served for five years as president and chief executive officer of WashTec/Mark VII Equipment in Arvada, Colorado, where he was responsible for the growth and expansion of the company's North American operations specializing in innovative vehicle washing solutions.
Kennedy holds Bachelor of Science and Master of Science degrees in Electrical Engineering from Texas Tech University in Lubbock, Texas, and a Master of Business degree from the University of Chicago, Booth School of Business.
Kearfott's products also provide navigation, pointing, and weapon fire control for ground radars, mobile and towed artillery, and military transport vehicles; flight control actuators for missiles, UAVs, helicopters, and military and commercial aircraft; and precision, ruggedized components that measure angle and position in a wide range of applications.  Kearfott is a wholly owned subsidiary of Astronautics Corporation of America, a global leader in the design, development, and manufacture of avionics equipment and systems for the commercial and military aerospace industry.