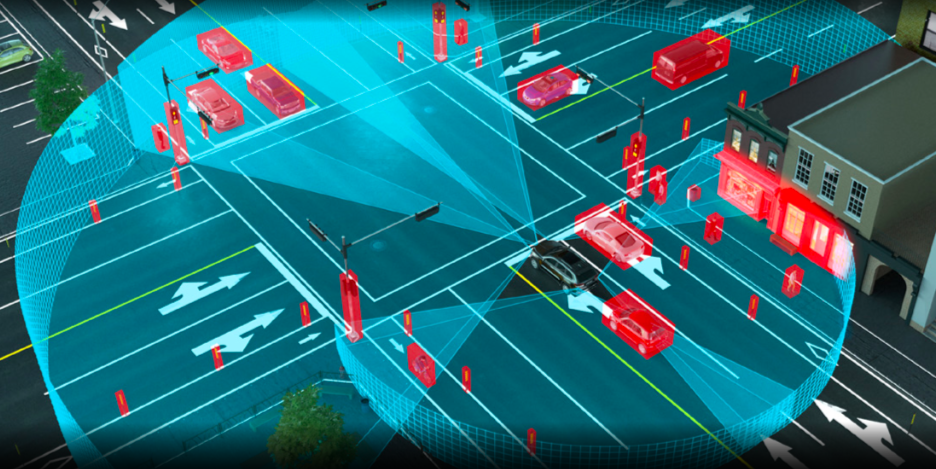 While plenty of excitement has been built around LiDAR's role in the evolution of autonomous vehicles, much work has yet to be done before all of the pieces come together just right and safe, driverless cars take over the roads.
That said, the technology and the momentum keep expanding and companies like LeddarTech from Quebec City, Canada are working hard to make sure they will be a part of the LiDAR-driven path to the future. Michael Poulin, GM of automotive solutions at LeddarTech, talked to Inside Unmanned Systemsafter his company created a buzz at the CES in January where it came away with a pair of innovation awards and recognition around its upcoming LCA2 and LCA3 system-chip LiDAR sensor solutions.
"CES was very exciting. We got a lot of traction and we were able to meet with our customers," said Poulin. "What's great about CES is that everyone who plays an important role in the industry is at that show.
It gives us a great opportunity to meet with our customers, our partners and also players in the industry that are actively seeking to find the right LiDAR solution for their applications."
For much more CES coverage, visit insideunmannedsystems.com.
LeddarTech, founded in 2007, started in transportation systems with traffic management solutions, and from there evolved into a company focused on bringing technology and modules for integrators to develop and integrate LiDAR into their systems.
"At LeddarTech we have two business units, divided between let's say the mature automotive passenger market and the commercial vehicle market, so mainly working with Tier 1s and addressing OEM requirements for the automotive industry," Poulin explained. "But we also have a business unit that's addressing several other markets.
"I'd say we're mainly targeting mobility, so vehicles and smart transportation systems, any types of vehicles. They can be industrial vehicles. Anything that needs to have a perception of its environment and it can go beyond mobility to less traditional vehicles like drones, and also robotics and other fields."
With an eye on the automotive industry from its inception, the company's first-generation 2D LiDAR solution was developed for Valeo, an automotive supplier/partner to automakers worldwide.
With a background that includes working with Valeo, LeddarTech has a solid understanding of the automotive industry, the supply chain and the value chain, Poulin said.
"We work closely with Tier 1s who we see as the ideal partners to industrialize the LiDAR and bring this into volume production to supply to the OEMs," he said. "And of course the Tier 1s need a fully qualified supply chain, ideally with all components that can be second sourced. Automotive production is very demanding in terms of the supply chain and meeting the deliveries. Also, cost is a significant criteria for the automotive industry."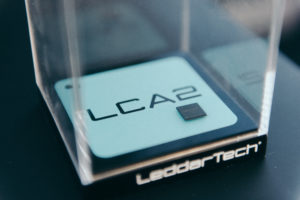 The company currently has LCA2 engineering examples in hand, and is targeting to have the solution in production next year, with the LCA3 available in 2020. For more details, watch the video here: https://youtu.be/Z-mFd97zsvE
"We're already developing this component and supporting our customers in the development of their solutions based on this part," he said of the LCA2. "So this component is moving ahead quite well. The plan is to be in production with the LCA2 in 2019, which is just around the corner."
As the demand for LiDAR has increased, so too has LeddarTech's goals.
"We actually accelerated our pace in the automotive market with this trend and the strong demand for LiDAR that I'd say just came in the last three years with this whole theme of autonomous driving," Poulin said. "The LCA2 and LCA3 are our second and third generations of these SOC (system-on-chip) products that we're offering to the full automotive industry. These two core products are the core component to the LiDAR platform that we're bringing to market. We believe these two products provide the scalability and flexibility required by the industry to develop cost-optimized LiDAR sensor suite for autonomous vehicles."
The main difference between LCA2 and LCA3 is that LCA3 provides increased performance in terms of range and number of pixels, or segments. The LCA2, however, provides a more cost-effective solution.
"LiDAR is really one of the key technologies that will enable autonomous driving," Poulin added. "It is one of the pieces of the puzzle that really needs to be solved by everyone who is in this space or who is developing autonomous vehicles. There is huge interest and also a huge business opportunity. A LiDAR is a complex system. There are several pieces you have to put together, so we make that a lot easier for the Tier 1s."
LeddarTech works up front very closely with other key component suppliers in the supply chain, such as the laser suppliers, photo detector suppliers, and for example the processor suppliers. The reason for this, Poulin said, is because these are key components and they have a very significant impact on the performance and the cost of the complete LiDAR solution.
Watch this video from CES: https://youtu.be/JeCDV7MdXnc
"What we do is we work with them and we share with them our roadmap. We share with them the target specifications of the components that are required to develop a LiDAR that meets their requirements for autonomous driving," he said. "We're able to steer these suppliers in the right direction in terms of their own roadmap."
The goal is to allow these suppliers to deliver the right product and, in doing so with several suppliers, then when the Tier 1s start developing with LeddarTech products they already have suppliers established for these other key components.
"That's where you sort of understand maybe that what we're bringing to the market is really a platform and we're bringing these partners with us to the Tiers 1s," he said. "The reason we have such a great collaboration is that we're providing all these partners of ours complementary products to the same customers, basically. This is why we have such a strong relationship with them. It's really complementary."