LAS VEGAS—The number of companies offering LiDAR (light imaging detection and ranging) units at CES is growing each year as autonomous vehicles continue to take the forefront at the huge electronics show.
Companies are touting new LiDAR capabilities that include smaller size and higher resolution. In addition, most companies are saying units soon will drop in cost to only a few hundred dollars when purchased in quantity.
Velodyne recently reduced the price of its VLP-16 puck, the company's most popular sensor, which was originally priced at $7,999. The company said because of its increased automated manufacturing at its new "Megafactory," it reduced the LiDAR unit's cost by 50 percent.
The company, founded by David Hall in 1983 as a high-performance audio company, participated in the now-legendary DARPA (Defense Advanced Research Projects Agency) Challenge in 2005. "During the race, [Hall] said he could see some of the things, some of the time, but not all of the time.  So, in 2005, he invented real-time 3D LiDAR," said Mike Jellen, Velodyne president and chief commercial officer.
Jellen said that the majority of the industry is now running Hall's vision on their vehicles, with 50 projects, including mobility-as-a-service operating.
Jellen said the company has grown to 500 employees working at five facilities, including those in Germany and Beijing. He also said the company shipped 10,000 VLP-16 puck units in 2017.
In terms of worldwide autonomous vehicle rollout, Jellen said that nothing can stop it now. "It is now inevitable. It's coming into reality across the industry," he said.
Velodyne rolled out its flagship VLS-128 recently, which it says has a 360-degree field-of-view.
Velodyne's booth featured the NAVYA autonomous mini-bus that currently navigates with three Velodyne VLP-16 LiDAR. The NAVYA bus can speed up to 30 mph with as many as six passengers.
Competition Keen in LiDAR Industry…
At CES 2018, Mobileye announced it will launch 15 autonomous driving projects this year with 14 car manufacturers. The company, which was bought last year by Intel for $15.3 billion, said four of the projects would use its EyeQ4 system on a chip (SOC).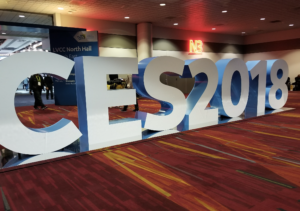 The company outlines three areas it is focusing on for autonomous vehicles.  These are sensing, road experience management and driving policies, said Amnon Shashua, Mobileye CEO, who is also Intel senior vice president.
For 2018, the company wants to continue to work on Level 4 automation, offer a more expensive Level 2 plus program that upgrades existing production vehicles, and work with industry on standards, Shashua said.
"There's a big jump in integrity from Level 2 to Level 3. Level 2 is where we are today," he said.  "Adaptive cruise control, hands-free for short period of time [requires] Level 2 Plus. We would like to make a big jump, by adding at small cost, lane-keeping assist inside a city when the lanes are not clear."
In terms of high-definition map building, Shashua said that his units are "harvesting production from 2 million cars" and they expect more in 2019.
Another company, Israel-based Innoviz Technologies, said it is offering 3D LiDAR that it hopes will take advantage of a market that is seeing prices going below $5,000 per unit.
"We are two years old, with 120 employs and are starting to ramp up our production line to give the Tier 1s and OEMs early access to newer [LiDAR] versions with better range and field of view," said Omer Keilaf, Innoviz CEO.
Innoviz, which was recently funded by Aptiv and Magna during a $65 million round, is working with a European OEM that plans to go to market at the end of January, Keilaf said.
"The under-$5,000 LiDAR market is growing. We are starting to see volume go up and price go down," he said.
Innoviz won the CES 2018 Innovation Awards Honoree recognition in the Vehicle Intelligence and Self-Driving Technology category for its InnovizPro high-definition solid state LiDAR.  InnovizPro is an early version of a unit that will be rolled out in 2019.
In other CES LiDAR news:
Canada-based LeddarTech showed off its LeddarCore LCA2, which it says is the industry's first 3D solid-state LiDAR (SSL) integrated circuit (IC) to enable mass production of automotive LiDAR units. The LeddarCore LCA2 was named a CES 2018 Best of Innovation Awards Honoree in two categories: Vehicle Intelligence and Self-Driving Technology, and Embedded Technologies.
Dibotics and AGC Automotive displayed a LiDAR sensor that is mounted inside the vehicle. The sensor is hidden behind IR glass windshields and glass trim.