Drones become tool of choice in monitoring threatened glaciers and ice sheets.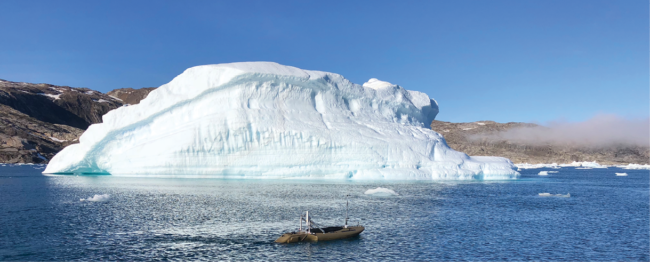 Icebergs breaking off from the Greenland ice sheet are rapidly melting because of climate change—part of a massive wave of ice loss that could trigger nearly a foot of global sea level rise. Measuring these large pieces of moving ice to determine how quickly they are shrinking, however, has long been a challenge.
Over the past decade, researchers have turned to drone technology to monitor melting ice in remote corners of the world. In Greenland, for example, a team from Northeastern University has deployed a kayak-sized unmanned surface vessel to navigate around icebergs, equipped with a camera to capture images of the structure above the water and a sonar sensor to measure the submerged ice.
Along with the ocean robot, the team also flew unmanned aircraft to map the shape of the icebergs, which can be dangerously unpredictable. "You don't want to be anywhere close to them in a manned vehicle," said Hanumant Singh, a professor of electrical and computer engineering at Northeastern. "A chunk the size of a five-story building can fall off."
As temperatures continue to climb due to human-driven climate change, researchers are assessing the melting ice and the effects it will have, not only on sea-level rise but also on the nearby communities. This means the world's ice sheets and glaciers need to be repeatedly measured to show how they are changing over time.
Using drones to measure these shrinking ice sheets and glaciers not only saves money but also produces more detailed images of how these massive structures are changing. "It's much higher resolution than the satellite images that have been used," said Andrea Blindenbacher, president of Drones for Earth, a Swiss organization that has used drones to map glaciers in the Alps.
DEPLOYING DRONES IN ANTARCTICA
The world has two massive ice sheets, in Greenland and Antarctica. While scientists know that warmer temperatures are melting billions of tons of ice mass from these structures each year, they do not know how much sea levels will rise and how quickly it will occur.
The gap in data stems from incomplete mapping of the 54-million-square-mile Antarctic ice sheet, the largest on Earth. With 90% of the Earth's ice mass, if the Antarctic ice sheet melts completely, it would trigger sea levels to rise by 190 feet, according to the Intergovernmental Panel on Climate Change.
"Antarctica is the largest contributor to uncertainty in future sea-level rise in our models," said Thomas Teisberg, an engineer and Ph.D. candidate in electrical engineering at Stanford University. "It's got a lot of really complicated physics that are not super well understood, especially when it comes to the high-end climate scenarios."
In Antarctica, most of the ice sheet's loss occurs through the coastal margins, the interface between the ice and the ocean's warmer water. The dynamics that occur at that intersection, however, are difficult to observe and incorporate with existing climate change models.
While conventional airplanes outfitted with antennas have been mapping Antarctica's ice shelves—the places where the ice and ocean meet—the surveys are expensive and logistically complicated, Teisberg said.
"There's just not a lot of good options for accessing these areas with radar instrumentation," he said. "We're hoping that UAVs could bridge that gap by giving you access to areas that are not safe for humans to traverse on the ground, at a fraction of the cost of crewed aircraft approach."
Using a small drone with a fixed, two-meter wing span, the team modified the drone, which it called Peregrine, by equipping it with custom-designed antennas and ice-penetrating radar. The team tested the drone in Iceland last summer, and hopes to begin deploying it in Antarctica and Greenland next year.
The goal of the project will be to cover the coastal regions of the Antarctic ice sheet that have not been measured. "Antarctica is so huge and so remote—it's 40% larger than the continental United States—and it's about the most inhospitable place to humans and airplanes that you can imagine, so it's just been incredibly hard and expensive to collect the data," Teisberg said. "The hope is that by using UAVs we can reduce that cost and reduce the risk to human lives in flying these missions."
CHARTING GREENLAND
Greenland's ice sheet is nearly nine times smaller than Antarctica's, but it is more vulnerable to climate change because of its location in the Arctic, which has been severely impacted by warming temperatures. A recent study predicted that 3.3% of Greenland's ice sheet will melt before the year 2100, triggering nearly a foot of global sea-level rise, according to the findings in the journal "Nature Climate Change."
"You don't want to be anywhere close to them [icebergs] in a manned vehicle. A chunk the size of a five-story building can fall off."

Hanumant Singh, professor of electrical and computer engineering, Northwestern University
While it is easier to study Greenland's ice sheet because of its size, it is difficult to measure its towering icebergs because they are constantly moving. That is why researchers at Northeastern University built an unmanned, gas-powered robot called the jetyak to get around that problem.
Deployed in the Sermilik Fjord to measure a dozen icebergs, the jetyak is equipped with a camera that takes raw images of the ice exposed above the water. The robot then uses the photos to help it move around the icebergs as a sonar sensor on the vehicle measures the submerged ice, which accounts for more than 90% of the structure.
"When you get melt from Greenland or from Antarctica, that's water that was locked up on land that's suddenly coming into the oceans, so that's what's going to cause sea-level rise," said Singh, who is leading the project. "So, we're very interested in seeing how much water is melting from these sources so we can try and figure out how much we expect things to rise over time."
To get a complete picture of the icebergs, Singh's team uses aerial drones to take 3D views of the top of the icebergs, while a crewed ship is used to conduct sonar mapping of the ice structure beneath the surface. The research team, which is stationed on the ship during the expedition, also relies on a variety of techniques to track the glaciers' movements, from artificial intelligence to simultaneous localization and mapping.
Measuring icebergs with a variety of unmanned vehicles is a unique approach in the field of climate mapping.
"That's one of our strengths," Singh said. "Some people will do one or the other. Everybody can buy a drone and try to do a map on the top. But then the side is really hard and the underwater is really hard and so that's why we just do the whole thing at once."
The goal of the continuing project is to generate maps that show how the icebergs are changing at two-week intervals by documenting how chunks are breaking off and how much melting has occurred. Because the effects of global warming are occurring so quickly, Singh said changes in the glaciers can be seen in three or four days.
"It's happening at a constant rate and we just need to really understand it," Singh said. "So, that's why we're really interested in this problem so we can make a difference in understanding problems of very big scale which are important for humanity."
PREDICTING FLOODING
In southeast Alaska, the Mendenhall Glacier north of Juneau has triggered flooding every summer since 2011, as a basin alongside the 14-mile-long structure has overflowed with water. The glacier floods, which fill the streets and empty into houses, are a direct result of climate change as a second glacier that once connected to Mendenhall thinned and left the basin in its place.
Because the reservoir is covered in ice and surrounded by steep topography, there was no way to determine how much water had collected in the basin. In 2017, researchers at the University of Alaska Southeast began deploying drones to measure how it was filling with water every summer.
"Ultimately what matters for the floods is the total water volume or the storage capacity of the basin," said Jason Amundson, associate professor of geophysics at the university in Juneau. "And that depends on the thickness of the glacier itself, which acts as a dam."
By deploying a drone, Amundson and his research team have been able to map the basin connected to Mendenhall five or six times each summer, producing images that show the reservoir's water level and the presence of ice that has fallen into it from the glacier's sides.
CHANGES OVER TIME
The goal of the project is to assess the likelihood of flooding and the changes in the basin's structure over time. "It's a hazard for the city and they want to know what's the risk from these floods, how big could they get and how are they going to change in the future, in 10 or 20 years," Amundson said.
In Switzerland, flooding from ice melt is also a problem as glaciers are quickly thinning, sending massive pieces of ice rolling down its steep mountains. In some areas, water that has built up behind the rocks can quickly flow down into valleys and cause extensive damage, said Blindenbacher, of Drones for Earth.
"In Switzerland, one would try to find preventive measures," Blindenbacher said. "There will be an assessment of the risk level, and once it reaches a certain level, that means that there's a significant danger and potentially people have to be evacuated, the area has to be cleared and only certain activities are allowed."
Switzerland's glaciers lost 6% of their ice in 2022, the most in any year, according to a study by the Cryospheric Commission of the Swiss Academy of Sciences. Previously a loss of 2% over 12 months had been viewed as "extreme."
A research group at the Free University of Brussels has monitored the shrinking ice in the Alps by tracking two glaciers—the Morteratsch and the Pers—each September for the past two decades. "What we see is over the 20 years the glaciers are increasingly losing mass, and especially the previous year, which just ended in September, there was a record amount of loss in the Alps," said Lander Van Tricht, a researcher and Ph.D. candidate at the university.
Researchers have opted for drones to track ice melt in the Alps because the areas they are assessing are both inaccessible due to the rugged topography and dangerous because of falling rocks. In 2020, Drones for Earth, for example, used a fixed-wing senseFly drone to measure the Glacier d'Orny on the southern border of Switzerland, which is now crumbling due to melting ice.
"The whole side of the valley is basically eroding, and ultimately the whole valley has become more open because of that erosion," Blindenbacher said. "That was what we were interested to see so we went out there and mapped it. We even stayed the night up there in tents and we could hear the rocks falling throughout the night."
FIXED-WING DRONES
In the frigid temperatures of glaciers and ice sheets, many researchers have relied on fixed-wing drones to measure ice melt because they tend to work better in colder climates and with thicker ice sheets. In addition, fixed-wing drones can travel farther than quadcopters.
"Quadcopter-based surveys are a lot easier to do, but they have somewhat limited use once you start talking about large spatial scales," said Teisberg, the Stanford researcher. "It's usually a useful spatial scale for a relatively small mountain glacier but when we're talking about Antarctica and Greenland, we want to be doing surveys on the order of tens of hundreds of kilometers."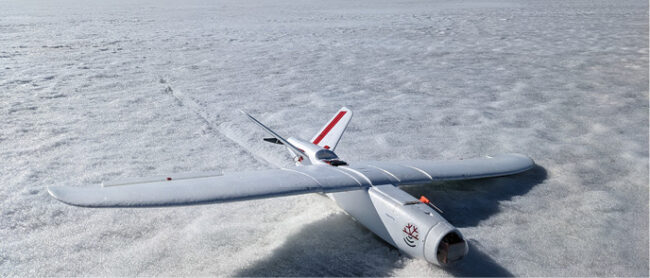 The fixed-wing aircraft with its single propeller that his team at Stanford tested in Iceland last summer was extensively modified so the researchers could mount two custom-designed antennas on the drone. To measure the ice, a radar sounding a chirp is sent out on one antenna and the researchers listen to the reflections of that signal on the other.
While the radar doesn't penetrate through the ice, it can detect the interior structure of the ice up to one kilometer deep and reflect the elements of that composition, such as layering, back through the antenna, Teisberg said.
CHALLENGES TO OVERCOME
While drones can take photos in clouds, severe weather, such as snowfall, can prevent them from deploying in frigid climates.
That is what happened in 2021 when Horst Machguth, an assistant professor of geoscience at the Université de Fribourg in Switzerland, and a team attempted to launch a WingtraOne drone over the Greenland ice sheet to measure the summer slush fields.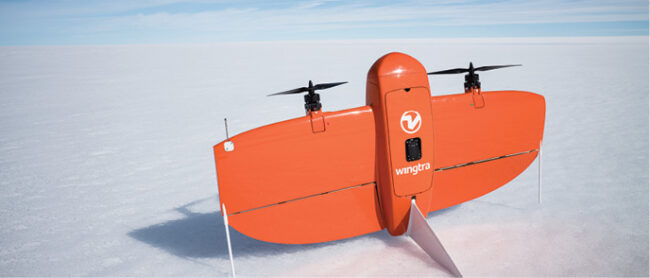 Outfitted with a multispectral camera, the drone had mapped the terrain in 2020 with several successful flights. But a year later, the researchers were unable to get a second set of data to show changes in the water lying on top of the ice sheet because of torrential rain and a snowstorm.
"We thought drones would be a good method to get high-resolution images over a relatively constrained area around the camp," said Machguth, adding it was his first deployment of drones for his research. "If we would buy such data from satellite data, that would be possible, but the resolution would be worse and it's extremely costly."
Another limitation of using drones to measure ice melt is they cannot cover wide-ranging areas because of the need to maintain communication with the aircraft from a computer at a ground station.
"If you have a mountain between you and the ground station with the tablet and the drone in the air, then you won't manage to keep that communication link," Blindenbacher said.
RELIABLE AND REPEATABLE
Despite those constraints, many researchers believe drones are still the preferred choice in measuring ice melt because of the harsh conditions that make arctic regions around the world inaccessible.
For Singh, at Northeastern, one way to ensure success is to deploy a variety of drones, including those on the water and in the air.
"If we look at all the different kinds of drones that we use, they are the only technique that we can think of that can very quickly and reliably do this work," he said. "We want to map dozens of icebergs over a week so we have to be efficient. The basic idea is to bring all this stuff together and make it as reliable as we can, inexpensive, and then just do it and make sure that it's so good that you can do again and again and again and again."