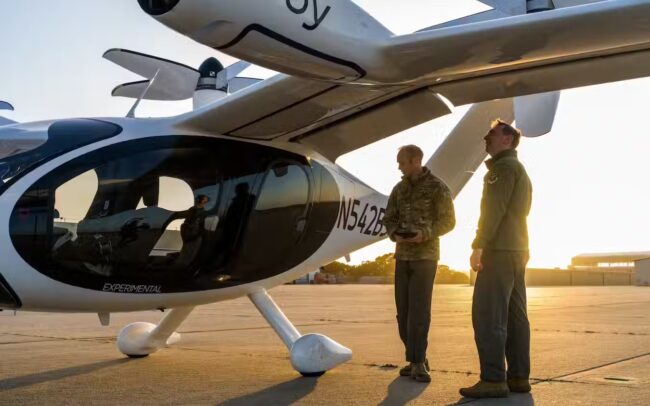 DENVER—Advanced air mobility is of increasing interest to the U.S. military, which hopes to reap the same benefits as the commercial world from having all-electric, lightweight, autonomous aircraft for shuttling cargo and people.
Darshan Divakaran, head of airspace innovation and prime partnerships for AFWERX, said May 8, the first day of AUVSI's XPONENTIAL, that the military is helping vet the technology, serving as a development partner to the FAA and NASA.
"We can push it further, we can speed up the process," he said in a panel that was part of the Law-Tech Connection co-located event.
Santa Cruz, California-based Joby Aviation, which is developing electric, vertical takeoff and landing aircraft, has an existing contract with the Air Force that has just been extended, bringing the total potential value to $131 million. As part of the deal, Joby will deliver and operate up to nine of its five-seat, low-noise aircraft.
The first two are scheduled to be delivered to Edwards Air Force base in California by early next year, and will be used for a range of operations including cargo and passenger transportation.
Although the Department of Defense is not interested in a purely commercial use for such systems, "the commercial viability is key here," Divakaran said.
The military's ability to control its own airspace will help with vehicle development, he said. "We can test quicker, we can get you a flight release and get you out to test your system," he said.
He said the FAA handles the regulations, NASA works on the technology and the military "are the operational risk takers."
That sentiment was echoed in a Joby Aviation press release announcing the contract expansion, which said Air Force pilots will train on the aircraft and operate them.
"This next step of getting Air Force pilots trained and operating Joby aircraft at an Air Force installation is an incredibly important milestone for the program, providing key insights to actual operations and use case validation for advanced air mobility aircraft," said Lt. Col. Tom Meagher, the AFWERX prime lead. "Additionally, the Joby operations provide an outstanding opportunity for accelerated learning with the other Department of Defense services and government agencies, including NASA and the FAA."