ROBOTS ON DUTY:
PROTECTING EMPLOYEES, PROPERTY AND CRITICAL ASSETS
Automation and economics are driving adoption of UAVs and UGVs for surveillance and other commercial security applications.
Rising security threats and a shortage of security staff has companies turning to robots to protect their physical assets, property and employees.
Robots used in security applications are a $31.5 billion market. They can take the form of unmanned aircraft, ground vehicles or underwater vehicles. While this total includes defense, public service and residential applications, robot adoption is also on the rise among commercial entities. Ground robots designed to patrol commercial properties are a $558 million market that is expected to reach $1.67 billion by 2028. Similarly, the adoption of unmanned aircraft has increased among industries such as energy and power, where infrastructure assets can be spread over miles. The market for drone surveillance within the energy and power market alone is expected to reach $475.5 million by 2028.
In its 2023 World Security Report, Allied Universal, a leading security and facilities provider, highlights the increasing role of technology in security operations. Among 1,775 chief security officers (CSOs) at large global companies surveyed, 29% expect to use robots and autonomous systems over the next five years while a quarter of respondents expect to use drones and unmanned aerial systems. "We've seen a dramatic increase in information requests and feasibility assessments," said Michael Hanlon, vice president of Hosted and Managed Solutions for Allied Universal.
"The more we automate technologies such as robotics, visitor management (like entryways and gates and doors), and virtual patrols, whether it's through fixed cameras, robotics, or a combination of the two, the more AI and automation can do, the better the benefit and the better the outcomes," Hanlon said.
Theft of company property, damage to company property, and violence against employees are some of the reasons almost half of CSOs surveyed expect to increase physical security budgets significantly in the next 12 months. Economic instability, social unrest, fires and floods are also a concern for security teams.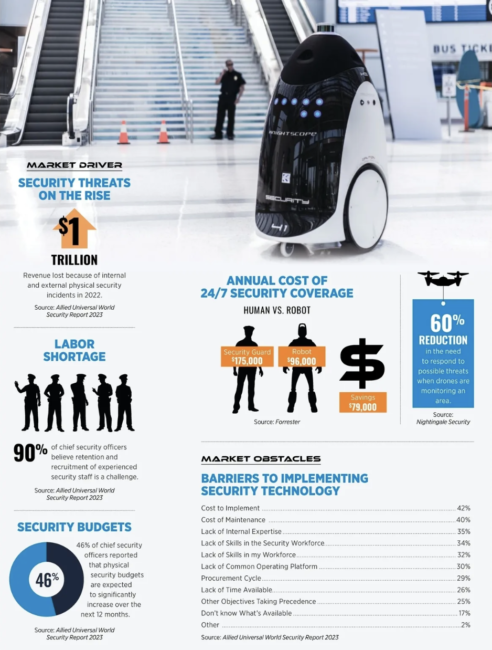 SECURITY ROBOTS DETER CRIME
Economics support the use of ground security robots to augment security guards. William Li, CEO of Knightscope, said the subscription cost to use the company's fully autonomous robot runs anywhere from 75 cents to $9 per hour, considerably less than an armed off-duty law enforcement guard ($85 per hour), or an unarmed security guards ($15-$35 per hour). A Forrester Trends Report found that 24/7 robot-as-a-service coverage over a full year would result in a savings of $79,000 when compared with hiring security officers.
Unlike their human counterparts, an autonomous security robot can operate day and night with 360-degree vision. Knightscope has robots deployed in a wide variety of commercial locations including parking lots, casinos, health care facilities, airports, hotels, commercial real estate, schools and campuses. Advancements in autonomy, artificial intelligence and sensor technology enable robots to perform complex tasks such as reporting, monitoring, investigating and detecting intruders. The robots can stream live video, read license plates, run thermal scans, detect weapons and identify the faces of wanted people.
"The psychology behind the robot helps our clients," Li said. "When criminals see the five-foot tall, 400-pound robot that speaks, it acts as a deterrent."
In the Forrester Trends Report on automation of surveillance and security, Ralph Parks, senior manager of safety and security at Woven Planet, a Toyota subsidiary, said their robots (built by Cobalt Robotics) "check on Wi-Fi, read LEDs on servers, find monitors accidentally left on that may give away corporate secrets, and determine if the building is too hot or cold. They even disinfect for COVID-19 with UV light and compute an air-quality index to detect smoke from wildfires. Most important, they can improve employee safety, find trip hazards, or notice if someone is ill or hurt."
Hanlon doesn't see robots or drones as a replacement for officers but as another layer of the security program. "A combination of technology, along with manned security, delivers the best and most reliable outcomes," he said.
SECURITY UAS DRIVEN BY AUTOMATION AND BVLOS
Two factors are enabling the use of drones for security applications, BVLOS flights and automation. According to Jack Wu, founder and CEO of Nightingale Security, a robotic aerial security company, energy is currently the largest market for security drones. Companies in this sector typically have very large facilities located on hundreds, if not thousands, of acres.
"It's not practical to use cameras along the perimeter or to have a vehicle or foot patrol," Wu said. "Drones are very efficient at covering a large area."
More waivers have been granted for flying BVLOS in the past year, and that's increased optimism. "I think there's going to be a lot of growth in 2024," Wu said. "The availability of the visual line of sight waivers is really what's going to change the adoption curve."
"A major tipping point is the introduction of autonomy," said Nitin Gupta, founder and CEO of FlytBase, which makes a drone automation software platform. Currently most operations require one pilot for every drone, and that can be costly. "If you have automated drones deployed with docking stations it unlocks so many applications," Gupta said. "Drones can work in areas where it is difficult for humans to work. And with one pilot operating multiple drones, it becomes more efficient."
Nightingale customers can reduce the need to respond by 60% because drones can verify when an alert is not a threat, Wu said. In addition, the drones often serve as a deterrent, so trespassers walk away. "We're a force multiplier," Wu said.
WHAT SECURITY TEAMS WANT
Nightingale's drones are designed specifically for security. "Our drone has one of the shortest takeoff times, because reaction time is very important," Wu said. And because you don't know when the drone will be needed, it needs to be very robust to handle a variety of weather conditions. Nightingale's Blackbird can fly in persistent winds up to 45 miles per hour and in temperatures ranging from minus 20 degrees to 124 degrees Fahrenheit.
Hanlon would like to see a shift in how clients evaluate drones and robots. "We really should be assessing based on what's being delivered from the system, rather than what it looks like in the field," he said. "When we look at a drone or robot deployment we show clients the field operation of the unit, the command center and the outcomes."
It's important that data from the systems flows easily into the company's existing monitoring or security operations center. "Bringing these systems into the workflow and into that single operating system is really delivering the biggest benefit and the most value," Hanlon said.
Hanlon and Gupta find some commercial clients are interested in deploying the same drone or robot for multiple purposes, such as performing inspections during the day and patrols at night.
Safety and data security are other important considerations. Flytbase's hardware-agnostic platform focuses on the operational aspects of drones, including flight safety, compliance and data security.
"We do a lot of work making sure that the entire operation is safe," Gupta said. "That's how we're able to convince regulators to give us the permission to conduct automated flights. In addition, Gupta advises security teams to ensure data is being handled according to international data security standards.
Return on investment is always going to be an important part of the decision to deploy robots, Hanlon said. Even mundane data collected by robots and used to improve operations can contribute to the ROI. "At this point in time, we're showing the value of drones and robots and we're proving the ROI," he said.