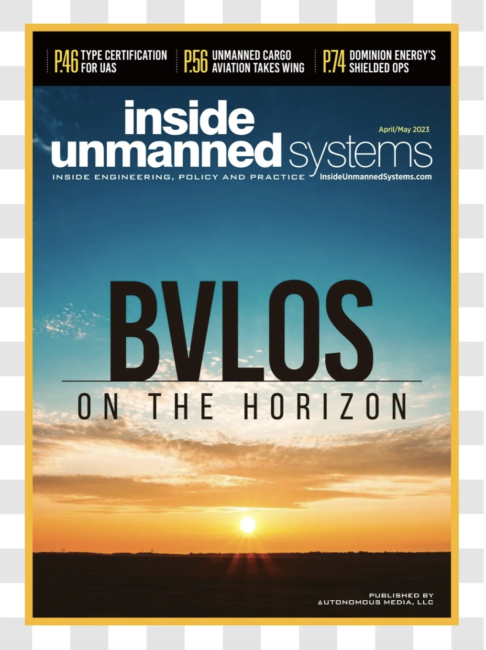 With autonomy the focus of the 2023 AUVSI XPONENTIAL show in Denver, there is a strong component of companies displaying and discussing their BVLOS systems and practices. That's also the focus of the latest edition of Inside Unmanned Systems, available at the show.
Inside Unmanned Systems has put together a short roadmap for attendees wanting to focus on this critical capability.
Enabling Technologies
Detect and Avoid
Accipiter Radar (Booth 4432). The Orchard Park, N.Y., company provides surveillance systems to detect, track and provide alerts of non-cooperative aircraft for BVLOS operations, such as drone delivery, counter-UAS systems and more.
DroneUp (Booth 4037). DroneUp, based in Virginia Beach, provides services including drone delivery, inspection, commercial real estate work, aerial photography, construction management and more. In 2021, the company received a significant investment from Walmart, and the companies launched Walmart's drone delivery service in Arkansas, which later expanded to other states.
Andy Thurling, DroneUp VP of airspace innovation, will speak on a panel, "Open Sourcing Design and Evaluation of Autonomous Detect and Avoid," on Wednesday, May 10, at 4:30 p.m. in Room 110/112.
Iris Automation (Booth 2039): The Reno, Nevada-based company uses AI-based vision technology systems in its Casia family of detect and avoid systems. Two types of the Casia system are aerial and one is ground based.
Iris Automation CEO Jon Damush will speak on a panel, "BVLOS Pathways Enabled by Autonomous Tech," on Tuesday, May 9, at 3:00 p.m. in Room 104/106.
Outsight (Booth 4427): San Francisco-based Outsight provides software that allows users to incorporate 3D LiDAR data into infrastructure, smart vehicles or industrial applications.
Outsight CEO Cedric Hutchings will present "LiDAR-Based Multi-Sensor Fusion for 3D Situation Awareness," on Tuesday, May 9 at 3:30 p.m. in Room 108.
DAA-Related Presentations
Sightec: CTO Yonathan Samet will present "Visual Situation Awareness—Detect and Avoid Using a Monocular Camera," on Tuesday, May 9 at 3:30 p.m. in Room 110/112.
TTP pld: Vidyha Sridhar, Head of Autonomous Technology, will speak on a panel, "Is Detect and Avoid Possible Without Weighing Down Drones with Expensive Sensors?" on Thursday, May 11 at 12:55 p.m. in Room 110/112.
Unmanned Traffic Management
OneSky (Booth 1808): OneSky, based in Exton, Pennsylvania, is a global unmanned traffic management company developing airspace assessment, operations and traffic management systems.
UTM-Related Presentations
ANRA Technologies, NAVOS Air: Anra CEO Amit Ganjoo and NAVOS Air Technical Director Matt Burton will speak on a panel, "Bridging the Gap Between Airspace Traffic Management and UAS Traffic Management," on Thursday, May 11 at 1:30 p.m. in Room 107/109.
Zipline: Harrison Wolf, head of global aviation policy, will present, "Fast-Tracking the Autonomous Skies: How to Make UTM Work," on Wednesday, May 10, at 2:00 p.m. in Room 103/105.
Autonomous Operations
AeroVironment (Booth 3216): Arlington, Virgnia-based AV provides a variety of unmanned air and ground systems to the military, first responder and other markets, including the Jump 20 and Puma UAS and the Telemax and tEODor ground robots.
Andrew Browning, senior program director for autonomy at AeroVironment, will present "Transitioning from Demo-Focused Autonomy to Operational Autonomy," on Tuesday, May 9, at 4:00 p.m. in Room 107/109.
Charles River Analytics (Booth 4942, MR 7): An employee-owned company, Cambridge, the Massachusetts-based company conducts AI, robotics and human-machine interface research and development to create custom systems.
Arjuna Balasuriya, senior scientist at Charles River Analytics, will present "Challenges and Progress in Behavior-Based Adaptive Autonomy," on Tuesday, May 9, at 2:30 p.m. in Room 110/112.
Autonomous Operations-Related Presentations
Spleenlab: CEO Stefan Milz will present, "AI for Drone Autonomy," on Wednesday, May 10, at 2:30 p.m. in Room 110/112.
Wing: Nicholas Devereux, manager of policy and government affairs, will present, "What Does Drone Delivery Look Like at Scale?" on Thursday, May 11 at 11:00 a.m. in Room 107/109.
Communications and Control
Sagetech Avionics (Booth 3630): Based in Bingen, Washington, Sagetech provides situational awareness products for manned and unmanned aviation, including transponders and detect and avoid systems, including for small UAS.
uAvionix (Booth 2720): Based in Leesburg, Virginia, uAvionix provides avionics and connectivity systems for manned and unmanned flight operations, including its SkyLine Ecosystem command and control system and pingRID remote identification module.
Communications and Control-Related Presentations
AURA Network Systems: Jim Williams, FAA regulatory affairs director, and William Tolpegin, CEO, present "Unlocking the Potential of Certified BVLOS Operations," on Wednesday, May 10 at 3:30 p.m. in Room 103/105.