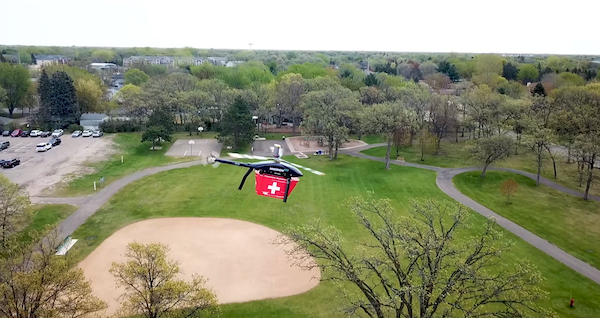 A drone recently carried a research pancreas over the Mississippi River in Minnesota, flying a 10-mile circuit from Mercy Hospital and back—marking the first time a human pancreas was transported via UAS.
The test flight was conducted by MissionGO, organ procurement organization (OPO) LifeSource and Mercy Hospital, part of the Allina Health system, according to a news release.
The pancreas was monitored throughout the flight, with MediGO's hardware and software platform keeping track of the organ's real-time location. LifeSource performed a biopsy before and after the flight to study how UAS transport impacted the organ, finding no changes. AlarisPro's flight data recorder, AlarisAIR (Automated Independent Recorder), monitored the MissionGO drone, providing flight telemetry data through Bluetooth and cellular networks.
Part of the flight's purpose was to evaluate the use of drones in the Midwest. The goal is to integrate UAS organ delivery for LifeSource and Allina Health soon, both from donor to transplant hospital and to Minneapolis-St. Paul (MSP) International Airport for transport to other parts of the country.
"LifeSource has set an audacious goal of transplanting 1,000 organs in one year by 2027; last year, we facilitated 603 transplants," LifeSource Founder & CEO Susan Gunderson said, according to the release. "Organ transplant is a race against time; this is one of many transformative solutions to help us save more lives."
This isn't the first time MissionGO has successfully transported an organ. Lead Pilot Ryan Henderson operated a drone that delivered the first kidney via UAS. The kidney was then successfully transplanted into the patient. Last September, MissionGO partnered with the Nevada Donor Network OPO to complete two test flights transporting research corneas and a research kidney.
"Organ transport by an unmanned aircraft is an incredible innovation for health care," said Robert Quickel, MD, vice president clinical service line, surgical procedural administration for Allina Health, according to the release. "These test flights are an inspiring step in overcoming obstacles and increasing the number of viable, life-saving organs that our transplant patients so desperately need."