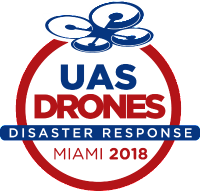 As emergency personnel turn more to unmanned aircraft systems (UAS) during disaster operations, it's important for them to understand the benefits this technology provides and exactly how it can help. 
The UAS/Drones for Disaster Response conference was developed to help public safety officials and emergency managers be better prepared to deploy drones during disasters, and will be held from April 19 to 20 at the Biscayne Bay Campus of Florida International University, according to a news release.
"This the first time a conference will focus specifically on UAS for disaster response," said Christopher Todd, Executive Director of AIRT, Inc. a 501(c)3 non-profit organization that is co-hosting the event.  "UAS/Drones for Disaster Response will push the conversation beyond general public safety to educate conference participants on how to start using drones to prepare for the next big storm or major incident."
The conference will feature speakers from government agencies, universities, and private industry who have experience flying drones during disaster operations. Workshops will focus on deployment during the preparedness, response and recovery phases of a major incident. Attendees will also have the opportunity to see live flight demonstrations. Keynote speakers and workshop facilitators will be announced in the coming weeks.
"The growing use of unmanned aircraft systems are enabling emergency managers and first responders to more quickly and safety gather visual aerial information that improves the response and recovery efforts following a disaster," said Ruben D. Almaguer, Executive Director of FIU's Academy for International Disaster Preparedness, according to the release. "The 2017 hurricane season showcased the increasing use of drones following the impact of the hurricanes, especially to assist in conducting timely preliminary damage assessment.  We now want to drive the conversation forward and help educate all stakeholders about how UAS can best be utilized across all phases of a major disaster to help protect property, the environment, as well as save lives."
Click here for more information or to register for the event.