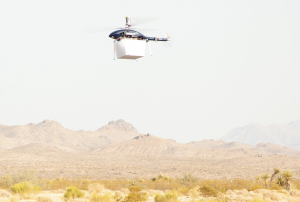 Organ delivery is an unpredictable process that could involve airplanes and helicopters as well as ground vehicles, depending on how far the life-saving cargo needs to travel. To add to the challenge, the more time donated organs spend in transit without blood flow, the less viable they become—which is why there's an effort to streamline and shorten delivery times by deploying drones as part of a multimodal transportation chain.
That effort began about four years ago, when Dr. Joseph Scalea, a multi-organ transplant surgeon at the University of Maryland School of Medicine (UMSM) and the University of Maryland Medical Center (MMC), approached the University of Maryland Unmanned Aircraft Systems (UAS) Test Site about his idea of leveraging drone technology to make these critical deliveries.
Last year, the team transported a kidney to MMC via drone for a successful transplant, representing a first and a significant step forward. Shortly after, Anthony Pucciarella and Ryan Henderson, who spearheaded the 2019 mission in their roles at the test site, started MissionGo to provide unmanned logistics solutions.
The most recent tests came about after The Nevada Donor Network reached out to MissionGo, interested in trialing drone organ delivery in Las Vegas. With that testing, the team hit a new milestone: successfully completing the longest organ delivery by drone at 10.3 miles.
The organ procurement organization (OPO) wanted to be on the forefront of this research to help improve the fragmented delivery process and "chart a new path to have organs delivered more directly to the people who need them without wasting time," Nevada Donor Network President and CEO Joe Ferreira said during an AUVSI XPONENTIAL 2020 panel that included Scalea and other team members.
Organs often need to be transported long distances between states to get to their recipients, which can be time consuming, Ferreira said, and there's really no way to track them. Drones change that.
"We're in the initial stages proving the concept and making sure it's safe and can accomplish what the vision sets out to accomplish," he said. "It's exciting because it will yield more people transplanted and more people saved if we can fix the logistical problems we experience."
The most recent tests
Though the COVID-19 pandemic pushed testing back, the Maryland based team was able to travel to Las Vegas to conduct two test flights in September. During the first flight, the UAS transported research corneas from Southern Hills Hospital and Medical Center to Dignity Health—St. Rose Dominican, San Martín Campus.
With this flight, the team successfully demonstrated viability and drone delivery speeds in an urban environment. The drone flew 1.8 miles in five minutes to successfully complete the delivery.
For the second flight, the drone transported a research kidney 10.3 miles from an airport to a location outside a small town in the desert—making it the longest organ drone delivery to date. Flight time was 20 minutes.
During these tests, the team focused on several key areas, including the viability of the organ after delivery, said Henderson, who is lead pilot for MissionGo.
"When transporting organs, you have a time-sensitive payload and it's not something that can be taken lightly," Henderson said. "Every aspect of the mission must be handled with extreme care, caution and preparation. Every minute an organ is outside of a donor's or recipient's body, the viability and longevity of that organ decreases, and that takes time off the recipient's life."
Sister company MediGo will analyze kidney and corneas to study transplant tissue architecture and cell viability before and after flights to learn the effects UAS may have on human tissue and confirm these deliveries can be completed safely. Scalea is the company's chief medical officer.
Another aspect of the tests is to show the FAA that while the team can safely and reliably operate under Part 107, there is a need to go beyond those rules, Henderson said. For example, flying over unpopulated areas to avoid people may not be the most efficient route, adding to the delivery time. Rules also prohibit flying over traffic, but the team worked with the highway patrol in Nevada to stop traffic over two large roadways for the tests.
The third portion of the tests deals with the technology and the aircraft itself, Henderson said. The VELOS UAS deployed for these flights is a single rotor helicopter that can carry heavier payloads, has a long endurance tim and demonstrates agility in unstable conditions.
Why the VELOS
The VELOS aircraft was designed with a focus on safety, Henderson said, and features full redundancy. It has multiple motors and power sources, so if it does experience a failure it can continue the mission. The UAS also has a ballistic parachute system. So, if everything were to fail for some reason, the parachute would deploy.
"It's a highly reliable helicopter and has proven over and over it can fly safely even under stress and with a heavy payload or wind gusts," Henderson said. "We knew what it could do flying short range, but we wanted to show its capabilities at different ranges as well as being able to take off, fly a distance and then land at a separate location than its original takeoff point."
The drone has a payload rail attached via locking pins that release the payload box, which Henderson described as cavernous and modular. The box, which was developed by the University of Maryland UAS Test Site, can incorporate and accept several different payload sizes.
Before a flight, the flight crew accepts the payload, weighs it, secures it inside the payload box and then secures the box to the bottom of the aircraft. Upon arrival, the system disarms so the flight crew can safely approach the aircraft and remove the payload box. The flight crew then gives the payload to the medical staff waiting for the organ.
Next steps
The team plans to continue testing with other OPOs and to start delivering items locally that aren't as sensitive or as rare but that also require temperature control, Henderson said, such as pizzas and smoothies. Pizzas must retain their thermal qualities of being hot and ready to eat, while smoothies need to arrive cold, upright and in the same state as when they left.
These food deliveries will be happening in Baltimore's Inner Harbor area. Lessons learned can be applied to organ delivery, helping to make transporting organs long distances faster and more efficient—ultimately saving lives.