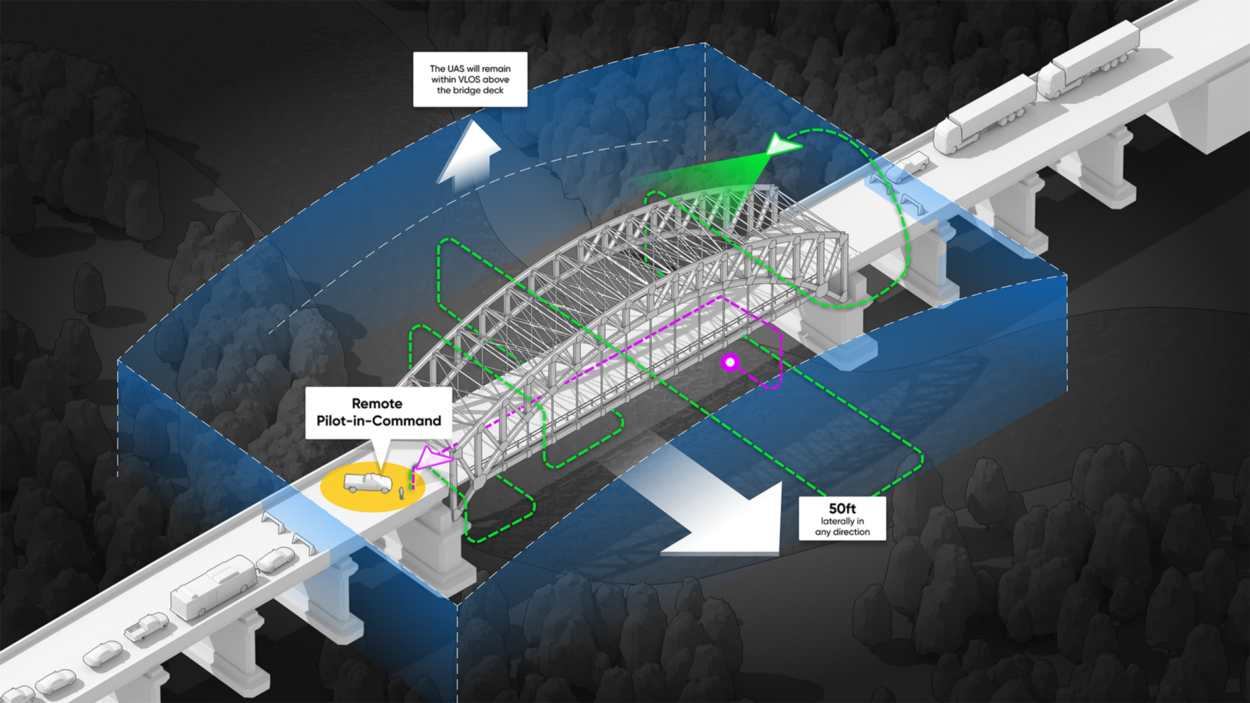 The North Carolina Department of Transportation (NCDOT) will soon begin flying drones beyond visual line of sight (BVLOS) for bridge inspections, without a visual observer or surveillance technology.
This marks the first time a state transportation agency has been granted FAA approval for such a waiver, according to a news release. North Carolina is part of the FAA UAS Integration Pilot Program (IPP).
The waiver application was developed in partnership with U.S. drone manufacturer Skydio. NCDOT will use Skydio drones for the inspections. These systems are powered by on-board artificial intelligence (AI) that enables obstacle avoidance in complex areas without reliable GPS, such as the trusses beneath bridges.
"This waiver marks a new era in unmanned flight. Until now, the FAA had required the use of visual observers (VOs) for operations beyond visual line of sight (BVLOS)," Skydio Head of Regulatory and Policy Affairs Brendan Groves wrote in a company blog post. "The FAA also traditionally required the use of expensive solutions—such as radar—designed to detect manned aircraft, even in areas manned aircraft were unlikely to fly. The waiver announced today breaks both of those barriers. NCDOT received permission to conduct BVLOS operations using Skydio's autonomous drones—without VOs or expensive surveillance technology."
NCDOT has used drones for bridge inspections since 2016, but the ability to fly BVLOS will make it possible to collect more high-resolution images in areas that are difficult to see. This will allow inspectors to better analyze the bridge's integrity and identify possible problems.
"Inspectors will collect images using the drone instead of a snooper truck or having to suspend the inspector from the bridge," NCDOT UAS Program Manager Ben Spain said, according to the release. "They'll be able to do these inspections quickly with minimal impacts to the traveling public, like not having to close lanes of traffic for as long."
Skydio and NCDOT have worked with the FAA for the last six months to win this approval, according to the blog post. With the waiver, inspectors can now fly BVLOS operations below bridge decks without VOs as long as the drone remains within 50 feet of the bridge and within 1,500 feet of the remote pilot. There's also no need for surveillance technology because the FAA recognized it's unlikely for manned aircraft to travel in this airspace. And any of the state's 13,500 bridges that meet the waiver's criteria can be inspected via drone.
"Although this waiver applies to NCDOT," Groves wrote in the blog post, "it lays the groundwork for expanded infrastructure inspection operations nationwide, shattering barriers that have tied the hands of commercial operators for years."
Image courtesy of Skydio.