Teledyne's extensive Boson+ family of thermal sensors boasts an industry-leading 20-millikelvin sensitivity in two radiometric resolutions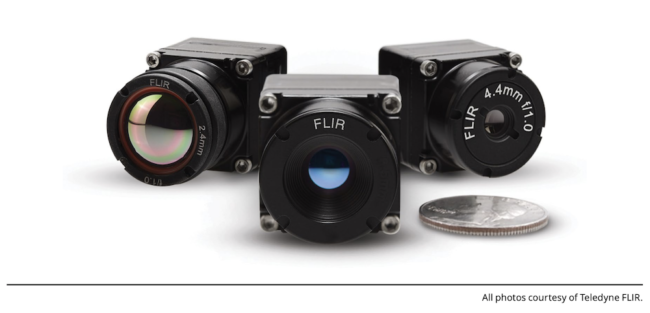 Teledyne FLIR is expanding its Boson+ thermal camera module product line with 24 compact models, including versions with 320 x 256 resolution, making them the most sensitive longwave infrared (LWIR) camera line on the market in that resolution. The company, part of Teledyne Technologies Inc., said the systems are ideal for integration into unmanned aircraft and unmanned ground systems, as well as for the automotive, wearables, security applications, handhelds and thermal sights markets.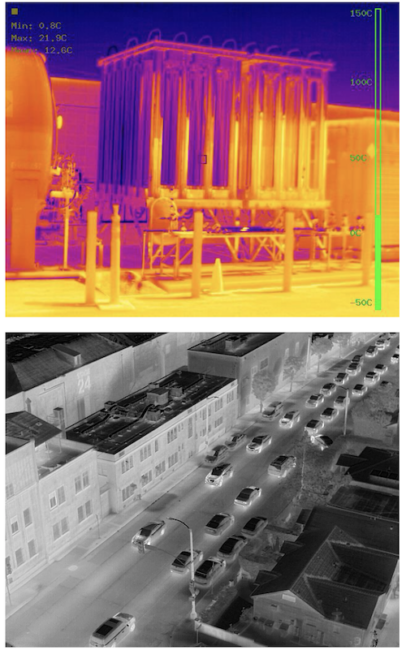 The Boson+ boasts industry-leading 20 millikelvin (mK) thermal sensitivity, achieved by modifying its pixels to extract more energy and convert that to more sensitive signals. In the case of thermal sensitivity, smaller numbers are better, as they indicate greater sensitivity. Thermal sensitivity is also referred to as Noise Equivalent Temperature Difference, or NETD, describing the smallest temperature difference observed when using a thermal device. The lower the NETD value, the better the sensor will be at detecting small temperature differences.
The NETD of 20 mK or less for the Boson+ means it offers enhanced detection, recognition and improved performance, especially in low contrast and low visibility environments, when such sensitivity is often needed most.
"The Teledyne FLIR team managed to modify the pixels to extract as much of the thermal heat signature as possible, and then convert that into a better, more sensitive image output," said Oscar Angel, product manager for the new system. "And now we're talking about less than 20 millikelvins of NETD."
"The bottom line is Boson+ achieves more sensitivity, to see even more details. The difference is highlighted in flat scenes with thermal uniformity, such as after a rain storm."
That sensitivity creates a key advantage, especially for military users, Angel said. "We have feedback from some customers that use it for nighttime, zero-light con-ops and being able to see more vegetation, more of the rocks, allows them to navigate through that environment easier."
The sensitivity also translates to unmanned systems that may need to navigate through similar terrain, he said, as the smallest temperature difference between objects allows them to better navigate through rugged environments.
"When you're trying to image a uniform temperature situation, what you'll often see are images that are washed out when using less sensitive thermal sensors," Angel said. "Whereas sensors with increased sensitivity empower the user or the system to see more of the thermal differences, so that you can see those small temperature differences and have better situational awareness."
UPGRADING THE FAMILY
In addition to introducing the new 320×256 resolution member of the Boson+ family, Teledyne FLIR is upgrading all resolutions of the Boson+ family with radiometry—the ability to take the temperature of every pixel—as well as including both MIPI and CMOS interfaces.
"We have more than 30 existing Boson models, representing an expansive portfolio of VGA and QVGA resolution cameras that are integrated into thousands of products," said Ezra Merrill, Teledyne FLIR's senior director of marketing for OEM & Emerging Markets. "The new Boson+ models provide an exact drop-in upgrade for existing Boson customers, sharing the very robust design that meets the same demanding specifications."
The systems are optimized for SWaP (size, weight and power) that makes them suitable for a wide range of applications, such as for ground surveillance, firefighting, security, industrial inspection and more.
Chief among these is the autonomous vehicle market, Merrill said. "The Boson sensor is used in all autonomous vehicle applications that we are currently supporting."
He added, "Boson is [also] heavily used in the drone market, which continues to be a growing market for us…Boson has been a very prolific sensor family and the upgrades incorporated with the Boson+ add to the testament of our focus on solving our customer's needs."
INTEGRATION AND SUPPORT
Founded in 1978, Teledyne FLIR, a Teledyne Technologies company, is a world leader in intelligent sensing solutions for defense and industrial applications, with approximately 4,000 employees worldwide.
The Boson+ family is also effective thanks to the commitment from Teledyne FLIR to prioritize volume manufacturing. "One of the advantages we have is that we are the market manufacturing leader in infrared," said Dan Walker, the vice president of product management for Teledyne FLIR OEM. "And, customers come to us because we can deliver thousands of camera systems when they need them."
The customer can select USB, CMOS or MIPI video interfaces, and the Boson+ can be integrated with a wide variety of embedded processors from Qualcomm, Ambarella and others.
"We design our cameras to be easy to integrate by our customers," Angel said. "The Boson GUI [graphical user interface], allows them to quickly get going in development…we also provide an SDK [software developer kit] so that when they integrate it into their systems, they know exactly how to communicate with and control the camera. That documentation as well an upcoming integration support series of videos and app notes is one of the biggest difference-makers that we have compared to others."
Buyers of the new Boson+ will also gain access to the U.S.-based Teledyne FLIR Technical Services team for integration support, which reduces development risk and shortens the time to reach the market. Boson+ is dual use and classified under the U.S. Department of Commerce jurisdiction as EAR 6A003.b.4.a.
The company has a cooperating product development and marketing program called Thermal by FLIR, aimed at further helping companies integrate the Boson family of sensors into more products.
"If you're putting a thermal camera in a mobile phone, we've done that numerous times with multiple customers. If you're putting it in a handheld, we've done that as well. If you're putting it in a monocular, we have years of experience, and if you're putting it on a drone, we lead the market in that industry," Merrill said. "We support integrators through the development process and help them move quickly to market. And then on the back end with the Thermal by FLIR program, we offer everything from helping train sales teams to 'thermal 101' to understand how to articulate the value proposition of thermal."
For more information visit Boson+.