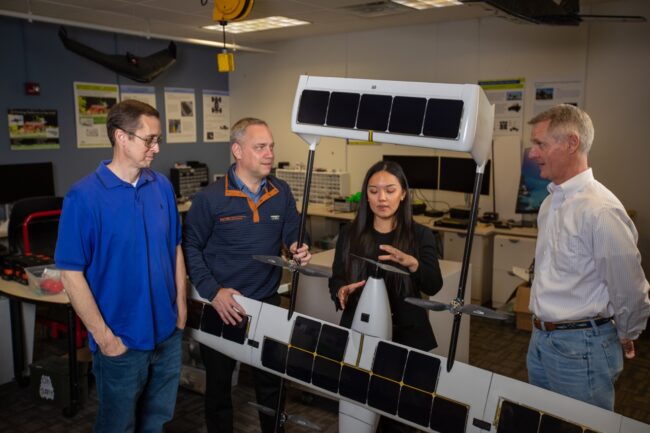 MITRE has developed a new First Responder Innovation Program to get new tools, including unmanned systems, into the hands of firefighters, hazardous materials responders, emergency teams and others.
Two of its first products include a persistent drone with a lengthy loiter time and a small payload carrying tool that allows smaller drones to carry sensitive measuring equipment.
Dr. Steve King is a MITRE senior manager who is leading the innovation program, and started his own career as a firefighter and paramedic, including serving as a volunteer critical care paramedic during the height of the COVID pandemic.
MITRE, long known for working with federal agencies, had recently turned its attention to local governments as well. Imagine being able to be able to pull your two passions together, the work we do at MITRE, along with your hobby passion. Pull those two together, and that's what this gave me," he told Inside Unmanned Systems.
His team reached out to first responders all around the country to see about their needs. One thing they heard repeatedly: "Wouldn't it be great if you could extend the battery life?" he said.
MITRE didn't tackle that issue directly—there are entire companies devoted to the task—but instead designed a built a prototype drone that can be powered and recharged with solar power. It's called Persistent Overwatch. "One of the things we wanted to do is to have a drone that did a bunch of things, but one of those things is to remain a loft for a long time," he said.
"So, while we didn't do anything to tweak the batteries per se, we did add solar panels to it, to the wings," which span about six feet. The device was designed for climates in the western United States, where it's often sunny, which allows it to recharge its batteries while it's on the ground waiting to conduct another flight.
"We aren't going to be selling anything, but we want to come up with solutions that someone else can manufacture at the right cost, because what the small, all-volunteer fire department can afford is not the same as what many of our federal government sponsors can afford," King said. "And we have to be hyper cognizant of that."
MITRE had consulted with sheriffs and others who needed long-duration, sometimes 24/7 flight time, not a hallmark of small, inexpensive drones. With Persistent Overwatch, that capability can be provided with two drones that might cost about the same as a squad car.
"We have built the prototype. I have some more tweaks I want to do with it, but my goal with that is to be able to show to drone manufacturers, this is a capability, this is can be done. Here's the market, right? These are the people who will buy it. Let us help you achieve this, because I, for one, would love to see this problem solved. I don't care who solves it, but I want to see this problem solved."
In a separate effort, MITRE worked with the New York City police and fire departments to develop a payload holder that will fit on any small drone they used and carry the hazardous material sensors they already use.
The services have been zip-tying gas or radiological detectors on their existing drones and flying them to potentially hazardous areas to see if they are dangerous.
"They'll pause the drone, spin the camera around, look at the sensor, try to read it, and then spin the camera back and fly some more," King said. "I'm not going to knock creativity. I love it. But we knew we could do so much better than that."
His team developed a payload carrier that can hold these devices and connect to them, using inexpensive computer hardware and communications equipment to send the readings back remotely.. "What I'm most excited about this capability that I'm talking about is, it's maybe a couple hundred bucks for first responders to be able to have this," King said. "I mean, it's a dirt-cheap price point, which again, is something we really focused on."
Like Persistent Overwatch, it's not something MITRE itself will build, but the nonprofit company is hoping industry will pick up the challenge.
The first responders effort also includes Drone Selector, a web-based tool, enables agencies to enter their requirements and identify the drones that meet them and can legally operate within their state.
MITRE is exhibiting at AUVSI's XPONENTIAL show in Denver, at Booth 4616.