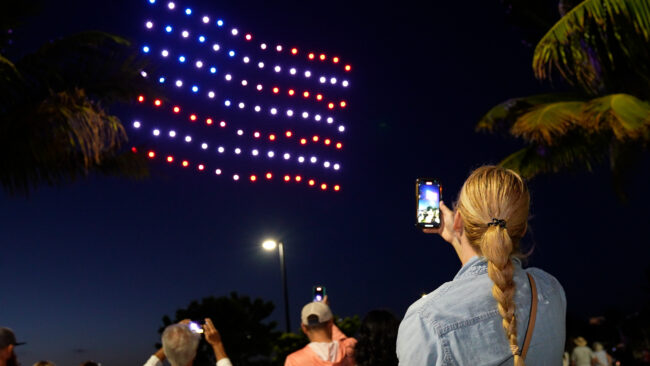 Dazzling drone shows with hundreds of synchronized, lighted UAS are everywhere these days. They're an elaborate and attractive option for public and private gatherings and one attribute is making them especially desirable for Fourth of July shows: unlike fireworks, they don't make noise.
Fireworks have been associated with July 4th since a year after the U.S. declared itself a country. Tragically, for some communities, the rapid pop-pop-pop of fireworks, nearly indistinguishable from the sound of rapid gunfire, has become untenable.
Tragedy Strikes
Last year, for example, the parade in the city of Highland Park, Illinois, outside Chicago, was just taking off when shots rang out from a nearby rooftop, killing seven and injuring dozens, including a now eight-year-old boy who will never walk again.
This year, the community wanted to honor the Fourth, remember the victims and avoid re-traumatizing the audience. The way to do all three—a drone show as the culmination of a commemorative day.
Ghida Neukirch, Highland Park city manager, said the city sought feedback from victims and next of kin as well as guidance from the Department of Justice Office of Victims of Crime. "We want to really be sensitive to using a trauma informed approach," she said.
"Even without the tragedy, though, fireworks can be problematic for people," Neukirch said. So, the city explored drone shows, light shows and lit lanterns, and once they settled on a drone show and a vendor, "it's really wonderful because they're able to customize the show with words and images specific to Highland Park and our message about community." While not sharing specific content in advance of the show, she added they could have the city's logo with people around it, include partners' logos, and show their theme of "We Are Highland Park" with a heart around it.
Drone shows are fleets—called swarms—of hundreds of lightweight drones carrying little more than LED lights. Each acts as a pixel, forming patterns, logos and images that move through the sky to music or narration. They are choreographed, synchronized and governed by a computer program that turns 3D animation into flight commands and they operate under FAA waivers that allow one operator to operate a swarm and possibly deviate from other restrictions depending on the specific case. They usually use GNSS to guide their way. While drone shows have existed for about a decade, they have grown rapidly since just before the COVID era.
Highland Park's vendor is Denver-based Hire UAV Pro. The company, around a decade old, originally built their own drones and worked on television shows and film as well as aerial photography, all of which are still important parts of their business.
"Around 2019, though, clients started asking if we could do drone shows, says CEO Graham Hill, CEO. "We did our first shows in 2019 and then of course, everything shut down. After the pandemic, we went all in on our first fleet of drones and it's been a pretty rapid increase since the summer of 2020."
Custom Patriotic Display
The show the company is doing for Highland Park is a blend of patriotism and community, he said. "It's a little bit of a different take on the Fourth of July, not about big flashes, but about bringing people together."
Drone shows are part technical aspects and also involve designers who have both artistic talent and the ability to understand how that interacts with the technology. The 150-drone show in Highland Park will include a bit of history and a bit of geography and is 100% custom made, Hill said.
Rick Boss, president of Fort Worth, Texas-based Sky Elements, lays claim to being the biggest in the U.S. drone show space. The company originally did pyrotechnics and fireworks, and still does, but entered the drone show business around three years ago, ramping up quickly. Boss says drone show growth is due to novelty and safety where there is fire danger. As for noise, it depends on the community, he said, adding that Sky Elements has a show coming up this Fourth in Arizona that will combine fireworks and drones.
Fireworks v. Drones—The Cost
Boss talked about the economics of drone shows vs fireworks. If money were the only consideration, "it's usually easier for a small entity, like a town, to scale up with fireworks because the investment is so much less," he said. He said typical commercial drone shows are at least $10,000 and go up to about $200,000.
The 150-drone Highland Park show is costing the city almost twice as much as fireworks, Neukirch said, at about $50,000 instead of $30,000 to $35,000. She said the city will continue to evaluate costs and benefits in the years ahead.
Brian Grant, vice president of sales for Boise, Idaho-based Skyworx, pointed to another financial factor in the fireworks-drone show calculation, especially in fire-prone areas, which is the additional expense of staging people throughout and around the perimeter of fireworks displays to make sure that all sparks are out. "That can add considerably to the expense, especially for a small municipality," Grant said.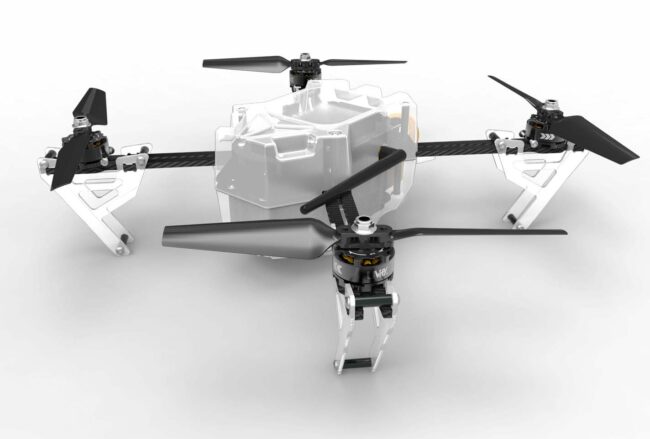 Specialized Drones
Sky Elements, like Hire UAV Pro and many other drone-show providers, uses the IFO swarm lightshow drone from San Francisco-based UVify. The IFO is a 7-inch diameter quadrotor drone that flies at a maximum speed of around 20 meters per second and has a battery life that can handle a 25-minute show. Hire UAV Pro and Sky Elements also use Drone Show software, made by Baloži, Latvia-based SPH Engineering. UVify and SPH Engineering formed a strategic partnership in 2019 to provide lightshow solutions.
For communities like Highland Park, drone shows will remain a way to celebrate with respect—and safety.