Raytheon Intelligence & Space is fielding multiple innovations while embracing thought leadership and enterprise solutions.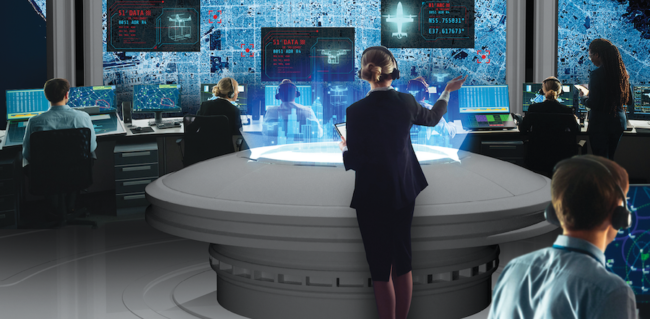 Advanced Air Mobility (AAM) aims to incorporate next-generation aircraft, including optionally piloted and uncrewed aircraft systems, into an already complex air transport system. These operations will safely and efficiently move both people and cargo, including within constrained urban spaces.
Raytheon Intelligence & Space (RIS), a Raytheon Technologies business, is developing advanced multi-mode surveillance, secure network architectures and precision navigation systems—powered by data, automation, analytics and advanced cloud-based software— to deliver disruptive technologies its customers need to succeed in any domain, against any challenge.
One effort is enabling both Uncrewed Aircraft Systems (UAS) Traffic Management (UTM) and AAM.
Raytheon Technologies is leveraging the full capability and strengths of its 174,000-employees and experience in the aerospace defense industry.
"We have exquisite defense and civil capabilities that can be brought to bear," said Elizabeth Soltys, RI&S director of Advanced Air Mobility/Uncrewed Aircraft Systems Traffic Management Global Campaign.
SOLTYS REFLECTS ON THE PAST DECADE
In 2012, Congress enacted the FAA's Modernization and Reform Act with industry experts thinking this was it, the time for change, and NASA went full steam ahead on its UTM campaign. They brought the community together. They conceptualized an airspace that could be accessed by all.
This new architecture requires bolstering cybersecurity; ensuring fair and equitable airspace access; transitioning a flight plan to and from an actively managed airspace; transitioning to different UAS Service Suppliers and Supplemental Data Service Providers and the patchwork it would create; recognizing battery life concerns; taking into account supply chain issues; obviating persistent threats — and the list goes on.
With the influx of AAM/UTM, the management of airspace will most assuredly change.

Over the past 10 years, the FAA has moved out with two formidable rules—Part 107 and Remote ID (which has not yet been instantiated). And they are working on the golden ticket of BVLOS—integration of UAS not segregation. This will forge means to monetize flight operations and infrastructure investments.
Generally, the cost of UTM flights (derived from various publicly available doctrine) has an inconsequential range—from cents to a few dollars per flight. But what has still come to bear is infrastructure, including ground-based surveillance, communications, navigation and cybersecurity.
As cyber threats have escalated over the past decade, federal security agencies are working to ensure the FAA's future uncrewed rules consider the U.S. security posture relative to operational security and cyber warfare.
THE FAA AND INDUSTRY
"I have great esteem for the FAA," Soltys said about her former employer. "The FAA delivers the world's safest airspace, a model that is the gold standard in the world. The problem is that legislation hasn't caught up. Drone integration is far more demanding than other complex efforts such as the 20-plus year integration effort of Reduced Vertical Separation Minima—and we're only 10 years into navigating UAS integration."
FORWARD MOTION
"We are currently developing enterprise solutions, including the Skyler radar and weather sensor, and electro optic infrared and acoustic sensors—a full suite of capabilities across Raytheon Technologies," Soltys said.
Last year, Raytheon Technologies invested $7.2 billion on research and development. According to Soltys, a portion of this investment went to the development of technologies that will support civil drone expansion.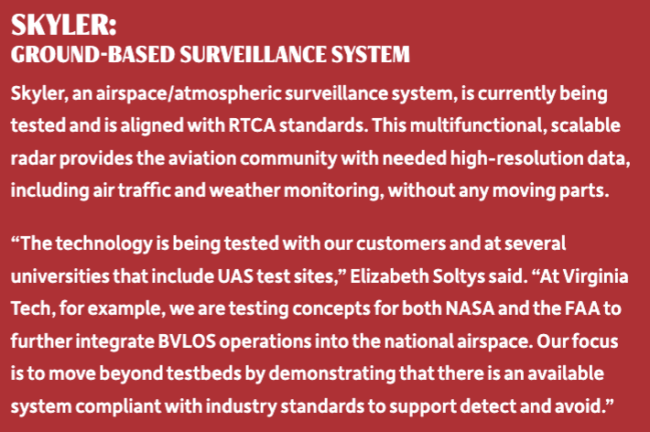 Image courtesey of Raytheon Technologies.