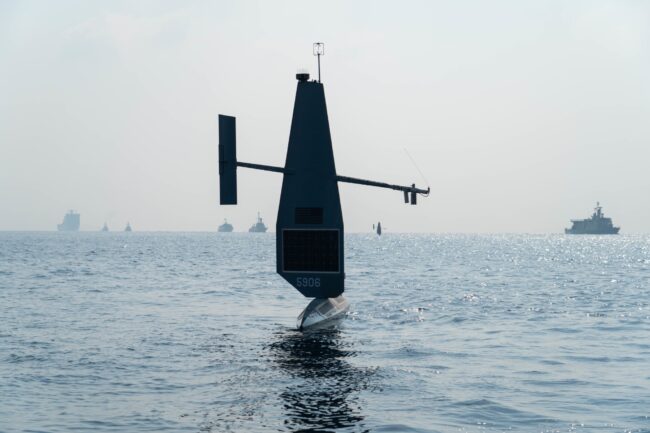 MANAMA, Bahrain – A multinational naval task force led by Bahrain conducted a one-day training drill in the Arabian Gulf, Oct. 26, featuring the use of unmanned systems and artificial intelligence alongside seven crewed ships, according to U.S. Naval Forces Central Command.
Naval Forces from Bahrain, Saudi Arabia, the United Kingdom and the United States participated in support of Bahrain-led Combined Task Force 152, one of four task forces organized under the Combined Maritime Forces. The naval drill enhanced interoperability in integrating new unmanned technologies to monitor regional waters.
"It is so valuable to get these opportunities to really test how our forces from across different nations can work together with the uncrewed systems," said Royal Bahrain Naval Force Capt. Rashed Al-Ameen, commander of CTF 152. "It helps us better understand how to work with each other to boost regional security."
Three U.S. Navy Saildrone Explorer unmanned surface vessels operated with USS Hurricane (PC 3) and USS Chinook (PC 9) from the United States, U.K. Royal Navy ships RFA Cardigan Bay (L3009) and HMS Bangor (M109), Royal Bahrain Naval Force ships RBNS Al-Manama and RBNS Al-Fateh, and HMS Khalid from the Royal Saudi Navy.
CTF 152 led the exercise while embarked aboard Cardigan Bay, as the ship sailed in international waters off the coast of Saudi Arabia. This is the latest drill involving unmanned systems in the Arabian Gulf since the United Kingdom and United States completed a similar bilateral naval exercise Oct. 7.
During both maneuvers, unmanned and artificial intelligence systems operated in conjunction with crewed ships and naval command centers ashore in Bahrain. Sensors from the unmanned vessels were able to locate and identify training aides in the water and relay visual depictions to the command centers.
Established in 2004, CTF 152 oversees maritime security operations in the Arabian Gulf for Combined Maritime Forces. Bahrain assumed command of CTF 152 from Kuwait in August.
Combined Maritime Forces is the world's largest multinational naval partnership and includes 34 member nations whose forces operate in the Red Sea, Gulf of Aden, Northern Arabian Sea, Gulf of Oman, Arabian Gulf and Indian Ocean. CMF is headquartered in Bahrain with U.S. Naval Forces Central Command and U.S. 5th Fleet.