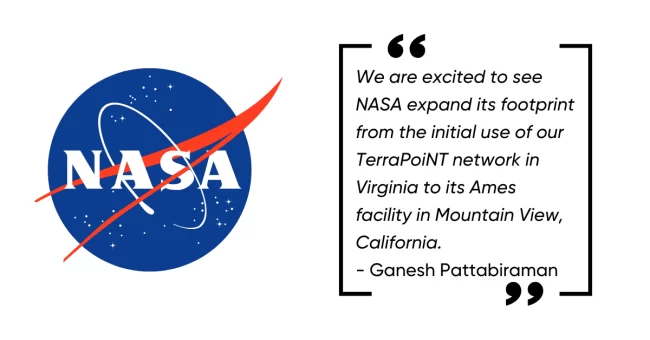 NASA's Ames Research Center will leverage NextNav's TerraPoiNT commercial grade network to capture inflight data on drone navigation, detection and collision avoidance as part of BVLOS testing for its urban air mobility (UAM) program.
Via a network of terrestrial beacons, TerraPoiNT provides precise geolocation services when GPS signals aren't available. NASA will use TerraPoiNT to gather in-flight horizontal and vertical location data to validate drone flight safety through tests in the San Francisco Bay area. The goal is to gain a better understanding of PNT in GPS-denied environments.
"For the UAM world, the key application everybody has been trying to crack since its inception has been operations in urbanized areas beyond visual line of sight. That's been the Holy Grail for UAM operations," NextNav CEO Ganesh Pattabiraman said. "This testing is trying to establish benchmarks and references that can essentially be used in the future as industry standards of what's acceptable performance from a PNT perspective."
NextNav first began working with NASA in 2018, with the TerraPoiNT network supporting CERTAIN facilities at the Langley Research Center in Hampton, Virginia. The team there is flying aircraft to address the PNT needs drones have in GPS-denied urban areas and is using the network to provide GPS capabilities. The Ames center has a similar need, Pattabiraman said, wanting to understand how TerraPoiNT can be leveraged for various collision avoidance and BVLOS applications.
"You need a complementary system that can deliver PNT when GPS is not available, in addition to the cameras and LiDARs," he said. "Then there's the resiliency factor of providing PNT in the event GPS is jammed or spoofed. Drones flying in heavily populated areas at relativity low altitudes and going at high speeds need reliability to ensure there are no accidents or situations if GPS is not available. You're not just dependent on a single point of failure."
Pattabiraman also sees this as a step toward rolling out the network for a variety of other applications, basically anything that requires resilient PNT, including critical infrastructure and mobility.
"Think about a car driving in downtown San Francisco," Pattabiraman said. "It has all its cameras and LiDARs and sensor system, but if GPS is not available all of those systems essentially become unreliable and unusable. So you need that reliable reference signal from a safety-of-life perspective. We see our system playing that role to complement all those other systems."