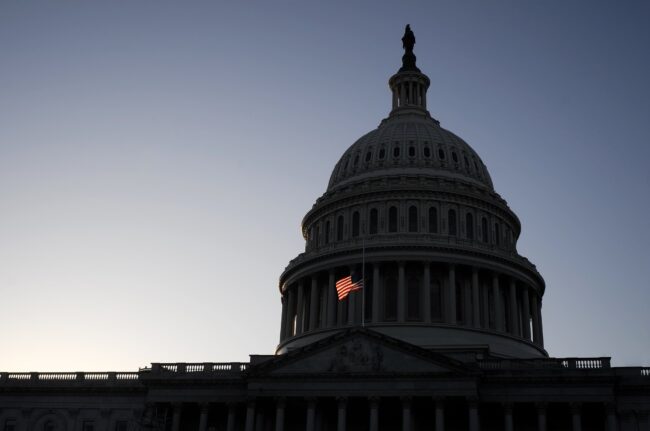 WASHINGTON—In his second recent bipartisan push to influence federal drone policy this month, Sen. Mark R. Warner (R-Virginia) teamed with Sen. Rick Scott (R-Florida) to introduce the American Security Drone Act of 2023, which would prohibit purchases of drones from countries identified as national security threats, namely China. This would apply to federal agencies and, in some cases, state and local governments.
"I am a staunch supporter of unmanned systems and drone investment here in the United States, and I wholeheartedly believe that we must continue to invest in domestic production of drones," Warner said in a statement. "But the purchase of drones from foreign countries, especially those that have been deemed a national security threat, is dangerous. I am glad to introduce legislation that takes logical steps to protect our data from foreign adversaries and meanwhile supports American manufacturers."
The federal government already has a "blue list" of approved American and European drones for Department of Defense use, although other federal and state agencies have adopted it. The Warner-Scott legislation would go further by banning the purchase of such systems.
"I've been clear for years: the United States should never spend taxpayer dollars on anything made in Communist China, especially drones which pose a significant threat to our national security," Scott said in a statement. "Xi and the Communist Party of China are on a quest for global domination and whether it's with spy balloons, TikTok or drones, they will stop at nothing to infiltrate our society and steal our data. I'm proud to join my colleagues to reintroduce the bipartisan American Security Drone Act to stop the U.S. from buying drones manufactured in nations identified as national security threats. This important bill is critical to our national security and should be passed by the Senate, House and signed into law immediately."
The bill prohibits federal departments and agencies from procuring certain foreign commercial off-the-shelf drone or covered unmanned aircraft system manufactured or assembled in countries identified as national security threats, and provides a timeline to end current use of these drones.
It prohibits the use of federal funds awarded through certain contracts, grants, or cooperative agreements to state or local governments from being used to purchase foreign commercial off-the-shelf drones or covered unmanned aircraft systems manufactured or assembled in a country identified as a national security threat.
It also requires the Comptroller General of the United States to submit a report to Congress detailing the amount of foreign commercial off-the-shelf drones and covered unmanned aircraft systems procured by federal departments and agencies from countries identified as national security threats.
However, there are some exceptions. The bill would allow some drone purchases for research, training and testing, and for conducting counter terrorism or counter intelligence activities, among others, by the Department of Homeland Security, Department of Defense, Justice Department and intelligence agencies.
It would also allow the purchase of systems if they can longer "transfer to, or download data from, a covered foreign entity and otherwise pose no national security [or] cybersecurity risks as determined by the exempting official." The National Oceanic and Atmospheric Administration is exempt from the restriction if buying such a drone is "necessary for the purpose of meeting NOAA's science or management objectives or operational mission," and the Department of Transportation and Federal Aviation Administration have similar leeway.
The restrictions would take effect two years after the enactment of the legislation, and in not more than 275 days after enactment, the Comptroller General would be required to give Congress a tally on the number of affected drones procured by federal departments.
In addition to Sens. Warner and Scott, the legislation is cosponsored by Sens. Marco Rubio (R-Florida), Richard Blumenthal (D-Connecticut), Marsha Blackburn (R-Tennessee), Chris Murphy (D-Connecticut), Tom Cotton (R-Arkansas), and Josh Hawley (R-Missouri).
Warner recently teamed with Sen. John Thune (R-South Dakota) on the Increasing Competitiveness for American Drones Act, seeking to streamline the approval process for beyond visual line of sight drone flights.