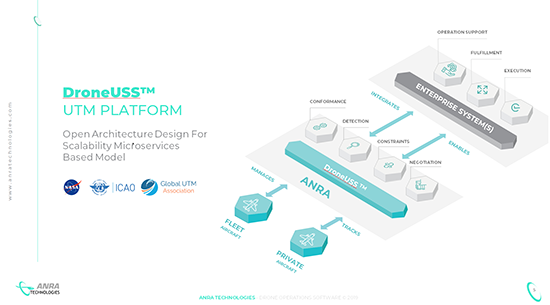 The Northeast UAS Airspace Integration Research Alliance (NUAIR) and Griffiss International Airport in Rome, New York, recently implemented the unmanned aircraft system (UAS) traffic management (UTM) platform from ANRA Technologies at the New York State UAS test site.
This system enhances multiple, simultaneous beyond visual line of sight (BVLOS) operations that involve manned and unmanned aircraft sharing the same airspace, according to a news release. ANRA also helps to improve tracking and supports network-based Remote ID and detect-and-avoid capabilities.
"The implementation of ANRA's technologies brings great agility and currency to the New York State UAS test site and keeps NUAIR on the path to bring the test site to full operational capability by early August of this year," said Major General Marke F. "Hoot" Gibson (ret), chief executive officer of the NUAIR Alliance. "ANRA joins our team of UAS service suppliers at the test site and has implemented world-class flight and range information management systems, significantly enhancing our UAS testing capabilities."
Related Reading: NUAIR Working with Measure to Support UAS Integration
ANRA's UTM platform offers flight planning and monitoring, command and control, separation assurance, airspace management as well as drone tracking and reporting. It also features open interfaces that make capabilities like Remote ID possible. The platform integrates participating and non-participating drones into one operational UTM system.
In January, NUAIR hosted a two-day conference that included more than 40 UAS experts from 20 countries. During the event, they outlined real-world scenarios—including testing participating and non-participating drones in the same airspace. The ANRA UTM platform makes this testing possible.
"We are excited to work with NUAIR and the NYS UAS Test Site on evolving UTM capabilities and performance standards that will hopefully help define the requirements for an Air Navigation Service Provider (ANSP) 'Approvable' service," ANRA Technologies CEO Amit Ganjoo said, according to the release. "Without initiatives like this in place, it will be extremely challenging to justify implementation of a commercially viable UTM to support safe BVLOS operations."