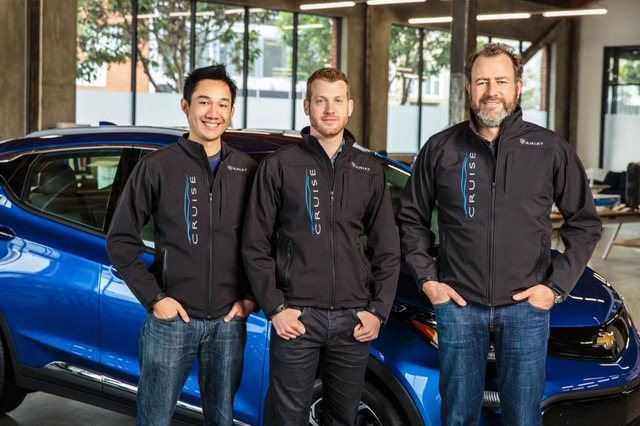 More automakers and government organizations are opening up autonomous vehicle research centers which will create jobs and other opportunities.
An example is General Motors' recent announcement that it will spend $14 million on a new autonomous vehicle research and development facility, to be opened by the end of the year, for Cruise Automation in San Francisco.
The company said the investment will allow Cruise, which GM bought last year for $581 million, to double the size of its research and development space that is devoted to self-driving technologies. "Expanding our team at Cruise Automation and linking them with our global engineering talent is another important step in our work to redefine the future of personal mobility," said GM Chairman and CEO Mary Barra, in a prepared statement. "Running our autonomous vehicle program as a start-up is giving us the speed we need to continue to stay at the forefront of development of these technologies and the market applications."
Maybe the bigger story is the 1,100 new jobs that GM hopes to add through the new facility and Cruise. The new employees, who will work out of a repurposed facility in San Francisco, will be hired over the next five years, the company said.
"Accessing the world-class talent pool that the San Francisco Bay Area offers is one of the many reasons we plan to grow our presence in the state." said Kyle Vogt, CEO of Cruise Automation.
In joint testing, Cruise Automation and GM engineers are working with 50 Chevrolet Bolt EVs with self-driving technology on public roads in San Francisco; Scottsdale, Arizona; and metro Detroit, the company said.
Cruise Automation also received an $8 million tax credit from California Governor Jerry Brown's Office of Business and Economic Development (GO-Biz) for the expansion, the company said.
GM's announcement comes on the heels of rival Ford's announcement that it will have a fully driverless car, without a steering wheel or pedals, in 2021. Ford, which is testing autonomous vehicles at several sites nationwide, said passengers will benefit from fully driverless cars.
GM is not the only major car company making autonomous vehicle research facility announcements. Honda said it is turning its Silicon Valley Lab into a new entity called Honda R&D Innovations, Inc.
The new company, also known as Honda Innovations, will explore research and development opportunities beyond cars, partner with startups and other companies on future projects. Some of these projects include IoT and connected vehicles, smart cities, human machine interface, robotics, artificial intelligence and ride sharing services, the company said.
However, the new entity will be a focal point for discussions with Alphabet's self-driving unit Waymo for integrating the technology in Honda vehicles, according to published reports.
Honda Innovations will continue to be headquartered in Mountain View, Calif., but its new CEO will be Nick Sugimoto, former senior director of its Silicon Valley-based lab, the company said.
The Silicon Valley doesn't have the market cornered on autonomous vehicle testing facilities. According to published reports, HORIBA MIRA is partnering with the United Kingdom's Coventry University to open the Center for Connected & Autonomous Automotive Research.
Like GM's announcement, the center will develop new products and services and will create a pipeline for engineering and other autonomous vehicle careers. The center, based at Nuneaton in Warwickshire, England, will also test the future safety of autonomous vehicles, according to published reports.