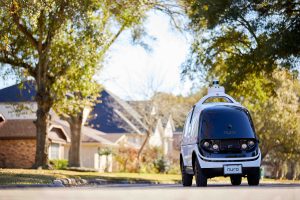 As California residents shelter in place to help stop the spread of COVID-19, the California Department of Motor Vehicles (DMV) has granted Nuro a permit to begin testing driverless and passengerless delivery vehicles on public roads—a first for the state.
The permit allows Nuro to test two of its new driverless R2 vehicles on surface streets within specific parts of nine cities in Santa Clara and San Mateo counties, according to a California DMV news release.
Nuro has had permission to test autonomous vehicles with safety drivers since 2017, but the new permit allows the company to test delivery vehicles without drivers behind the wheel.
"The safety of the motoring public is the DMV's top priority, and we do not give out these permits lightly," DMVDirector Steve Gordon said, according to the release. "Nuro has met the DMV's requirements to receive this permit to test their driverless delivery vehicles on California's public roads."
Testing will begin with the R2 making free deliveries to select customers in Mountain View and the surrounding area, enabling Nuro to partner with local retailers, according to a blog post written by David Estrada, Nuro's chief legal and policy officer. The next step is to apply for a full statewide commercial deployment permit. This would allow Nuro to operate across California.
"Admittedly, while we have always believed that self-driving delivery vehicles would improve road safety and provide valuable convenience to consumers, we did not foresee our service helping to keep Americans safe from contagion," he wrote in the blog post. "But the COVID-19 pandemic has expedited the public need for contactless delivery services. Our R2 fleet is custom-designed to change the very nature of driving, and the movement of goods, by allowing people to remain safely at home while their groceries, medicines, and packages, are brought to them."
During testing, the California-based company will work closely with the DMV, local leaders and law enforcement. Nuro has planned remote community engagement activities with law enforcement and first responders to ensure they're trained on how to interact with the vehicles.
"We have always believed in the transformative power of autonomous vehicles, and in the climate of COVID-19 we understand their potential even more deeply," Estrada wrote in the blog post. "Putting our driverless R2 delivery vehicles on the road in California will be an important first for our company and the self-driving industry. But it is just a glimmer of what is to come."