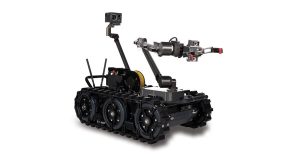 The U.S. Marine Corps recently ordered nearly 150 of FLIR's Centaur unmanned ground vehicles (UGV).
The $18.6 million contract is sourced through the Dept. of Defense Man Transportable Robotic System Increment II (MTRS Inc II) program, according to a news release. The U.S. Air Force recently ordered about 200 of the UGVs through a $23 million contract.
The UGV can be equipped with different sensors and payloads to support a variety of missions. The Marine Corps plan to use Centaur to assist in disarming improvised explosive devices (IEDs), unexploded ordnance, and similar hazardous tasks.
Centaur is a medium-sized UGV that weighs about 160 pounds. The open-architecture robot provides a standoff capability to detect, confirm, identify, and dispose of hazards. It's equipped with an advanced EO/IR camera suite, a manipulator arm that reaches over six feet, and has the ability to climb stairs.
Delivery of the systems is expected to begin in the third quarter.
"Centaur gives the Marines a multipurpose, mid-sized UGV that will complement the FLIR PackBot, SUGV and FirstLook robots we continue to provide to the Corps," said David Ray, president of the Government & Defense Technologies business at FLIR, according to the release. "We're honored the Air Force and now Marines are choosing Centaur as an EOD platform-of-choice and pleased the U.S. Army MTRS Inc II program can serve as a procurement channel."