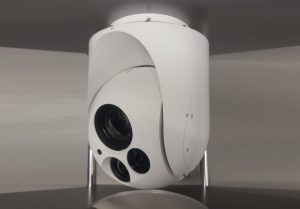 Octopus ISR Systems recently released the Epsilon 140LC Airborne Surveillance Camera System.
The airborne electro-optical/infrared (EO/IR) surveillance system features advanced sensor technology with high precision geo-location, according to a news release. It integrates a high definition 30x zoom EO sensor and a Longwave Infrared (LWIR) sensor with 25mm / F 1.0 lens into a single compact system that weighs less than 1.3 kilograms.
The Epsilon 140LC's completely sealed, nitrogen-filled design enables the system to operate in any weather conditions. Its magnesium structure is optimized to handle demanding applications including shock and rapid acceleration. The payload can be installed in either nose- or belly-mounted positions.
"UAV platform producers are always seeking ISR payloads offering new capabilities at the smallest size, weight, power and cost, and the Epsilon 140LC raises the bar for performance in a uniquely compact product," said Konstantins Krivovs, business development manager of Octopus ISR Systems, according to the release. "This innovative new product is designed to address the need in the smaller UAV market for professional payloads with top functionality that stay within significant cost and weight constraints. At the same time, the Epsilon 140LC offers new benefits to manufacturers of larger UAVs: the small weight and reliable performance of the payload enhances platform endurance, allowing for longer missions or the capacity to carry additional equipment."