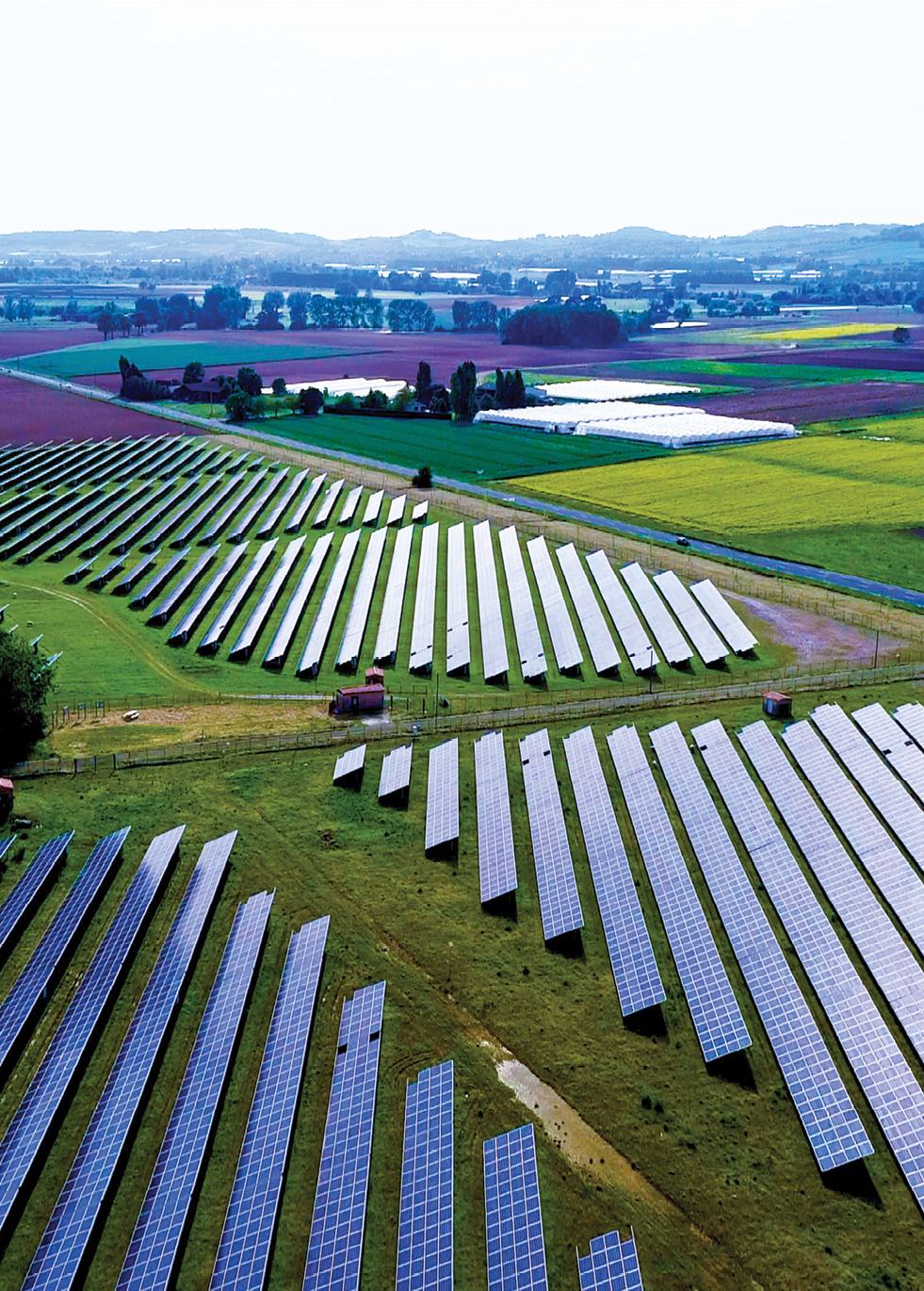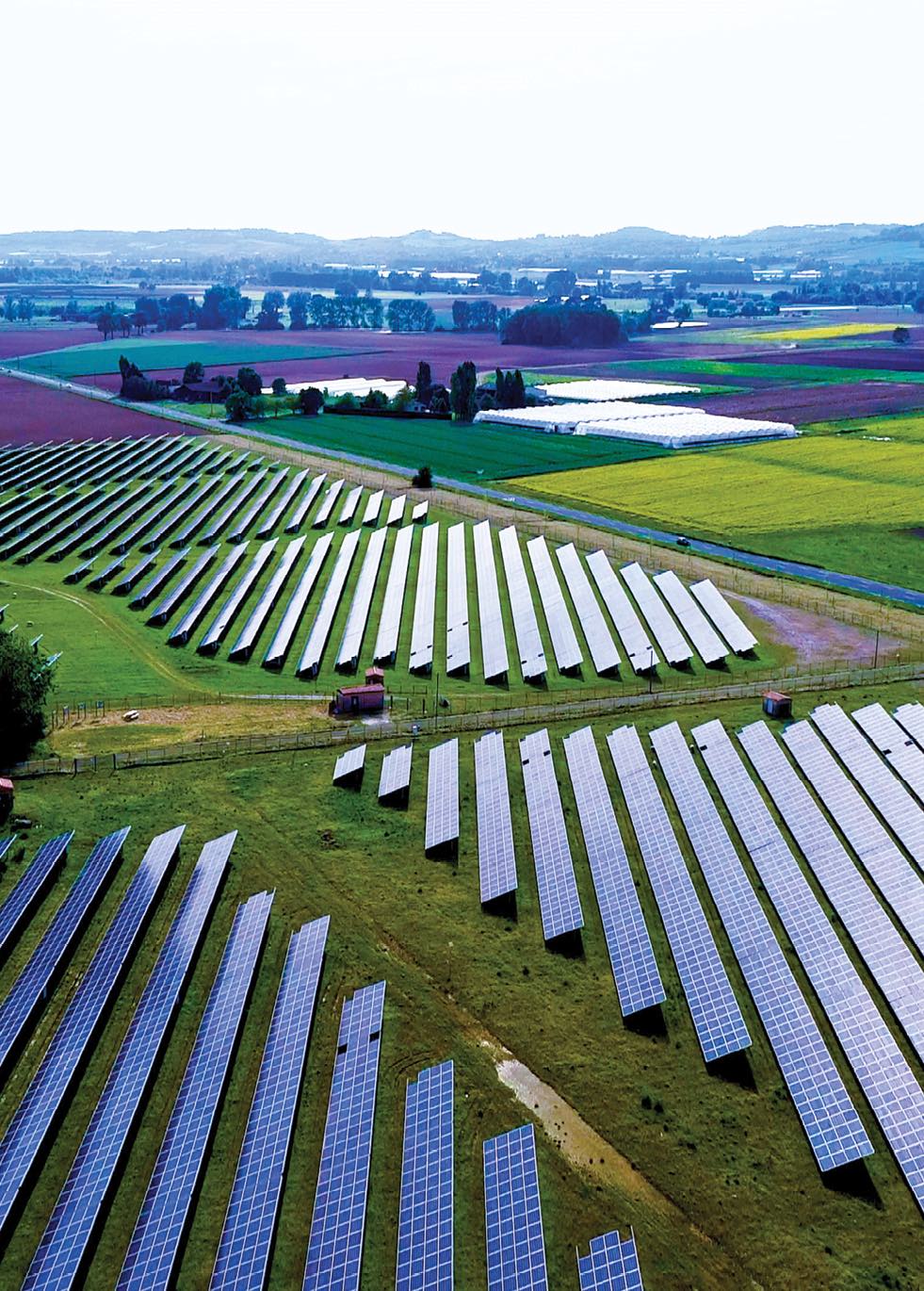 Systems make their mark across a wide variety of vital sectors. 
Four million miles of roadways, 600,000 bridges and 350 tunnels. Two million one-hundred thousand farms. More than 4,000 U.S. public safety agencies fielding drone programs. Damage estimates for insurance companies and safeguarding against school shooters. UAS are an intrinsic part of supporting and protecting critical infrastructure in America.
Take, for example, the unmanned systems that came to the rescue when an aging dam in Florida, the only barrier holding back lead and nickel-poisoned water from flooding a nearby town, required inspection. Sending divers into toxic water was not an option. Draining the dam would have been prohibitively expensive. Triad Drones, a Safety Harbor, Florida-based company making waves in the dam sector, used its unique unmanned and networked air, ground and subsurface vehicles, with multibeam sonar, to provide predictive structural integrity and volume analysis.
This is but one of hundreds of similar drones-in-infrastructure stories increasingly happening across the country on a daily basis. (By the way, the inspection proved the dam was good to go for a few more years).
The U.S. Cybersecurity and Infrastructure Security Agency (CISA) outlines 16 sectors with assets, systems and networks it considers vital. Drones support nearly all of them (the possible exception is the cyber-based information technology sector). Inspections dominate drone services, but drones also assist with disaster response, construction monitoring, facility disinfecting, marketing and more.
Because drones have proven efficient, effective and economically sound, various models have arisen that allow UAS pilots to plug into these business opportunities, now and in the future. This article reviews the critical infrastructure (CI) sectors (a few are combined) and highlights drone applications in them. A "Remote Pilot Roundup" chart provides a tabular roadmap for these RPs to plug into this lucrative market.
Food and Agriculture
Almost 100% civilian-owned, the entities in this category includes an estimated 2.1 million farms, 935,000 restaurants and more than 200,000 registered food manufacturing, processing and storage facilities. This sector accounts for roughly one-fifth of the nation's economic activity.
Using GPS technology with GIS (geographic information system) tools, the worldwide precision agriculture market is estimated to reach $4.34 billion by 2025. Augmented by drones, this market will almost double, to the tune of $8.2 billion by 2026, according to one market research report.
Contracted remote pilots that work with Utah-based company DroneHive are flying more than 100,000 acres of farmland during 2021 in support of virtual agronomy, CEO Paul Huish said. "Data collection is the end product we provide to farm managers, who do the analytics, reporting and processing," Huish said. "Precision agriculture use of drones has significantly expanded. Farmers are scaling and producing in large volumes. This drives an increased demand for crop data."
Energy
Including both fossil and renewable fuels, the 80% private-owned energy sector is also massive. The electricity segment alone includes more than 6,413 power plants.
Energy companies commonly use drones for GIS data collection. Bill Swope, geospatial and survey business development manager for Halff Associates, Inc. in Richardson, Texas, leads the company's drone team in inspecting energy, transportation and water sector facilities. Oil and gas companies traditionally gathered data from the ground; his team collects geospatial data using drones for aerial shots and combines that data with mobile LiDAR from sensors on vehicles and terrestrial scans from a tripod.
"Drones can provide a lot more data for a lot less time," Swope explained. "They help us to deliver projects under budget and ahead of schedule for our clients." By way of example, two years ago, during an oil and gas job, Halff used drones and other data collection sources to rack up 75% in time savings, shaving total costs by 30%. The company's oil and gas work has grown to the tune of about $25 million annually.
Transportation
This infrastructure area is immense enough to contain seven key modes: aviation; highway and motor carrier (HMC); maritime transportation system; mass transit and passenger rail; pipeline systems; freight rail; and postal and shipping.
Drones add value throughout the HMC arena. For example, they save money and time in bridge inspections. An American Association of State Highway and Transportation Official survey estimated approximately $3,400 in savings per drone inspection as compared to manual examination. Manual inspections take two people eight hours to complete; a drone equivalent takes those same two people only one hour.
Drones also keep our roads safe. Beau Taylor, the Geohazards Program UAS Lead for the Colorado Department of Transportation (CDOT), uses drones to prevent and mitigate geologic hazard impacts, including landslides, rockslides and sinkholes, on the state's highways. They play a valuable role: CDOT maintains, repairs and plows more than 23,000 total lane miles of highway, keeps more than 35 mountain passes open year-round and monitors 278 avalanche paths annually.
Taylor and his team proactively use drones for change detection, taking a series of images and creating heat maps to see what geologic changes may be occurring. This can allow them to institute prevention measures before disaster strikes. After an incident, they use 3D modeling software to plot where they can place debris flow barriers and other mitigation measures.
Taylor recalled an incident in the summer of 2020 at Hanging Lake Tunnel, which allows vehicles through the southern wall of Glenwood Canyon. "Our program went out in response to the post-wildfire emergency for assessment. CDOT Region 3's drones' broad area view, combined with 3D modeling software, helped us determine where to immediately place temporary berms at the facility, to allow us to install more time-consuming mitigation measures later, while maintaining safety. This helped keep our roads open."
Emergency Services
Millions of government, private and volunteer personnel save lives by serving in law enforcement, fire and rescue, emergency medicine, emergency management and public works.
Emergency services themselves constitute infrastructure; the people and equipment that provide these services use them to protect and defend other infrastructure and the American people. The nonprofit DRONERESPONDERS estimates that more than 4,000 U.S. public safety agencies have drone programs. According to its Spring 2020 Public Safety UAS Survey Results, these groups use drones for crime scene investigation and forensic analysis, targeted searches including search and rescue (SAR), and wildfire response, among others.
For SAR in a river, exposure time is critical to avoid hyperthermia, panic and drowning. In June 2021, drones employed by public safety units in both North Carolina and Ohio helped rescue missing kayakers in a span of approximately five minutes apiece. In the Ohio search, ground crews had already scanned the river banks for hours to no avail. Night closed in, making the search even more difficult. Once drones with thermal sensors and spotlights took over, a missing father and son were quickly located. Similarly, in North Carolina, aerial thermal imagery at nightfall enabled a rescue within minutes.
It's no wonder emergency support units clamor for drones. Director, Chief (Ret.) Charles Werner in a recent interview clarified how these programs continue to exponentially grow: "The FAA is now receiving about 10 new certificate of authorization [COA] applications a week for public aircraft operations. If that pace continues, we could see the number of agencies with drone programs grow to over 9,000 soon." Of the multiple ways to plug into the ESS drone business, the most common is the Govey (Government Employee) model (see the "Remote Pilot/RP Roundup" table).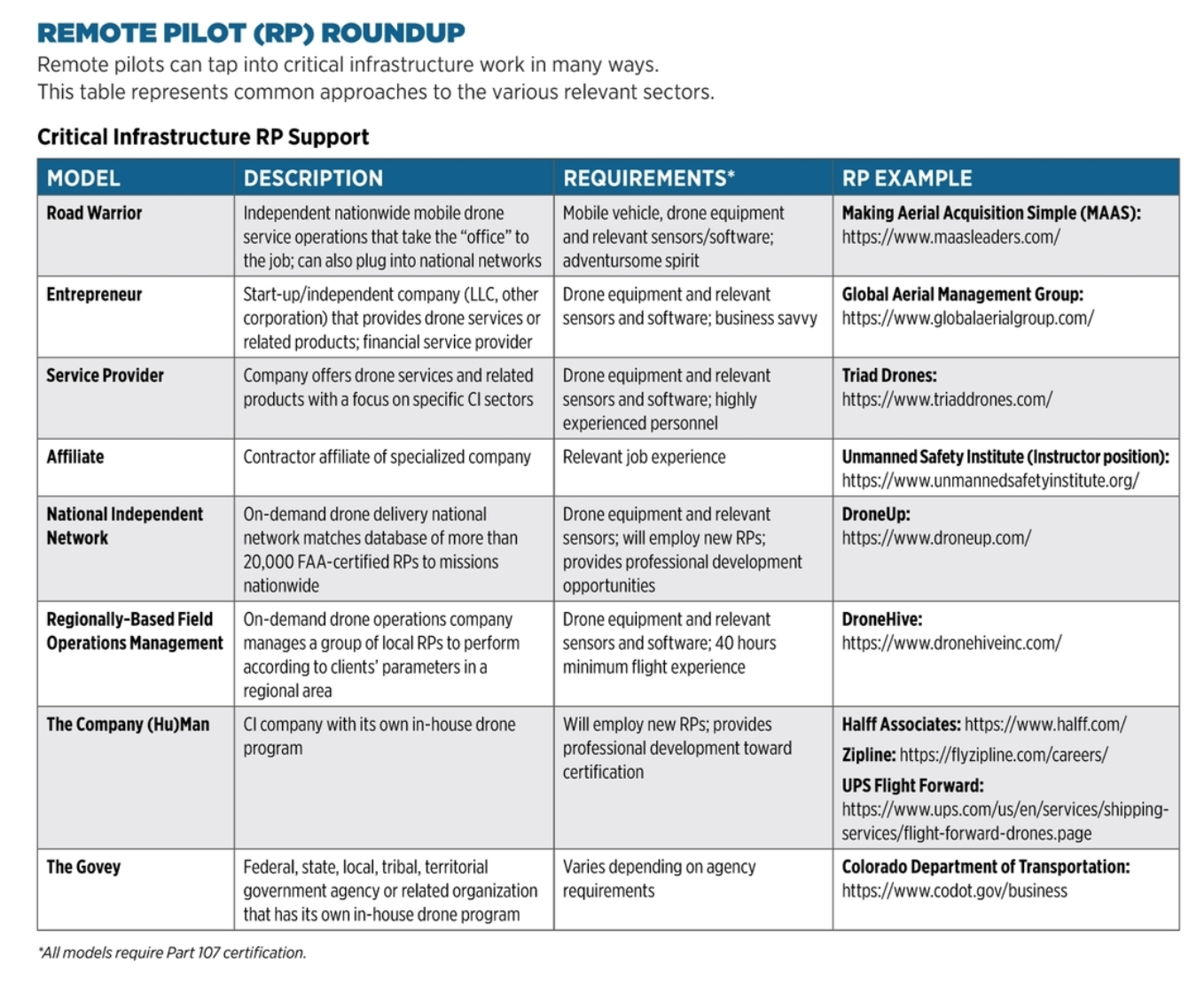 Financial Services
Thousands of depository institutions, providers of investment products, insurance companies, other credit and financing organizations, and their support providers are availing themselves of UAS.
Banks, especially small community banks, hire drone pilots as a cost-effective way to assess small properties put up as loan collateral. Insurance companies now routinely hire pilots or have their own in-house drone programs to provide imagery of claims damages. Allstate, the second-largest U.S. property and casualty insurer, has been using drones to assess rooftop property damage for years, significantly reducing process times.
Healthcare and Public Health (HPH)
The pandemic illustrated the utility of drones in the health arena. DroneUp, in partnership with Walmart, conducted short-range final-mile deliveries of COVID-19 at-home self-collection kits across multiple states, with a 45-minute turn time from order placement to doorstep. Walmart recently announced an investment in the company to scale last-mile delivery solutions.
The North Carolina Department of Transportation (NCDOT) has also been at the forefront of utilizing drones in support of healthcare and medical services. As part of the FAA's recently initiated BEYOND and former IPP programs, NCDOT partnered early with Matternet and UPS Flight Forward to deliver medicines across the WakeMed campus in Raleigh. In the summer of 2020, it added Wake Forest Baptist Health's infusion clinic to the list, flying medicines and blood by drone. Around that same time, Zipline also launched distribution of personal protective and medical equipment in the state.
Communications
Cutting across almost all private and government business operations, this sector consists of terrestrial, satellite and wireless transmission systems. Private industry owns and operates the majority of this sector. Drones support and protect networks with cellular tower and surveillance inspections, and HALE (high altitude long endurance) solar vehicles seek to fill the airspace between cubesats (miniature low-orbit satellites) and ground towers. At the same time, drones themselves rely heavily on this sector for communications between aircraft and ground control stations, which will intensify with the arrival of unmanned traffic management (UTM) systems.
RPs that contract with DroneHive have flown test missions over cellular networks to investigate performance associated with cell tower inspections. CEO Huish explained: "We deploy local pilots to perform missions for drone solutions providers [DSP] that telecom companies hire. When the DSP has more work that it can handle, they call us and we energize the local talent. We sent out a guy in Chicago who flew 12 towers in one job."
Nuclear Reactors, Material and Waste
Ninety-nine active and 18 decommissioning power reactors in 30 states generate nearly 20% of the nation's electricity. Thirty-one research and test reactors in universities and national labs, eight active nuclear fuel cycle facilities and more than 20,000 licensed users of radioactive sources operate under this rubric.
Triad Drones is one of the few drone companies that has nuclear sector work on its resume. It helps companies set up their own programs using specialized indoor drones and ground-based robots for everything from radiation monitoring to concrete inspections. "We do the hard, dangerous things that need to be done now and confidentially," CEO Walter Lappert, a retired U.S. Air Force aircraft weapons specialist, said. Triad uses unmanned systems for radiation monitoring. It employs sensors on both unmanned aerial and ground vehicles to "sniff" the air for various particles (alpha, beta, gamma) at whatever frequency the customer requires. The team also deploys unmanned vehicles for concrete inspection, to spot cracks, water and leakage in nuclear plants before they become deadly problems. Both applications alleviate the need to expose humans to potentially terminal radiation.
Dams
Consisting of more than 90,000 U.S. dams, this half-privately-owned sector provides critical water retention and control services. Its contribution is massive: dams irrigate at least 10% of our crops, help protect more than 43% of the U.S. population from flooding and generate almost 60% of the Pacific Northwest's electricity.
Triad Drones CEO Walter Lappert explained his modus operandi for dam inspection: "We take 3D models of the entire environment. Our ground-based lasers take images of the bare earth, to help predict where water is going to flow. Underwater, we use sonar. Our drones use LiDAR to create a model, similar to the sonar data, from the air. We register common ground control points and tie all of these models together."
Government Facilities
Education facilities, especially, use drones routinely, including for infrastructure purposes. Schools also use drones to protect students.
Arkansas-based MAAS (Making Aerial Acquisition Simple) generates 3D maps of local schools for responders to have on file in the event of an emergency. For husband-and-wife owners Mitch and Andi-Bandy Smith, this task is close to home. Twenty-five years ago, Andi's son was onsite during a tragic school shooting. "Had there been drone and thermal technology they could have launched, or even an accurate map of the facility, they would have found the shooters much sooner and saved more lives," she noted. "It's important for local responders to have a 3D map of schools at the ready, to be prepared for any future situations."
To support drone applications in infrastructure and beyond, U.S. colleges are offering wide-ranging R&D drone programs, from monitoring archeological digs to conducting traffic studies to taking aerial photos to promote their campuses. Several colleges, and even some high schools, offer drone-specific degrees and curricula. "This gives [students] an advantage in the job market," said Taylor Albrecht, President of Central Colorado Unmanned Aerial Systems.
Critical Manufacturing & Defense Industrial Base (DIB)
Several core industries, among them primary metals, iron and steel mills, and mining, agricultural and construction equipment, constitute this category. The related DIB sector, a global industrial complex of more than 100,000 companies and their contractors, enables the R&D, design, production, delivery and maintenance of military weapons and related systems.
Virginia Beach-based DroneUp employs contractors who perform missions in these sectors. One example: "Our company's work in support of ballasting inspections of warships provides an average cost savings of 55% over manual external visual surveys," said Rese Cleaver, sales director at DroneUp. The company, she added, is the only drone service provider that is American Bureau of Shipping certified.
Chemical and Commercial Facilities
Several hundred U.S. chemical facilities manufacture, store, use and transport potentially dangerous chemicals that enable other critical infrastructure sectors. Open-access commercial facilities span a range of public uses, including entertainment and media, gaming, lodging, outdoor events, public assembly, real estate, retail and sports.
Drone photography in support of the real estate business constitutes one of the most common applications. According to the Multiple Listing Service (MLS), properties sold 68% faster when photographed by drone. A separate study backs this, showing that 83% of home sellers prefer to work with an agent who uses drones.
A novel use involves drone disinfecting at entertainment venues. Global Aerial Management Group (GAMG) has used a combination of its drones, private jet aviation services, and talent and production companies to spur the re-opening of the live music entertainment industry during the COVID-19 pandemic. "We provide a total solution for our clients," Toni Drummond, GAMG's chief executive officer explained. "We come into the arena with our drones and treat it in advance with a solution of choice. We then fly the talent in by private jet to the location. When on-site, we manually treat tour buses and green rooms. This leaves our customers feeling confident that both they and their fans are safe and that the show can go on."
The GAMG team has seen a sharp increase in requests for sanitizing and disinfecting across other sectors, Drummond said. "These disinfecting drones have caught the attention of other industries. We are meeting with universities, schools, greenhouse growers, major sports teams and medical facilities."
Water and Wastewater Systems (WWS)
The U.S. has 153,000 water systems that supply more than 80% of the population with safe drinking water, and 16,000 publicly owned wastewater treatment systems that treat and sanitize 75% of the population's sewerage.
Drones can survey water towers, providing critical information for construction, maintenance and operations. Halff Associates manager Bill Swope said his team recently flew two water treatment plants in Tyler, Texas, for a construction design job. It combined aerial, mobile and terrestrial data and crunched it using 3D modeling. This same methodology is used to inspect for corrosion and analyze pavement at the plants.
DroneUp's sales director Rese Cleaver summed up the value proposition for this kind of infrastructure work. "Our pilots collect data that we provide to assessors for close-up visual survey and inspection requirements of water towers. This increases safety by eliminating fall hazards. It is cheaper, as assessors now have less equipment to maintain. Finally, it's more efficient—by eliminating the need for assessors to travel from site to site, they can do more surveys per day."
It's also safer, she noted. To manually inspect these towers requires assessors to use either a bucket truck or to hang out of a helicopter. The Occupational Safety and Health Administration (OSHA) ranked a lack of fall protection as the top safety violation in 2020. "Most falls occur at height," Cleaver said. "We eliminate this issue."
Jake Lahmann, quality and UAS manager at Valmont Industries, a global leader of engineered products and services for infrastructure, summed up the value of UAS for critical infrastructure. "Removing manual high-altitude operations and heavy ground vehicles reduces the risk of potentially serious accidents. The benefits of using drones for inspections are patently obvious in terms of risk and safety."