Watch how TrueView 3D Imagery Systems are used in New Episodes of the Reality Series Down to Earth.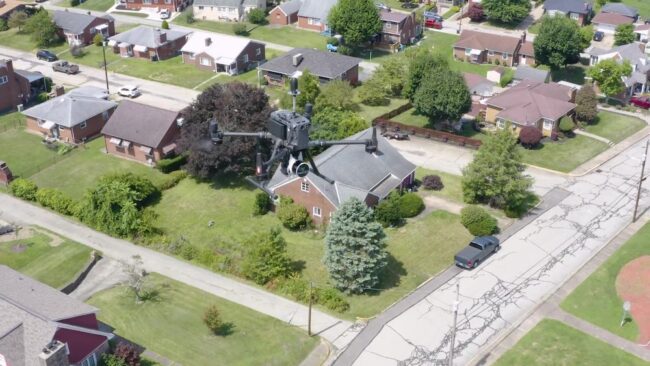 Bridgeville, PA- Flooded roads, traffic disruptions, and property damage are just a few of the detrimental consequences of inadequate road drainage. That's why the Pennsylvania Department of Transportation (PennDOT) takes a proactive step towards safeguarding its roads and infrastructure.
PennDOT recently tackled a project in an urban area, aiming to alleviate standing water and drainage issues. In their pursuit of an innovative solution, they joined forces with the experts at T3 Global Strategies. Faced with a smaller project area, dense tree vegetation, and a need for a quick solution, T3 Global Strategies proposed drone LiDAR surveying with TrueView 3D Imaging Systems from GeoCue, a departure from traditional manned flights.
In a first for PennDOT, they approved the use of drone technology to provide topographic planimetric mapping data and high-resolution orthophotography. In turn, engineers from PennDOT will use the data to implement better drainage.
However, a busy neighborhood, pedestrian distractions, and local air traffic will keep the surveying team from T3 Global Strategies on their toes. See how they navigate these challenges in the next episodes of Down to Earth- Urban Drain.
"Down to Earth" is a documentary-style reality series that shows how real surveyors collect data and turn it into real deliverables, despite challenging conditions, hidden dangers, and inclement weather.
In the first episode, the team from T3 plan and fly the road drainage project. Dan Hruska, Director of Unmanned Aerial Services for T3, sets the parameters for the flight and pilots the drone. Joining him are Matt Brownlee, Commercial Production Manager, and Justin Brownlee, an Aerial Mapping Technician, who will each act as visual observers and help ensure mission safety while Hruska flies the drone.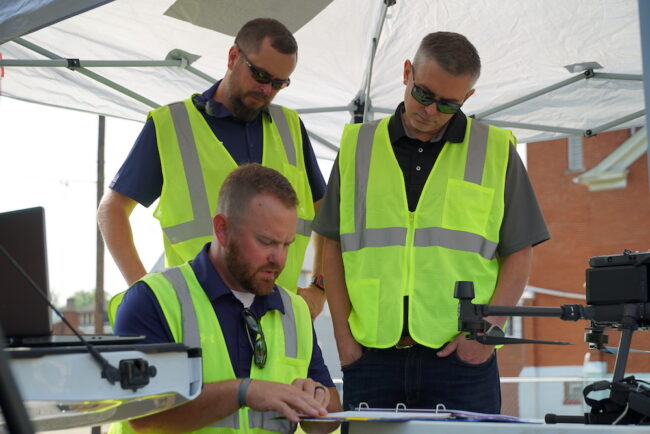 "The task at hand is complex, with airports, helipads, vehicles, and bustling downtown areas to contend with," explains Hruska. "We're looking at two distinct urban regions, one stretching 2.5 miles, the other spanning 50 acres, calling for a total of eight flights today. It's a high-stress, high-stakes day, but I'm thrilled about the challenge. Our goal is clear: employing drone LiDAR and photogrammetry to address the drainage issues."
In the second episode, the team heads back to the T3 office to process and visualize the data. Matt Brownlee utilizes LP360 LiDAR and photogrammetric software to create a 3D point cloud and orthophoto of the project.
"After we process the data through LP360," explains Brownlee, "we'll take it and make stereograms. From there we'll digitize all the lines, features, and roadwork, as defined by PennDOT, to create a final deliverable of the ground surface that their engineers can use to analyze and address drainage issues."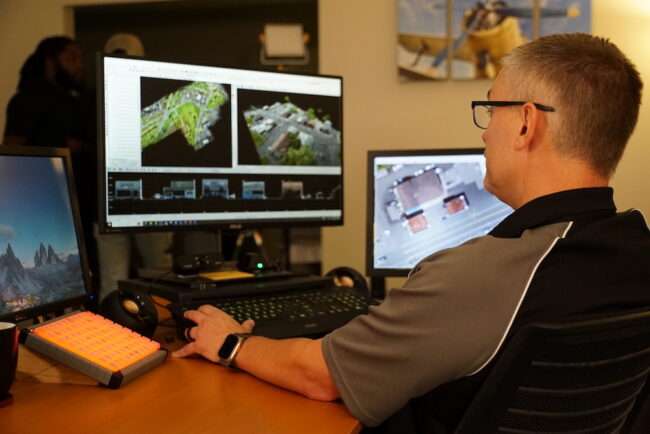 Martin Sedilko, a Principal for T3 Global Strategies, was instrumental in working with the Pennsylvania Department of Transportation. According to Sedilko "PennDOT's decision to choose T3 Global Strategies for this road drainage project is rooted in our longstanding relationship. We've been in partnership with them since 2013. Last year marked a significant turning point as they approached us for the first time, recognizing our expertise in drone technology. They sought our assistance for a high-density LIDAR project, originally planned with a manned aircraft. However, the unique parameters of the area they wanted to survey made it clear that drones were the more cost-effective choice."
All images courtesy of GeoCue.