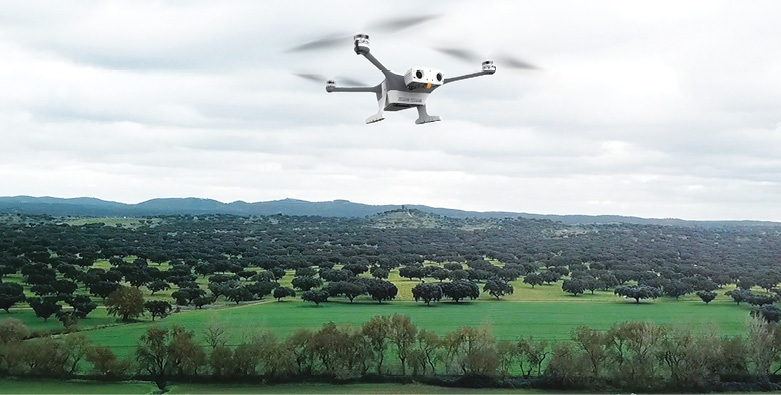 An updated system increases inspection capabilities.
Nine thousand independent companies produce oil and natural gas across 33 states and offshore. Public power utilities support more than 2,000 communities in 49 states and five U.S. territories. These are just a few of the industries that fuel the U.S. economy and way of life.
Maintaining the equipment and facilities for these critical purposes is no small feat. But a drone, coupled with additional technologies such as advanced sensors and artificial intelligence, can make a big difference.
Preventing potential hazards, pollution and disasters that could cause catastrophic damage to equipment and people ranks high among the ways drones help sustain critical infrastructure.
Percepto, an innovative autonomous inspection and monitoring solution provider, has successfully taken AIM at this problem—figuratively and literally. The Israel-based company is now advancing its technology and attracting users with AIM 2022, featuring expanded compatibility, a new drone in a box and an app.
THE NEED FOR INSPECTION
The value of drone use cases for inspections, particularly of critical infrastructure, has been well documented. Various governing bodies require routine inspections. Drones provide an efficient, effective and economical way to conduct them.
Traditional inspections, often manually performed, are dangerous, expensive and can result in collecting suboptimal data. Hanging off a tower, a cherry picker or out the side of a helicopter poses significant safety risks to workers. Costs for these inspections are a challenge for those who desire to increase their quantity and quality. Paying a helicopter crew to conduct a utility inspection, for example, could range from $9,000 to $30,000 a day. This can deter companies from inspecting frequently enough to spot minor problems that, left undetected, could become major ones.
Even when companies gather sufficient data, they may not store or organize it well, may choose not to use it or fail to analyze it sufficiently. It can take a herculean effort to manually assess the type of historical information that might reveal long-term trends indicative of a problem with a structure or equipment. It also can be difficult and time-consuming for employees to look at an image of an asset, compare it to previous images of that same structure, and detect faults, changes or failures with the naked eye. In many cases they miss it.
Finally, should inspection uncover a potential problem, effectively communicating these insights can presents another challenge. Important information, many times communicated in email, can get lost in translation. This problem gets exacerbated when shared across multiple stakeholders who may not use common terms.
The best way to address these issues is to use an end-to-end system. Enter Autonomous Inspection and Monitoring, or AIM.
TAKING AIM
In November 2020, Percepto—which in the seven preceding years had already earned a global reputation for high-quality visual data capture through robotics technology and visual data management—announced its AIM concept. (See https://insideunmannedsystems.com/percepto-launches-aim-platform-for-autonomous-industrial-inspections/)
AIM was the first-of-its-kind enterprise solution to help industrial companies inspect, manage and secure sites and improve operational productivity. It enabled fully autonomous management of a fleet of onsite robots for inspection. The data collected provided automatic generation of business insights for various organizational stakeholders in the form of insights, reports and trends, and digital twins, as well as visual data management and analysis.
"Visual inspections at industrial facilities for companies such as refineries and electric utilities help reduce pollution and safety hazards," Percepto CEO and co-founder Dor Abuhasira said. "No leak goes undetected with the combination of 24/7 inspections and AI-powered change detection, and employees are put out of harm's way that would otherwise be needed to inspect and monitor for leaks. Detecting and correcting faults as soon as they occur enables companies to effectively prevent large-scale hazards and related damage to the environment and surrounding communities."
Grigor Bambekov, senior vice president, business transformation at energy company Delek US, attests to this. "This past spring, we had an emergency situation with a process unit in one of our facilities. This situation required immediate response on the ground and from the air," he explained.
"We flew a Percepto drone to provide immediate reconnaissance and find out what was happening," Bambekov, whose company is located in Brentwood, Tennessee, recalled. Footage was recorded, snapshots were taken from the air in close proximity, and communication was immediately established with the emergency response team and operations, and maintenance crew members, as well as managers on the ground. Immediate measures were taken and the situation was quickly under control.
"Without the drones, the response would not have been nearly as fast," Bambekov continued. "The utilization of drones in this situation made it manageable and helped resolve it quickly, effectively and efficiently."
Now, a year after launching AIM, with the experience gained from dozens of industrial site inspections around the world, the company has announced AIM 2022. It includes Percepto Air Mobile—a new drone in a box—a mobile app, and fully automated integrations with DJI drones and fixed cameras.
LOTS OF TARGETS
Companies that want to prevent failures and, when they occur, ensure best-case outcomes have turned to Percepto for its autonomous DIB solution.
Wichita, Kansas-head-quartered Koch Fertilizer, one of the world's largest fertilizer producers and marketers, uses Percepto drones in lieu of sending a valuable employee up hazardous ladders to conduct its tank inspections. High-res and thermal imaging captures and detects faults and anomalies for the company.
As with Koch, and Percepto customers such as Fortune 500 companies Enel Group, Florida Power & Light and Verizon, it's valuable to detect faults through Percepto's automatically generated, high-quality data reports. Anyone in the organization, from any location, can also go back and rewatch missions. This allows stakeholders to see changes for themselves.
WHEN TO FLY
Companies with facilities or assets that require higher-quality and quantity inspection data should consider an autonomous drone solution.
Starting small and scaling is a reasonable approach. For a power company, this could mean bringing in an autonomous drone to monitor and inspect its most risky locations, such as a nuclear energy facility. Once the value of autonomous inspections has been proven, the company might introduce them to other utilities and infrastructure.
"Koch started with inspection and security tasks," Abuhasira explained. "For them, the value and safety they were adding to their facility made this a good place to start."
Moving forward, Abuhasira noted, Koch wants to ensure that during any safety event, no employees go outside. Koch plans to use AIM to fully automate its emergency response, as Delek has, to meet those goals.
"Our solution gets people connected to the important information to help make right decisions and to keep people safe," Abuhasira added.
BULLSEYE!
The industry has taken notice.
In 2021, Percepto hit the trifecta in terms of awards and accolades. In November, TIME listed the company on its list of "Best 100 Inventions of 2021." It also landed on the marketing intelligence firm CB Insights' "AI 100" list of "Most Innovative Artificial Intelligence Startups." Finally, it struck "Gold" as a winner of the 2021 Edison Awards in the "Visual Insights and Conversion Tools" category.
The FAA also selected the company to participate in its BVLOS Aviation Rulemaking Committee (ARC). This gives them a seat at the table to help shape a much-anticipated new BVLOS rule.
Expect Percepto to take aim at whatever next broad spectrum needs and challenges its customers face, as the industry continues to evolve and sustain.