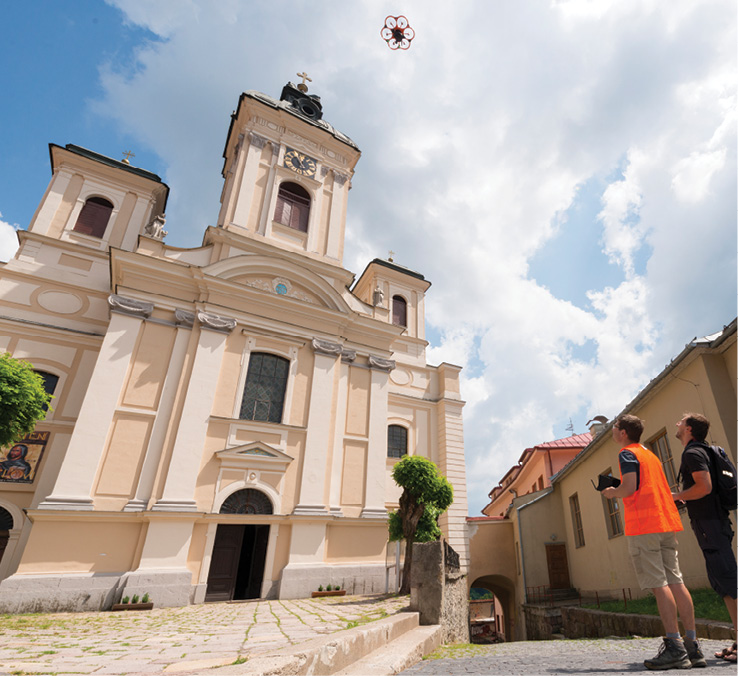 North to south and east to west, Europe's wealth of heritage sites reflects a history that goes back thousands of years. But the old continent also boasts a resourceful and forward-looking high-tech community, including a growing unmanned systems industry.
The richness and capability of both these resources were on display when the film and advertising experts of Studio 727 and German drone manufacturer Aibotix took on the literally 'monumental' task of helping digitize close to 2,000 of Slovakia's cultural sites, under the government-funded 'Digital Monuments Fund' (DMF) project.
Using both terrestrial laser scanning and digital photogrammetry, Studio 727 captured millions of data points along with thousands of accurate photos. This raw data was used to produce highly detailed, textured 3-D models, highly exact polygon models, point clouds, orthophotos, gigapixel panoramas and technical drawings of large architectural sites down to one-centimeter accuracy.
Doing the heavy lifting for the project was the Aibot X6 Version 2 (V2), an autonomous hexacopter, designed for surveying, industrial and agricultural applications.
"From the start, we were looking for accuracy, best quality of georeferencing, and a solid base for our 3-D modeling," said Studio 727 Founder and CEO Ladislav Dedik, "and we believed the Aibotix system was the right solution to get us the best possible results."
Starting Small
Studio 727 was launched in Slovakia in 1997. Working initially as a post-production studio delivering film editing and animation, it grew to providing more complex film and video post-production.
"We got to be pretty well known in the Slovakian market," Dedik said.
The company still works primarily on full-length films, historical documentaries and short films, commercials and music videos, Dedik said. "As for post-production services, 727 delivers the full spectrum of technologies—film scanning, digital color correction, digital film restoration, off- and online film editing, cartoons, 2-D and 3-D animation, online composting, special visual effects and more."
Based in part on its visual processing expertise, Studio 727 was tapped to lead the small consortium undertaking the DMF project. The project itself was the brainchild of Slovakia's EU-funded Operational Programme Information Society (OPIS) initiative. Funding mechanisms aside, Dedik said the immediate client was essentially the Monuments Board of the Slovak Republic (MBSR).
"The specific aim of the project," he said, "was to digitize a selected number of the country's national cultural monuments and historical objects, to allow, later, detailed restoration work to preserve these monuments for future generations."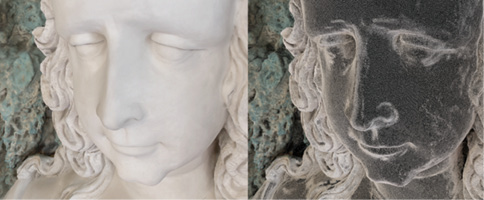 To collect the information necessary for site preservation, the consortium needed to improve the way data was acquired and processed.
Their starting point was data collection with a ground-based Leica terrestrial laser scanning (TLS) system in combination with georeferenced digital photogrammetry (DP) using helicopters and the GNSS-equipped Aibot unmanned aerial vehicle (UAV).
Throughout the project, Dedik said, Studio 727 remained in close touch with Leica and Aibotix representatives in Slovakia.
"Our Aibot X6 V2 UAVs, with the Nikon D810 camera, were used to digitize big buildings and wider areas, and especially hard-to-reach places like church steeples and roofs and difficult architectural elements like all the nooks and crannies in ancient facades," said Benjamin Federmann, Aibotix's marketing and communications director.
Linked Technology 
Using Leica's ground-based ScanStation P20 for TLS, high accuracy digital representations of objects and buildings could be captured in a short amount of time, Federmann said. "But a real challenge of producing 3-D models using only TLS data is that, in spite of the high point density, small architectural details cannot be captured when the distance is too great between the laser scanner and the subject."
Relying only on digital photogrammetry, however, has shortcomings as well.
"The advantages with photogrammetry are the degree of detail and the realistic reproduction of colors," Federmann said, "while a disadvantage is that the model can be distorted or deformed during reconstruction."
The team knew that, to get the level of accuracy and detail they wanted, they would really need to combine the best elements of TLS and DP data. Studio 727 managed to do that using a new software package called RealityCapture, created during the project by another Slovak partner CapturingReality.
RealityCapture software enabled the handling of an enormous volume of data, merging thousands of pictures with laser scanning data to create unified, georeferenced models in a process referred to as 'TLS-DP linking.' Further data processing was carried out in JTSK, the default coordinate system in the Slovak Republic. Point clouds were processed into highly detailed orthophotos, polygonal models and 3-D models.
"Depending on the size of the monument, the required level of detail and the scale, the processing time for a complete 3-D model can be several months," Federmann said. "The advantages over classical geodetic methods are the time it takes to collect the data and the high degree of detail and accuracy."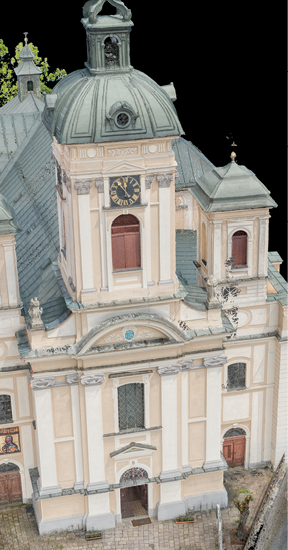 RealityCapture was also able to create an alignment report from any data source.
"With the obtained data, he added, "any required documentation can be created for any purpose, for example to carry out a faithful restoration or even a complete rebuilding of the monument. It is no longer necessary to pre-define the output, because all required documentation can be created from the collected data," Federmann told Inside Unmanned Systems.
Detail and Texture
UAV operations were comprised largely of autonomously flown waypoint flights. After an inspection of the target monument, Federmann said, flights were planned at the office using the Aibotix AiProFlight flight planning software.
A two-man team comprising a pilot and an operator executed the flight plans. To generate the required amount of data at the required level of detail, the camera was automatically triggered every two seconds; unessential photos were later discarded. For more detailed images of important structures, the Aibot X6 V2 was flown manually. In these cases, the pilot took over control of the drone while the operator worked the gimbals and camera.
From 2012 to 2015, Studio 727 completely digitized more than 1,450 heritage objects at 81 large architectural groups, including castles, castle ruins, churches, cloisters and other monuments, as well as entire historical districts. An additional 400 smaller objects, including individual churches, churchyards, houses, bridges and loose artifacts, were digitized by the MBSR's own Department of Digitization and Graphic Documentation.
Over the course of the project, more than 2,000,000 pictures were taken from land, more than 100,000 pictures were taken from elevated positions using the Aibot and helicopters, and laser scans were obtained from more than 18,000 ground positions.
The final models—of places like the richly decorated early baroque Sala Terrena at Cervený Kamen castle—can be up to half the resolution of the real image, while texture information can be maintained practically at a ratio of 1:1.
"We managed to significantly increase the geometrical and textural accuracy and detail," Dedik said.
Digital Museum
"We know there are other digitization projects being undertaken around Europe," Dedik said, "but we know of none quite like ours—on a national scale, across all of Slovakia—especially involving such a high degree of resolution."
There were some memorable moments during the project, Dedik said. "Some monuments looked at first sight like 'easy' objects to digitize, but in fact many of them were hiding a lot of surprising and tricky parts, like wells, mineshafts, towers, etc." Many of the castles we digitized, such as Red Stone Castle and Bojnice castle, had awkward rooftops, he added. "In Banska Stiavnica and Bardejov, both UNESCO sites, we digitized whole urban units. And then there was the stunningly ornate medieval gothic cathedral in Kosice, with all its hidden corners."
The results of the work by Studio 727, Aibotix, CapturingReality and others, will be available to generations of architects, historians, conservationists and restorers for educational and many other purposes.
"Since the completion of the project," Dedik said, "Studio 727 has continued to process the results for the latest forms of presentation—virtual and augmented reality. Here we see the future of education as well as entertainment."
The rest, as they say, is history.
Photos courtesy Aibotix & Studio 727