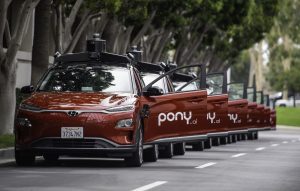 Autonomous driving technology company Pony.ai recently announced it will equip its robotaxi fleet with the NVIDIA DRIVE AGX Pegasus platform.
Known as PonyPilot, the vehicles began offering robotaxi services to the general public in Irvine, California, last November, according to a news release. The robotaxis have been piloted in multiple areas since late 2018 including Fremont, California, and Guangzhou and Beijing, China. The company "will leverage the energy-efficient, high-performance NVIDIA DRIVE AGX Pegasus self-driving platform to meet the massive computing demands required to bring robotaxis to market."
DRIVE AGX Pegasus offers 320 TOPS (trillions of operations per second) of deep learning and integrates two NVIDIA Xavier SoCs and two NVIDIA Turing Tensor Core GPUs. The Xavier SoC and Turing GPU achieved "top results" in MLPerf Inference, the first industry-standard, independent AI benchmarks.
"Pony.ai is helping advance the future of urban mobility, making transportation safer, more enjoyable, and more accessible to all," said Rishi Dhall, NVIDIA's vice president of autonomous vehicles, according to the release. "Pony.ai's selection of the NVIDIA DRIVE AGX Pegasus platform gives them the scalable computational horsepower and sophisticated AI essential for safe self-driving systems."