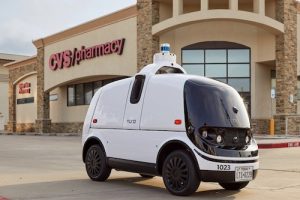 Beginning in June, Nuro's autonomous vehicles will deliver prescriptions and essentials to CVS Pharmacy customers in Houston.
When CVS customers who live in the Houston pilot area put in prescription orders on the CVS website or through the CVS Pharmacy app, they'll have the option to select autonomous delivery, according to a blog post on Nuro's website. Within three hours, an autonomous Prius will arrive with their order. Customers will have to confirm their identity to claim their items curbside. The service is free to CVS Pharmacy customers.
The pilot will begin with just Nuro's autonomous Prius fleet. Eventually, R2, the company's delivery bot, will be part of the deliveries as well.
This new partnership brings Nuro into the health space, working with a company that "has been at the forefront of delivery innovation." In 2018, CVS became the first company to make prescription home-delivery a nationwide option, according to the blog.
"We see this moment as an important stepping-stone toward delivering all kinds of goods, beyond food and groceries," according to the blog. "It is progress toward building a future, where through moving goods instead of people, we can lessen the need for unnecessary trips, save time, and create a safer and more convenient way of getting the things we need. We hope that by using our electric bots to deliver things now, we can pave the way for a healthier and better future for all."