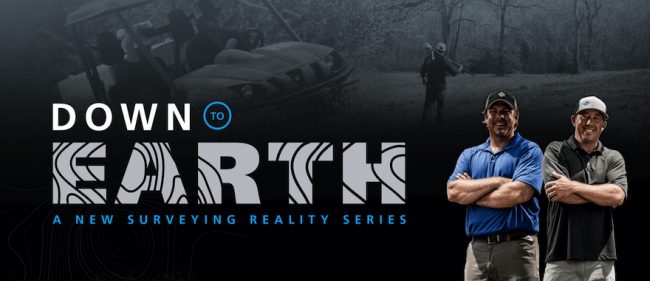 A new online video series and free webinar document the real-life challenges and hazards that professional surveyors encounter using drones in their fieldwork.
Dubbed "Down to Earth," the series premieres on February 19. Register here to watch the free webinar at either 9 am Eastern time or 6 pm Eastern time (scroll down to register).
The first three episodes of 5 to 6 minutes each, set in Arkansas' rugged Ozark Mountains, will air during the webinar.  After each comes a panel discussion with the real-life surveyors followed by the cameras: a vice president and the survey coordinator/UAV pilot from Crafton Tull engineering and surveying firm, with personnel from drone provider Microdrones.
"The Ozarks" mini-series shows viewers the obstacles encountered in mapping rugged mountains and a river canyon of steep bluffs, and the tactics they used to overcome them. Their mission: collect geospatial data on 150 acres of the cliff-filled region of Big Creek so that the firm's engineers can design a road through the heart of the mountainous terrain.
"The challenge on this project is the terrain, from surveying the top to the bottom of the mountain," said Crafton Tull Vice President of Energy Services, Nick Tucker.
"Without a drone and with a regular survey crew out here, you're looking at probably two to three weeks of field work to get this surveyed," added UAV pilot Jeff Davis. "It's dangerous, too, because there are some sheer bluffs on here that would be really challenging to get data on."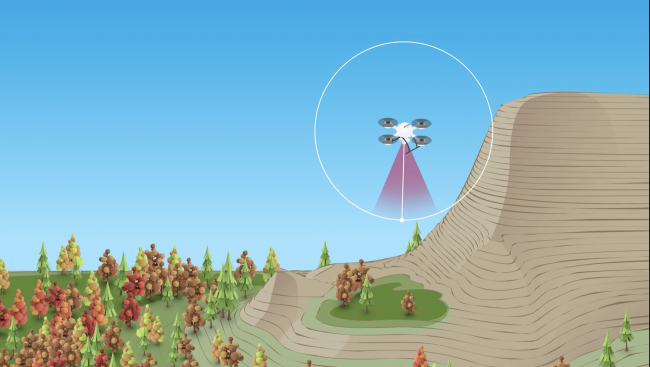 The first terrain challenge greeting the crew on arrival was its steep and undulating nature: the drone had to be kept a safe distance vertically and laterally from changing surfaces, yet close enough to gather data. The extra sensors required for this task drew more power than normal, posing a challenge for battery life and limiting flight length. Tucker called an audible and restructured the mission early on.
Microdrones Southern U.S. Sales Manager Matt Rosenbalm was confident that his company's mdLIDAR1000 could overcome the daunting challenges of the Ozarks. "I always like to see what kinds of projects they're using our systems to do," Rosenbalm said. "This one is obviously putting everything to the test, and it's kind of neat to see how we tackle this."  Rosenbalm was so confident, he took a co-starring role in the film, providing support and technical assistance on scene.
In episodes 2 and 3 the  team adapts to new challenges and problems, collects and analyzes powerful deliverables with the Microdrones integrated system, and finds out if their mission was a success.
"We frame Down to Earth within the genre of a reality series, because part of the show is watching surveyors work out in the field, set up their equipment, and deal with all the different elements and challenges they face," said Microdrones Marketing Director Bret Burghdurf. "Plus, it's more engaging and fun to watch.
"But at the end of the day, whatever happens in the field, they're still responsible for getting their job done.  This series demonstrates how Microdrones can make that process more efficient with powerful end deliverables from our systems. If you want to see real surveyors overcoming difficult field challenges and collecting really good data, then watch Down to Earth."
Further adventurous episodes are promised.  Register here to watch the free February 19 webinar including all three current episodes of "The Ozarks."