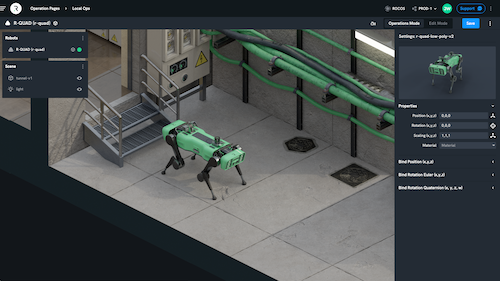 Spot, a mobile robot designed to go where other robots can't, can now easily be operated from a remote location.
This is made possible through a new partnership between robot software operations platform Rocos and Boston Dynamics, the company behind Spot, according to a news release. Rocos will provide remote mission design and execution as well as teleoperation functionality for the durable, customizable robot.
With the Rocos software, missions can be designed and edited "on the fly" and remote teams can access data collected during the mission. Teams also can manually operate Spot to investigate issues, capture new data or redirect the robot if needed.
"The age of autonomous robots is upon us," Rocos CEO David Inggs said, according to the release. "We're working with organizations like Boston Dynamics to help accelerate the adoption of robotics. By connecting robots to the cloud, we can help them combine a cloud software layer with robotics to achieve physical automation at scale. Our customers are augmenting their human workforces to automate physical processes that are often dull, dirty or dangerous."
The robot travels through rugged environments, capturing data in real time and feeding that data back into existing business systems. This can be useful in a variety of industries including energy and agriculture.
Organizations deploying Spot can plan and schedule missions, remotely operate the robot as it explores new areas, capture 3D visualizations and other sensor data in the environment, navigate dangerous terrain and intervene when necessary. This can all be done in offline or online modes.
In an early test, the Boston Dynamics team navigated unchartered terrain in New Zealand from the U.S. They were able to remotely access the robot through Rocos' web UI.
"Robotics companies are producing very capable machines for achieving specific tasks," Inggs said, according to the release. "The missing link is a cloud-based platform to connect, monitor and automate the activities of a fleet. With Boston Dynamics and Rocos, organizations can now design, schedule and manage inspection missions remotely."