In states that allow cannabis cultivation, companies have turned to advanced technology to increase efficiencies in crop management, production and delivery. Exploring the cannabis landscape reveals how drones and robotics are taking cannabis business profits higher.
Cannabis has two different names: hemp and marijuana. The primary distinction is the plant's delta-9-tetrahydrocannabinol (THC), or psychoactive chemical, content. Under U.S. federal law, hemp must contain 0.3% or less THC content by dry weight.
Although this plant is used to produce a wide range of food and non-edible products, regulatory uncertainty remains a barrier to fully realizing the potential of this multibillion dollar market. Nevertheless, cannabis companies are increasingly turning to drones and robotics to help reap medicinal and societal benefits and accelerate companies' bottom lines.
A HISTORICAL TRIP
As far back as 8,000 years ago, Mesopotamians cultivated cannabis plants for a variety of uses. In colonial America, George Washington, Thomas Jefferson and James Madison all grew it; Betsy Ross' original flag was made from its fiber. In the early 1940s, hemp production bloomed in support of World War II efforts, being used to produce cloth, rope and other materiel.
After the war, however, cannabis cultivation took a nosedive. Lobbying from synthetic textile companies resulted in stringent taxes on hemp distributors. A few decades later, Congress effectively killed the industry as part of the larger "war on drugs." The 1970 Controlled Substances Act (CSA) labeled any form of cannabis a Schedule I drug.
It was not until the Agricultural Act of 2014 (Public Law 113-79, the 2014 Farm Bill) that industrial hemp production became legal again. It authorized state pilot programs for hemp agriculture. That same year, the Rohrabacher–Farr amendment prohibited federal prosecutors from moving against individuals acting in compliance with such state programs and laws.
The industry got an additional boost in the 2018 Farm Bill. It removed hemp and its derivative products from the CSA's definition of marijuana, added hemp to crop insurance laws, authorized the U.S. Department of Agriculture (USDA) to develop regulations to produce commercial hemp, included hemp as a "critical agricultural material" (permitting USDA funding for hemp research) and legalized hemp production outside of state pilot projects.
Now, hemp is valued for its resiliency across climate zones. It can yield almost four times the paper-fiber pulp as an equivalent acreage of trees and twice as much oil as a similarly-sized acre of peanuts. Hemp seeds are rich in complete protein and amino acids. Hemp is being used to produce thousands of products, from textiles to plant-powered concrete ("hempcrete"). CBD oil (which does not produce a "high") has numerous medical applications, while THC has been proven to help with ailments from glaucoma to muscle spasticity. Ironically given federal bans, the Food and Drug Administration has approved certain drugs containing both THC and CBD, such as Marinol (THC) and Epidiolex (CBD).
Although the needle has moved on industrial and commercial hemp, technically the use, possession or distribution of THC remains illegal under federal law. Some states have nevertheless legalized one, the other or both. Thirty-six states, Washington, D.C., and four U.S. territories have legalized medical cannabis if prescribed by a licensed physician. Eighteen states, D.C., the Northern Mariana Islands and Guam have also legalized recreational use of THC.
But the feds have toed the line. The Department of Defense has strict rules prohibiting the use of any cannabis products by military members, as do other federal agencies.
Although the regulatory landscape remains murky, businesses are successfully growing cannabis plant varieties. Licensed total hemp acreage reached 465,787 acres across 47 states for the 2020 season.
ELEVATING THE INDUSTRY
Drones and robotics have become a trusted precision agriculture tool for the unique requirements of cannabis crops. Savvy cannabis companies have started using drones for crop management, and as hydrostatic sprayers for mold prevention and remediation. Companies have also initiated the use of autonomous delivery systems to streamline logistics.
Veteran-owned, Denver-based Blue Nose Aerial Imaging, proponents of a drone franchise model, has made cannabis plant management a target market sector for its franchisees and their clients. Blue Nose drones help cannabis farmers identify male plants to bolster harvest optimization—to increase THC levels, male cannabis plants must be removed to prevent fertilization and better allow female plants to flower.
The company also uses sensors and backend analytics to estimate yields and identify plant disease and pests. "Drone inspections of cannabis fields take only a few hours; manual crop inspections take between four and five days," said CEO Tanner Harris, a former Navy E-6 Mercury pilot and Boeing flight instructor. "We have consistently proven the return on investment for drones in cannabis operations." The company currently supports cannabis farms in Colorado, California and Oregon.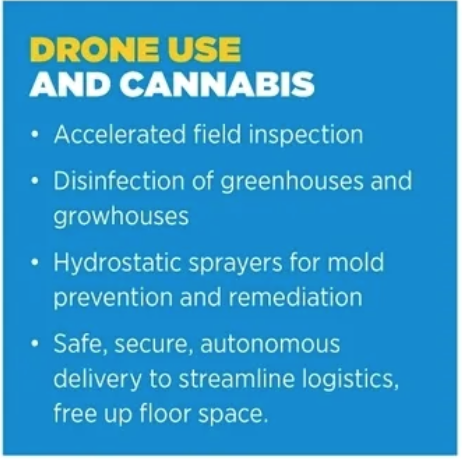 Drones also can help prevent and remediate mold, which can pose a serious problem for greenhouses, growhouses and outdoor growers. Microbial contamination is estimated to become a more than a $3 billion problem this year.
Growing cannabis indoors can take between 14 to 32 weeks, which means that indoor cultivators can reap about three to four harvests each year. After each harvest, growers can clean the area. Incorporating drone-based electrostatic spraying supplements traditional backpack sprayers. Drones can also spray nutrient solutions directly onto plants to contribute to crop health.
Global Aerial Management Group (GAMG) has been using drones for disinfection in critical infrastructure (see previous IUS coverage at https://insideunmannedsystems.com/opportunity-spotlight-drones-are-critical-to-infrastructure/). The Maricopa, Arizona, company has also developed this use case for cannabis. A 2021 Women to Watch in UAS Volatus Aerospace Innovation Team, GAMG has submitted for its Part 137 certification, which is generally required for outdoor drone spraying per FAA Advisory Circular 137-1B. Operations, CEO Toni Drummond said, may also require an Environmental Protection Agency (EPA) Commercial Pesticide Applicator License. "Drone disinfecting of cannabis greenhouses and growhouses is another way this incredible technology protects health, increases profit margins and benefits society," she said.
Autonomous systems have also been delivering for the cannabis industry—literally. Wings, an emerging robotics and artificial intelligence startup that develops autonomous retail solutions, has partnered with Collective Cannabis, a Premium Cannabis Dispensary, for the world's first automated cannabis delivery. Collective will use Wings' EXO Delivery System at its Littleton, Massachusetts, branch starting in March to streamline logistics and minimize consumer wait times.
With an R&D lab in Littleton, Massachusetts, Wings designed the EXO system to automate the flow of products from assembly to multiple delivery zones without occupying additional floor space. "The EXO system revolutionizes the last 10 feet of the retail journey," company advisor Jim McDermet said. McDermet, a former vice president of Starbucks and Burger King, helped to strategically develop the EXO system.
Collective Cannabis initially plans to operate with eight "budtenders" and three distribution modules that can store and timely deliver up to 90 mobile and online orders. The company plans to scale the EXO system to its other stores in the future.
This real-time robotic tech will also allow assemblers to remain focused and storefront staff to spend more time with customers, driving additional sales while elevating staff and customer experiences. "We are honored to work with the Collective Cannabis team," noted Haitham Al-Beik, CEO of Wings. "Our EXO systems will help reduce risk by increasing the security of high-value products while eliminating friction between backroom logistics, budtenders and customers." David Giannetta, CEO and founder of Collective Cannabis, agreed. "We are delighted to lead the industry in adopting robotics that values products, floor space, time and, most importantly, people," he said.
With autonomous systems and drones improving business efficiencies, decreasing risk, contributing to health and safety, and providing end-user benefits, expect the cannabis industry, despite regulatory challenges, to soar into the future!