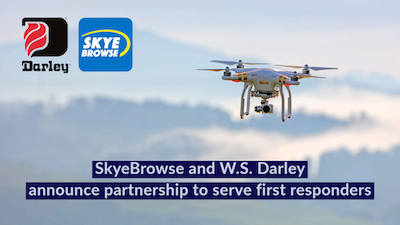 W.S. Darley, a company that manufactures and supplies public safety equipment, will now provide SkyeBrowse 3D modeling software as well as its drone offerings to first responders and public safety agencies.
This partnership comes at a time when it's critical for first responders to spend as little time on scene gathering information and evidence as possible, as being on the front lines puts them at high risk for contracting COVID-19, according to a news release. The fast 3D modeling software makes it possible to create 3D models of a scene in a few minutes, even for users who don't have drone or 3D modeling training.
"As more and more agencies are developing UAV programs, there continues to be a growing need for mapping solutions, W.S. Darley COO Peter Darley said, according to the release. "Partnering with SkyeBrowse will allow agencies to rapidly create 3D models utilizing their existing equipment with minimal training. Our team was blown away by the ease of use, low cost, and unmatched support of the SkyeBrowse product line. All of which are crucial for the public safety market."
The SkyeBrowse app can be downloaded from the App Store. Licenses will be available for W.S. Darley customers immediately. W.S. Darley will also provide SkyeBrowse licenses along with DJI drones in bundles.