The Aerosonde HQ UAS, from incumbent provider Textron Systems Corp., was first introduced in 2016. It combines the vertical takeoff and landing (VTOL) capabilities of a multirotor platform with the efficiency and speed of the company's Aerosonde Small Unmanned Aircraft System (SUAS) fixed-wing aircraft.
The VTOL-capable Aerosonde HQ is a platform that David A. Phillips, senior vice president, unmanned systems, said, "brings a whole new level of tactical deployment capability and expeditionary support to the Brigade Combat Team."
The Aerosonde HQ UAS, which incorporates the purpose-built Lycoming EL-005 heavy fuel engine, features an 8-hour endurance and a 10,000-foot service ceiling. The entire solution, including the airframe, ground support equipment and generators, fits onto a 463L pallet internal to a CH-47 Chinook helicopter.
"More importantly," Phillips continued, "it can go from 463L offload to launch within 15 minutes."
A critical area of next generation scout drones will be support and maintenance, Phillips confirmed. "It's logistically burdensome to transport aviation gas around the theatre of operation so we built the Aerosonde to handle the same fuels as the air assets used to deploy the system: e.g., CH-47, C-17 or C-130. As well, we've incorporated proven, mature maintenance protocols that push maintenance as far forward as possible to crew and site operations—and away from depot-level maintenance. It is imperative that these systems are easy to operate and maintain."
While payloads are not part of the Army requirements for this phase of FTUAS evaluations, they will be a future consideration. Phillips noted that the Aerosonde HQ platform is designed to be extremely adaptable to rapidly changing mission requirements via an open architecture and additional payload capacity.
"It's easy to swap payloads based on that day's specific mission set and adapt the aircraft CG at the forward location to compensate for different payloads," Phillips added.
Of note, Textron is also developing a Shadow Block III variant and experimenting with VTOL thrust capabilities through its X5-55 quadrotor.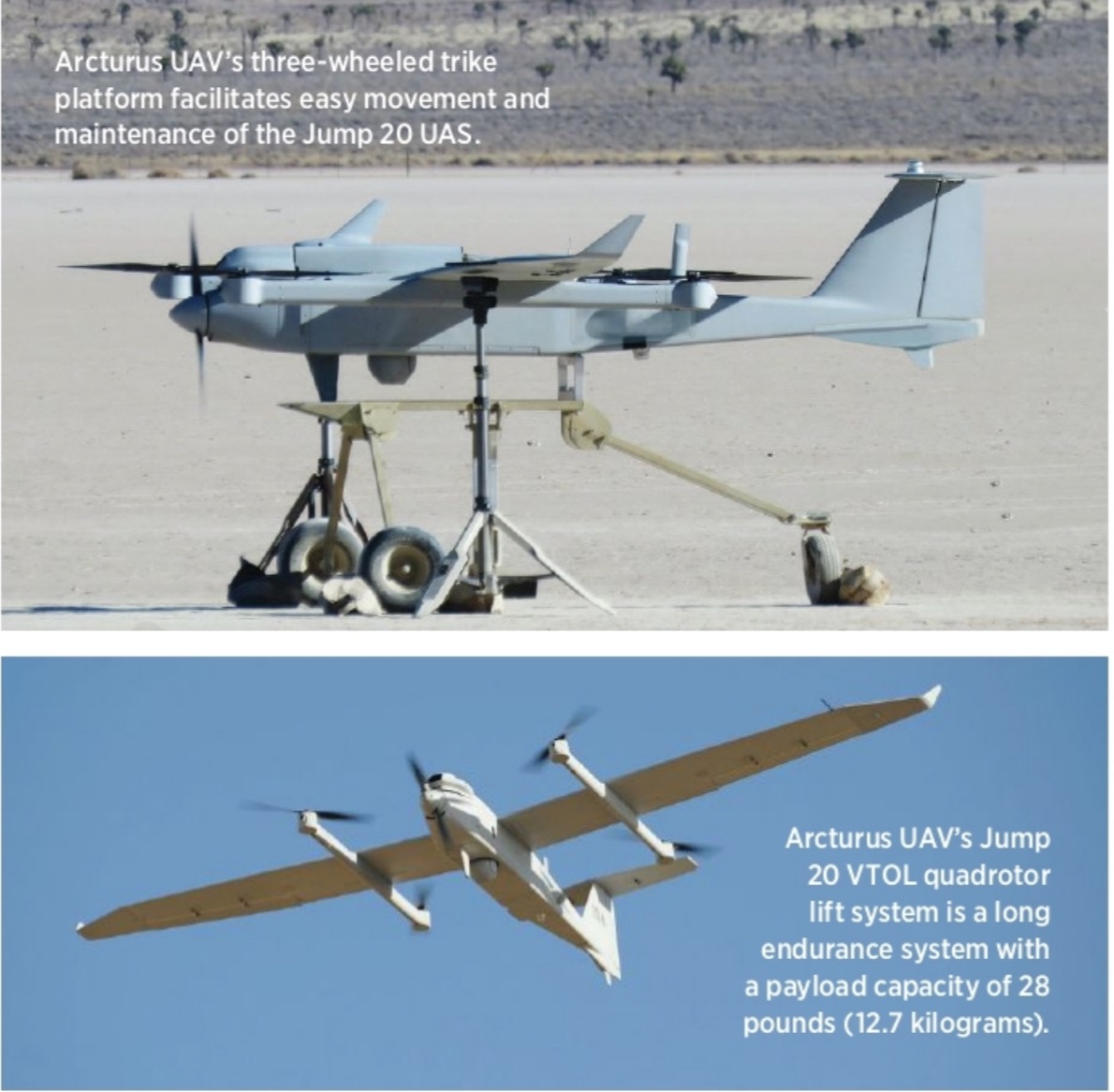 HIGH-PERFORMANCE WITH EASE
The unique V-BAT long endurance VTOL UAS developed by Martin UAV is a tail-landing ducted fan system. The UAS began its assessment within Combined Resolve X and JWA 18.1 during the 2-1 ID CTC rotation at the Joint Multinational Readiness Center (JMRC) in Hohenfels, Germany in 2018.
Colonel Heath Niemi (Ret.), vice president of global sales & development for Martin UAV, called the V-BAT a Group 2/3 solution. "We are Group 2 transportable but Group 3 capable. We transport with a couple of boxes that can be placed on a pallet and put on a helicopter, in a cargo Humvee, or even in the back of an F-150 pickup truck."
The V-BAT's near-zero footprint and flexible fuel options are impressive, though its box-to-launch capability and range are also notable. During the CTC rotation Combined Resolve X at the JMRC in Hohenfels, the Army timed V-BAT set-up from pulling the platform out of the box to assembly, setting ground control stations and telemetry systems, loading flight plans and preflight checks to launch at 21 minutes and 45 seconds in a clearing with 35-foot trees. The V-BAT has repeatedly demonstrated 100-plus kilometer line of sight command and control with a 350-mile (560 kilometer) maximum range under optimal conditions.
Niemi further pointed to the safety aspect of the system. "The secret sauce of our performance is the ducted fan, but operational safety is a side benefit that is resonating with the Army."
VTOL EXTREMES
L3Harris's slick FVR-90 is a UAS built on the company's patented Hybrid Quadrotor technology, a VTOL concept that allows vertical take-off and landing with traditional fixed-wing platforms using multirotor propulsion. The FVR-90, which stands for Fixed-wing Vertical Take-Off and Landing Rotator, is land or sea capable.
Another member of the FVR family, the Hybrid Quadrotor FVR-55 recently underwent flight to demonstrate autonomous takeoff and recovery from a moving vessel at sea with limited deck space as part of a NOAA UAS Program Office contract. In this instance, the FVR-55 took off from the ship vertically, switched to fixed wing flight, then returned and landed vertically on the ship autonomously (no external pilot control inputs required).
Also impressive is the FVR-55's 10-hour endurance, service ceiling of 12,000 feet and light weight of just 54.9 pounds (25 kilograms).The FVR-90 has even greater reach.

EDUCATIONAL IMPERATIVE
Arcturus UAV's Jump 20 VTOL is a quad-rotor lift system that is a variant of the company's T-20 fixed-wing tactical UAV. The T-20 has been used by the Navy for intelligence, surveillance, reconnaissance and search-and-rescue missions for several years.
The composite Jump 20 has a maximum takeoff weight of 215 pounds (97.5 kilograms), with a maximum speed of 72 knots and a rated ceiling of 15,000 feet. At maximum payload and fuel load, the Jump 20 delivers 12-plus hours of endurance. The VTOL capabilities are facilitated by twin vertically mounted rotors located on each wing. Like all the other contenders, it can be operated by two crew members from the ground control station.
While the Jump 20 is the largest of the four FTUAS contenders, it's still easily handled by two people. Arcturus UAV developed a three-wheeled trike platform that facilitates easy movement and maintenance. As a senior executive at Arcturus UAV told Inside Unmanned Systems: "From a design standpoint, the real differentiator of our system compared to the others in this class is that we have the largest payload capacity and power in a true VTOL system."
The Jump 20's payload capacity is upwards of 28 pounds (12.7 kilograms).
But capabilities are not the only measure of success. The Army, the Arcturus UAV spokesman said, has made it clear that a priority in the upcoming field testing, beyond demonstrating specified performance, is the effectiveness of training programs and how the contenders handle all of the Army testing and qualification procedures.
Like the other FTUAS contenders, Arcturus UAV is looking ahead to future payload evaluations, an area in which the company claims leadership. A few years ago, integration times for new payloads on a scout class aircraft ran from 6-12 months, with a multi-million dollar price tag. Arcturus UAV developers say they have reduced integration engineering and implementation to a few weeks. The Jump 20 is able to handle six different imaging payloads.
Arcturus UAV delivered its Jump 20 system and training/education programs to the 1st Armored BCT, 1st Infantry Division at Fort Riley in March. According to the company, early soldier feedback indicated they are exceptionally pleased with the training methodology and ease of operation thus far.