Order by order, last-mile drone delivery to households is slowly becoming a reality.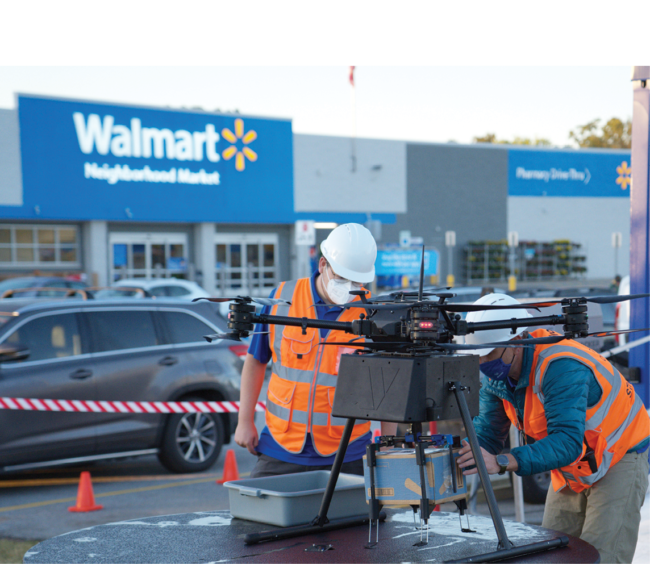 At first, Mary Fine of Winter Haven, Florida, was curious.
"We saw the drone come over. Then we saw the van come by. And it looked so interesting. So, we got information about the drone delivery from Walmart and decided to try it ourselves. We've used it many times since," she said.
Mary's daughter, Rebecca Devivo, lives across the street and also uses the drone service. She remembers her mom's first order was sour cream and baby carrots. They use the service for novelty and convenience, even though Walmart is a short ride away by golf cart. And sometimes they use it for fun. Rebecca recalls a time her father had workers outside his house and he ordered lunch for them via drone.
"Everyone stopped to watch," she said.
Right now, the Winter Haven project is just one example of a partnership by Bentonville, Arkansas-based Walmart and Virginia Beach-based DroneUp for last-mile drone delivery. Mary is sure that even when her introductory free period is over, she'll continue to use the service at the normal $3.99 fee.
She's not alone. Last mile delivery—defined as delivery to homes and other individual end users—is usually considered the most expensive, difficult and problematic piece of the consumer supply chain, albeit the most important to the customer. Sparked in part by COVID restrictions that boosted consumer receptivity to the idea, drone delivery in the last-mile space is expected to add up to $309.7 million this year and nearly $3 billion by 2033, according to a new report from market research company Fact.MR. Last mile was about 85% of the total drone delivery market last year and is being pushed by demand for quick delivery of packages and couriers, according to the report, noting about 80% of shoppers prefer same-day delivery.
'WALMART FOUND US'
Walmart first announced the partnership with DroneUp in September 2020 and expanded it in 2021.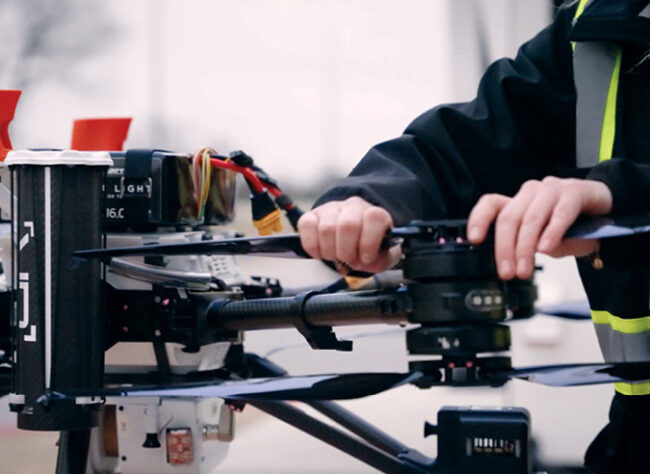 "We have about 180 million Americans who shop in our stores and are online every single week," Phillip Wallace, Walmart's director of federal government affairs, said at the 2023 CES in Las Vegas. "So, we're constantly evaluating quicker, more efficient and also sustainable ways to deliver to those customers. Drone delivery checks all those boxes."
In response to email questions from Inside Unmanned Systems, the company said, "Our drone program contributes to the existing innovative delivery footprint at Walmart that also includes autonomous vehicles, InHome delivery and more. Drone delivery is a cool and convenient way to get our customers certain items, really fast. We've grown the service to 36 drone delivery hubs across seven states: Arkansas, Texas, Florida, Arizona, Virginia, Utah and North Carolina, and completed thousands of safe deliveries to date."
DroneUp, which operates 34 of those hubs, is just as enthusiastic.
"I think In about five years, drone delivery is going to become completely ubiquitous," DroneUp COO Anthony Vittone said. "People won't even think about drones anymore. They're going to think about instant delivery, and 'do I need this in the next 30 minutes?'"
"Walmart found us," DroneUp Chief Technology Officer John Vernon said, as he recounted how the partnership started. It began with discussions DroneUp was having about how drones could help with COVID.
The company used an abandoned college in southwest Virginia as a kind of mini-town to demonstrate that drones could deliver COVID test kits without breaking social distancing guidelines, then did a white paper on it called "Operation Last Mile."
"We effectively went through and outlined how it would be feasible under FAA 107 guidelines," Vernon said. "Everyone else assumed they needed to use [Part] 135, but 107 involved far less bureaucracy, and we could be up and running faster."
"Walmart at the time was also asking how they could participate in COVID relief," he said. "They found the paper and asked us to do it for real.We set up three locations for them. Customers could call in and order a COVID test kit and we would fly it over to their house. That's how we began. Pretty soon after that, we were having a conversation about what it would look like to partner together.
"Walmart, like every major retailer right now, is trying to figure out how to incorporate drones into their last-mile strategy," Vernon said. "So, after the COVID operations were complete, they invested in DroneUp, and, in 2021, we signed a multi-year commercial services agreement. And here we are today."
BUSINESS CHANGES
With that, "Our whole company focus has started to shift to drone delivery," Vittone said.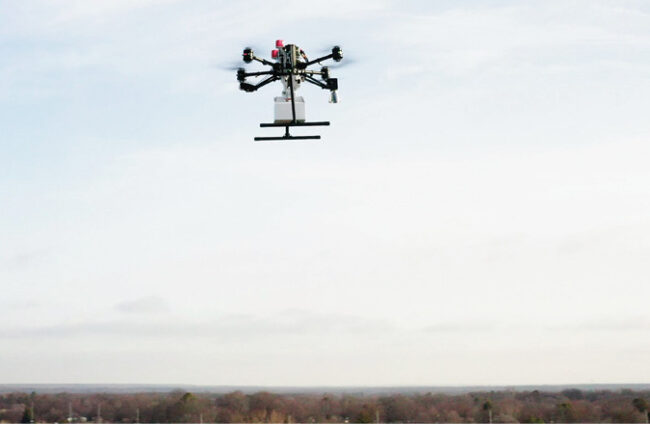 The shift explains recent DroneUp layoffs, as services such as infrastructure analysis or bridge inspections are being de-emphasized. At the same time, Vittone said, the company is adding employees in the drone delivery arena.
"We've just begun in areas beyond retail, such as medical deliveries or deliveries to remote areas such as islands," he said. DroneUp executives have also been quoted in the press saying throughout the rest of this year, they will hire more people than were laid off.
Currently, DroneUp operates Walmart delivery hubs in Arizona, Arkansas, Florida, Texas, Utah and Virginia. DroneUp spreads the word about the service through marketing including demos, school promotions and old-fashioned door knocking.
A customer within the delivery radius orders products off the DroneUp website, which currently lists about 30,000 items.
"We're working with Walmart to integrate drone delivery into walmart.com because we do know the customer would like to order from Walmart, not us," Vittone said. "But walmart.com is such a huge operation that it takes some time to integrate it."
All of the DroneUp people at a hub, including pilots, are cross trained to perform all the tasks related to the delivery. One goes into the Walmart Store, finds the item, brings it outside, packs it up and attaches it to the drone, which flies off to the customer's home, all in 30 minutes or less.
"One of the reasons we're doing the packaging today is because we're operating under Part 107 rules, so we're able to make sure that the package is loaded correctly, not overweight, and that the center of gravity is managed correctly," Vernon said.
Once that's done, and the safety team says it's good to fly, the pilot presses a single button and the drone takes off, delivers, comes back and lands. The drone gets the GPS location based on the address provided by the consumer, and calculates the route.
"The drone usually goes up to 250 to 300 feet," Vittone said, "then the customer gets a text or email that it's on the way. The drone descends to 80 feet and we tether the product to the ground. We also have a downward-facing camera so if a child or animal walks out we can pull it back up." The company has recently expanded to multifamily dwellings by setting up a drop location with property management, he said.
THE HUBS
"Right now, we have permanent structures and mobile structures," said Troy Wetterstrom, a Tampa, Florida based Market Leader at DroneUp who oversees hubs in Florida. "The permanent structures operate seven days a week, 12 hours a day, the mobile structures five days a week for fewer hours, as we're only using one shift. The permanent structures are in Arkansas and we're waiting to bring them to the rest of the market."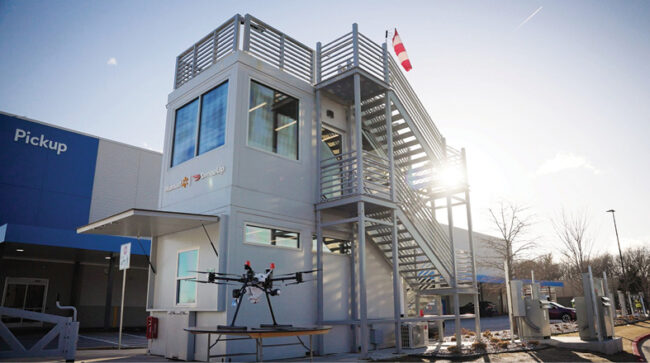 Most of the hubs are made from shipping containers, although there are some tents. The permanent ones are three stories tall and outfitted with stairs and air conditioning. All of the hubs are outside Walmart stores. The three-story hubs provide a place for video monitoring and BVLOS compliant visual observation. Some hubs have a portable control tower, as well as visual monitors along the way. All of the packing and attaching to the drone happens at the hub.
THE DRONES
The drone currently used by DroneUp is the Prism Sky, a biaxial quadcopter measuring 11 by 7 by 6 inches and made by Baltimore-based Watts Innovations at its Baltimore location.
"We started working with DroneUp in 2020 when it had less than 20 people," said Bobby Watts, founder and CEO of Watts Innovations. "Later, they asked us to integrate a delivery winch and some other components."
The drone can carry a 10-pound payload. DroneUp uses a ground-based sensor network including sensors from Iris Automation and Scientific Applications & Research Assoociates and ASD-B receivers from Involi. The network acts as a Surveillance Supplemental Data Service Supplier and produces an air surveillance "picture" driving an automated alerting system. The entire system is monitored by the ResilienX In-Time Aviation Safety Management System.
According to Vittone, the autonomous control software plans a route from the hub to a house after a customer enters an address. The drone has detect-and-avoid capability, lights to fly at night and a parachute in case something goes wrong.
Vittone points to the wisdom of the early DroneUp decision to fly under FAA Part 107. "A lot of our competition proceeded under 135 but we thought this would be more efficient and quicker. And I think we were proved out on that. It reduced the red tape and allowed us to open 34 operations in six different states in about a year and a half."
The drones can fly a radius of two to five miles, depending on where they are in the phase of the program roll-out, Vernon said. "Right now, most of our limitations are derived by governance, not necessarily technical limitations. So, we look to advance the technology to expand that and we're working with the FAA."
SAFETY
While the drones are operating within visual line of site, Vernon said, "the sensor network allows us to detect other aircraft. Our first and foremost concern is that we don't want to collide with other crewed aviation vehicles. Some of the sensors are using cooperative detection, meaning that the aircraft that we're detecting is voluntarily submitting their information over ADS-B [Automatic Dependent Surveillance Broadcast] to indicate where they are and what speed they're flying."
"Customers really enjoy the quick and efficient delivery capabilities of drone delivery," a Walmart spokesperson said via email, with rotisserie chicken, Bounty paper towels and Red Bull energy drinks among the most popular items.
"The number one item that we're selling right now is bananas," Vernon said. "I think that this changes the way we look at last mile logistics, it changes it materially, and I think irrevocably. The core of what we're trying to accomplish at the end of the day is just being able to get goods and services and things to people when they need them."
All photos courtesy of DroneUp.