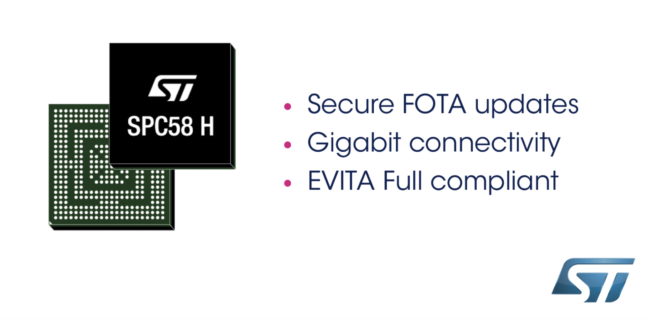 STMicroelectronics, a global semiconductor provider serving customers across the spectrum of electronics applications, is making connected cars safer, more flexible, and future-proof with its latest high-performance, multi-core, multi-interface automotive microcontroller.
As critical vehicle powertrain, body, chassis, and infotainment features increasingly become defined by software, securely delivering updates such as fixes and option packs over the air (OTA) enhances cost efficiency and customer convenience. With state-of-the-art security and generous on-chip code storage, ST's latest Chorus automotive microcontroller is among the industry's first gateway/domain-controller chips capable of handling major OTA updates securely, according to a company press release.
With three high-performance processor cores, more than 1.2 Mbyte RAM and powerful on-chip peripherals, ST's new flagship SPC58 H Line joins the Chorus Series of automotive MCUs and can run multiple applications concurrently to allow more flexible and cost-effective vehicle-electronics architectures. Two independent Ethernet ports provide high-speed connectivity between multiple Chorus chips throughout the vehicle and enable responsive in-vehicle diagnostics. Also featuring 16 CAN-FD and 24 LINFlex™ interfaces, Chorus can act as a gateway for multiple ECUs (electronic control units) and support smart-gateway functionality via 2 Ethernet interfaces also on-chip.
"The way carmakers create, configure, deploy, and maintain new vehicles is changing, as software-defined functionality makes advanced features, flexibility, and convenience ever more widely accessible," said Luca Rodeschini, Automotive and Discrete Product Group Strategy and Microcontroller Business Unit Director, STMicroelectronics. "Our latest and highest-performing Chorus microcontroller, being OTA-ready and with dual Ethernet ports up to Gigabit speeds, creates a state-of-the-art platform for seamless, safe, and secure in-car connectivity and control."
To protect connected-car functionalities and allow OTA updates to be applied safely, the new Chorus chip contains a Hardware Security Module (HSM) capable of asymmetric cryptography. Being EVITA Full compliant, it implements industry-leading attack prevention, detection, and containment techniques.
Leading customers already received samples of SPC58 Chorus H Line microcontrollers in the next generation of smart gateways and central body modules, and are also evaluating the devices for battery-management units and ADAS safety controllers.
The new top-of-the-range Chorus microcontroller, SPC58NH92x, has 10Mbyte on-chip Flash and features a triple-core architecture clocking at 200Mhz equipped with more than 1.2Mbyte RAM, delivering up to 1763 CoreMark containing ST's Power Architecture® z4 core, which is designed to give developers the flexibility to host multiple applications on one microcontroller, or to run multiple tasks concurrently, for optimum performance. The device also offers ASIL-D safety capabilities.
Further information can be found at www.st.com/spc58-h-line-mcus