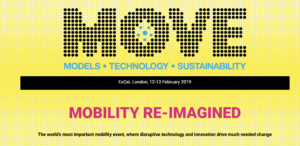 With disruptors and visionary leaders from all disciplines and modes already confirmed including Uber, Waymo, Daimler, Airbus, UPS, DeepMap, UK Department of Transport, National Grid, European Space Agency and Trek Bicycle, MOVE is a key mobility event and educational opportunity.
MOVE is two days packed full of ideas and innovative people designed to inspire you and your organization, taking place Feb. 12-13, 2019 in London. If you register by June 29,  you will get a reduced rate.
Here are 8 reasons you should attend:
Understand how Uber plan to get cars off the road
Get insights from smart cities around the world
Learn how to handle congestion ruining our towns and cities
Find out which modes and models are no longer fit for purpose
Re-think solutions to urban air quality
Redesign your urban supply chain
Discover solutions to broken and under-invested infrastructure
Explore new transportation concepts to free cities of traffic and pollution
Whether you're in government, transport, construction, technology or communications, MOVE will provide you with the ideas and solutions you need to re-imagine mobility. Topics addressed will include: Government, Planning, Development Agency, Automotive, Technology, Communications, Transport, Construction, Design, Logistics, Supply Chain, and Energy.
Book a group of 3 or more before June 29 for additional savings.