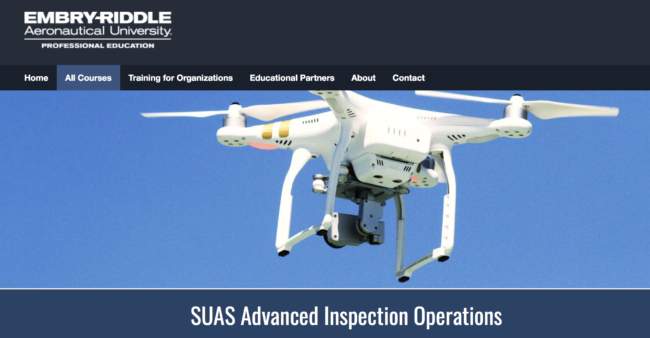 Embry-Riddle Aeronautical University's Worldwide Campus, in conjunction with Commercial UAV Expo 2018, will offer a pre-event workshop, sUAS Advanced Inspection Operations Course, at the conference on Monday, October 1 at The Westgate in Las Vegas, Nevada.
This in-depth workshop will extend knowledge from beyond Part 107 qualifications to operational knowledge, skills and abilities regarding small unmanned aerial systems (sUAS) utilization for inspections in construction, infrastructure, utilities, surveying and mapping. The curriculum will cover establishing workflows, safety program development and operation, flight operations considerations and data handling. Attendees will develop proficiencies in identifying and mitigating risk, building efficiencies, internal-external sourcing, and performing platform and support equipment analysis and selection. The full workshop description can be found here.
"We are delighted to partner with Embry-Riddle Aeronautical University, which will once again offer a comprehensive course for commercial drone users," said Lisa Murray, Group Director at Diversified Communications, organizer of Commercial UAV Expo. "This workshop first took place at Drone World Expo, an event we acquired last year. In addition to being the world's largest and most comprehensive aeronautical university, Embry-Riddle is also a global leader in UAS education, so their participation in Commercial UAV Expo will be a tremendous benefit to attendees."
The workshop will be offered on Monday, October 1 from 9:00 a.m. until 5:00 p.m.
Register for the sUAS Advance Inspection Course and Commercial UAV Expo 2018 online here. 
For additional information on the sUAS workshop, contact Robert Kelly, Associate Director of the Office of Professional Education at Embry-Riddle – Worldwide, at kellyr4@erau.edu or by phone at (386) 226-7436.