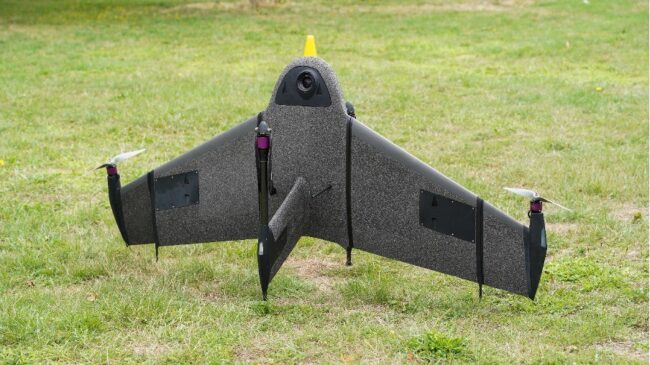 VALKENBURG, Netherlands—Atmos UAV announced the integration of the new Sony a6100 Oblique camera into its flagship surveying drone, the Marlyn Cobalt.
This strategic partnership with Sony further solidifies Atmos UAV's commitment to providing state-of-the-art solutions to professionals in the geospatial mapping and surveying sectors, the company said.
The Sony a6100 Oblique camera is a revolutionary addition to the Marlyn Cobalt, which combines Sony's 24 megapixel a6100 with a Meike 12mm lens, providing an excellent solution for cost-effective, lower-resolution surveying and which produces 3D models for urban surveys.
Competitive Pricing
One of the primary advantages of the Sony a6100 Oblique integration is its competitive pricing, the company said. As the entry-level cousin to the workhorse a7RIV 61 megapixel camera, the a6100 comes in at a 20% lower price point, whilst still managing a respectable 4 centimeters [1.5 inches] ground sampling distance at 400 feet. This allows professionals to access high-quality imagery without breaking the bank.
The 12mm wide angle lens and fixed, angled mounting empowers the a6100 Oblique to capture a high quality of data on vertical surfaces, allowing for a comprehensive view of urban environments during 3D mapping missions. This feature significantly enhances data collection efficiency and improves the accuracy of 3D models, giving surveyors and urban planners unparalleled insights for their projects.
With the integration of the Sony a6100 Oblique camera, the Marlyn Cobalt now boasts an impressive 350-hectare coverage at 400 feet. This means that surveyors can efficiently cover vast areas in a single flight, reducing operational time and costs. The resulting ground sampling distance of 4 centimeters at that altitude ensures high-resolution data acquisition, delivering sharp and detailed images for precise analysis.