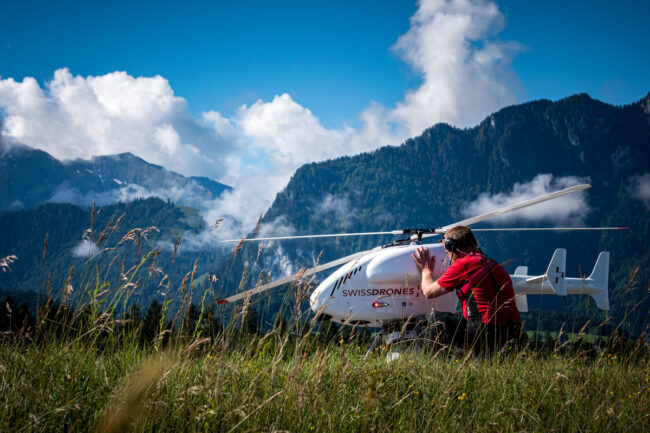 ZURICH, Switzerland and SEATTLE—SwissDrones, a global manufacturer of long-range uncrewed helicopter systems for inspection, surveillance and public safety applications, announced it has secured additional seven-figure funding in a round led by DiamondStream Partners, an aviation and aerospace venture capital firm, with participation from existing investors. SwissDrones plans to use the funding to accelerate product development and expand global go-to-market activities.
"We see SwissDrones as leaders in bringing next-generation aviation technology to critical use cases in infrastructure inspection, aerial surveillance and public safety," said David Spurlock, Managing Director of DiamondStream Partners. "The combination of the payload/range of the aircraft, a focus on customer service needs and a platform that will enable high levels of asset utilization are set to bring disruptive economics to catalyze growth in these market segments. We are excited to support the company as it grows as a leader in this space and brings tremendous value across the sector."
Designed to replace crewed helicopters, SwissDrones provides a safe and cost-effective aerial intelligence solution for a wide range of applications, including infrastructure inspection, surveillance and public safety missions beyond visual line of sight. SwissDrones aircraft emit up to 95 percent fewer CO2 emissions than crewed helicopters at significantly reduced operating costs and without putting flight crews at risk. The systems allow for the integration of high-end sensor payloads of up to 40 kilograms (88 pounds) and enable long-range missions day and night with a flight endurance of multiple hours. SwissDrones' aircraft are currently in operation across Asia, Europe, and North America.
"We are very happy to have DiamondStream Partners as a new investor," said Ulrich Amberg, CEO of SwissDrones. "Our team looks forward to leveraging their vast entrepreneurial and operational experience in the aviation and aerospace industries as we strive to transform the way aerial intelligence is gathered in crucial applications worldwide."
To expand its capabilities and meet customer demand, SwissDrones collaborates with civil aviation authorities worldwide to secure regulatory approvals and flight authorizations, allowing for enhanced mission-specific operations. The company is among the first organizations that have obtained a European drone operator license, the European Union Aviation Safety Agency Light UAS Operator Certificate. The certificate allows SwissDrones to self-authorize flight operations of its aircraft across EASA countries, including BVLOS operations, within the limits of the certificate. It is the highest authorization achievable under current European drone regulations. The SwissDrones SDO 50 uncrewed helicopter platform has also received a Special Airworthiness Certificate from the FAA in the US. Additional regulatory approvals will be announced in the coming months.