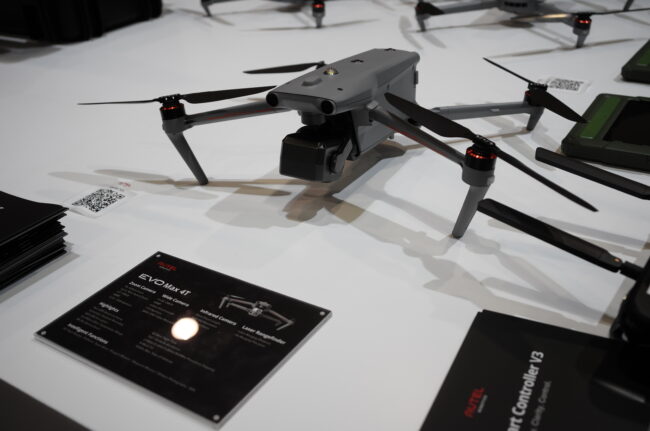 LAS VEGAS—Autel Robotics announced a new enterprise drone, the EVO Max 4T, at CES, along with a new mesh networking system, a drone-in-a box system and a long-distance antenna.
The EVO Max 4T has both a binocular vision system and millimeter-wave radar for obstacle avoidance, and carries a payload including a laser rangefinder and three cameras: a 48 megapixel telephoto camera with 10x Optical Zoom, 160x digital zoom, and a 1/2″ CMOS sensor; a 50 megapixel wide-angle camera with a 1/1.28″ CMOS sensor and 3840 x 2160 video resolution; and an infrared camera with a 640 x 512 resolution and 1.2 kilometer ranging distance.
The system also features Autel's new mesh networking system, A-Mesh 1.0, which allows multiple drones to be controlled by one pilot using a small tablet. The system also allows multiple aircraft to act as signal relays, extending the range of the system.
Potential applications for the EVO Max 4T include search and rescue, firefighting support, mapping, and inspection, the company said. The cost for the system is about $9,000, and the cost for the mesh network has not been published yet.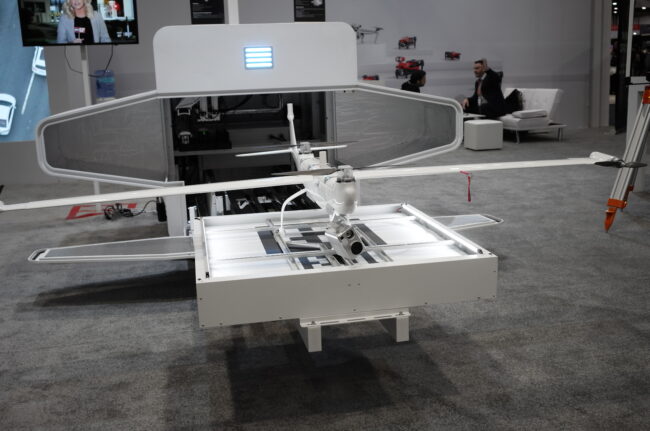 Dragonfish and EVO NEST
Autel also debuted its Dragonfish NEST and EVO NEST. The Dragonfish Nest, the drone-in-a box system, is the world's first automated support system for electric vertical takeoff and landing drones, Autel said. With a range of up to 75 miles between units, the Dragonfish Nest combines the high performance of the existing Dragonfish aircraft with autonomous takeoff, landing, charging, and flight missions. The Dragonfish Nest is perfect for long-range corridor inspections and large area coverage, Autel said.
The EVO NEST is a base for automatic take-off, landing, charging, and mission planning for EVO series drones. It is designed for all-weather operation and can be transported in a standard pickup truck.
The EVO NEST and the Dragonfish NEST are powered by the SkyCommand Center software. Autel also releasing a range of accessories, including the Dragonfish Repeater and Autel Smart Antenna Transmission System, which allows operations up to 62 miles.