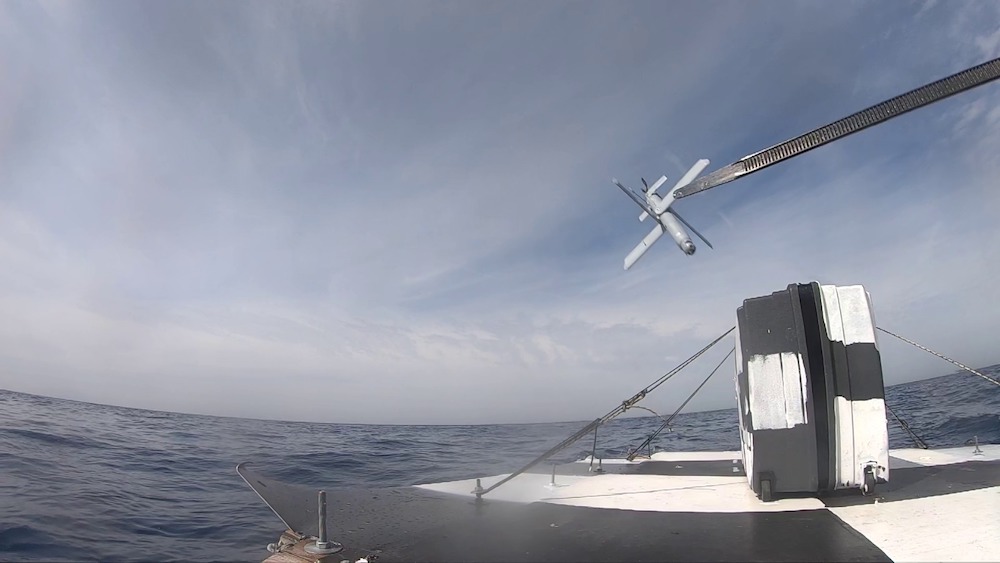 Asymmetric gunboats. Vulnerable oil and gas platforms. Hijacked freighters. Defending against naval threats is a constant concern.
This June, Israel-based UVision Air successfully partnered with an "major" NATO member to proof its Hero-30 lightweight, portable UAS against a simulated suicide speedboat purportedly laden with explosives. The tactical loitering system hit the target—which was traveling at 20 knots—amidships with an inert training round. The strike took place within a completely GPS-denied environment. The system further demonstrated its tracking ability across various operational scenarios and mission-abort capabilities.
"We are proud, time and again, to present our systems' incorporated high precision attack level and abort capabilities, with operating simplicity, allowing for front-line NAVAL forces to quickly respond while eliminating any immediate threats that arise," said Major General (Ret.) Avi Mizrachi, CEO of UVision.
The Hero-30 is one of seven loitering Hero munitions systems designed for different sea, air and land missions at short, medium and long range. Weighing only 3 kilograms (6.6 pounds), the Hero-30 carries a 0.5 kilogram warhead, is deployable within minutes and can fly at up to 100 knots for 40 kilometers. An electrical silent and stealth engine and a launch canister compatible with a variety of existing platforms allow the system to offer mission flexibility, while its cruciform wing enables high maneuverability in constrained battle scenarios. Hero systems can be ISR-configured and carry electro-optic day/night cameras for intelligence-gathering. The smallest system, the Hero-20, is manpack-portable; the largest, the strategic Hero-1250, can carry a 30 kilogram warhead.
In 2019, UVision established UVision-USA, which is engaged with U.S. Special Forces, Marines and Army. UVision recently partnered with Raytheon to adapt the Hero-30 for U.S. military requirements.