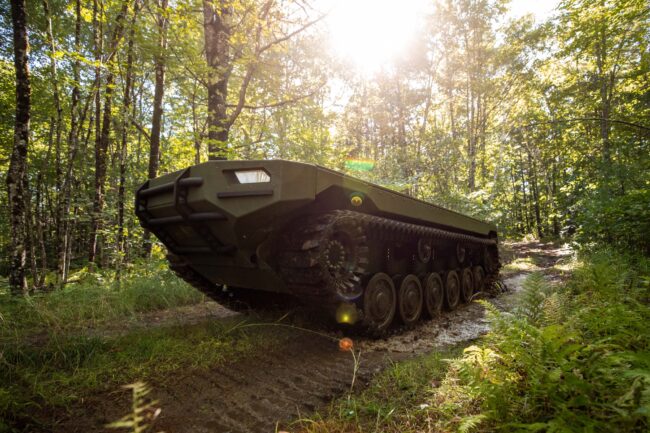 Maryland-based Textron Systems, which has already supplied the U.S. Army with prototypes for its Robotic Combat Vehicle-Medium (RCV-M) effort, has provided the Army its proposal for a smaller variant, the RCV-L, or Light.
The company has supplied five of its Ripsaw M5 vehicles to the Army for RCV-M, along with subsidiary Howe & Howe, a Maine-based company that originated the Ripsaw vehicles. The Army is using other vehicles as part of its RCV-L testing—prototypes sourced from QinetiQ North America—but Textron Systems hasn't taken its eye off that ball.
"What we're talking about today is our M3 and what we proposed to the United States Army under their mid-tier acquisition rapid prototyping program for the Robotic Combat Vehicle-Light," said David Phillips, Textron's senior vice president for land and sea systems.
The company funded its own demonstrator and displayed it at last fall's Association of the United States Army (AUSA) convention in Washington.
"So, what we showed at AUSA was various payloads every day, multiple payloads, two different payloads each day on the system," he said. "Payloads that we didn't just physically integrate, we [fully] integrated them. We worked with the providers of the payloads, who were in our booth with us."
The Army is planning a competition for the RCV-L starting this year, and Textron submitted its proposal on May 15.
"We've heard the Army say that they expect to make a decision and awards in September of this year, which starts an 11-month period of performance to deliver two prototype platforms that they're going to go test, and they're going to go test them for ruggedness and reliability—the very things that we've kind of built into our system from the experiences that we've had on our RCV-M, and the commonality that we have with our M five," Phillips said.
The Ripsaw M3 has about 75% commonality with the larger Ripsaw M5, Phillips said, giving it great capability for the Army's mission. It's obviously smaller—a vehicle weight of 18,000 pounds fully loaded versus 30,000 pounds for the M5—and even smaller than the Army requested, which was that the RCV-L be under 21,000 pounds.
"We kind of went a step further and, in architecting this system, we wanted to give the Army the ability to internally transport this Robotic Combat Vehicle inside a CH-47," Phillips said. The RCV-L will likely travel with Brigade Combat Teams via C-130s or C-17s, but in theater or on the battlefield it could be useful to transport it by helicopter, he said.
"We kind of coined the phrase that it's not too big, it's not too small, it's kind of the Goldilocks, it's just right in terms of size when you're thinking transportability versus mission effectiveness," Phillips said.
Team Ripsaw also includes Teledyne FLIR, which is providing its 360-degree situational awareness system, FLIR SUMIT360, and a control system for the vehicle and its payloads.
"It's a mature system that we're going to be providing under this contract," Phillips said. "So, we're in warm production up at Howe & Howe in Maine and we've got a fully functional, vehicle-representative hardware-in-the-loop simulation lab in Hunt Valley," Maryland.
The Army will develop a separate autonomy system and retains the machine-warfighter interface, "but we're going to be delivering these prototypes for them to go operate in a teleoperation [mode], so they're not beholden to that separate software effort," Phillps said. "They will converge at some point."
Textron Systems plans to continue investing in the systems "all the way through this," Phillips said, including integrating Army autonomy systems and testing them on its potential Robotic Combat Vehicle systems—basically staying aware of what the customer wants.
"We know that this is a long game with the Army," he said. "We realize the complexities associated with the ground domain. We intend to continue to invest we intend to stay lockstep with the Army and their RCV-L requirements, and we look forward to that partnership."